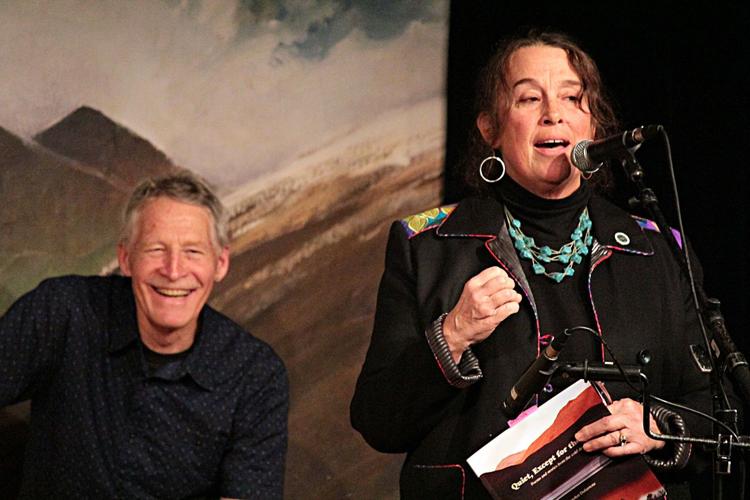 ELKO – More than 250 people attended the Basques and Buckaroos Kickoff Bash in at the Western Folklife Center's G Three Bar Theater Monday night for the 34th National Cowboy Poetry Festival.
Emceed by Bob Echeverria, the evening featured dancing by the Elko Arinak Dancers, and music by Mercedes Mendive and Melodikoa and Wyoming father and daughter duo David and Caitlin Romtvedt.
Oihana Iguaran Barnadiaran and Maialen Lujanbio Zugasti sang bertsolaritza with Jose Mallea translating their improvised verse into English for the audience.
Poet and author Carolyn Duferrena read selections from her book "Quiet, Except for the Wind," including "Old Cow Dog's Winter," "Blue Moon New Year's Eve" and "Mapping the Landscape of the Heart."
As the evening drew to a close, David Romtvedt joined Duferrena on stage and read "Twenty-Five Vultures" from his book "Some Church," which told the story of a neighbor's simultaneous battle with cancer and vultures.
Duferrena told the audience that at the conference hosted by the Center for Basque Studies at the University of Nevada, Reno, a question came up about poets and authors finding less traditional topics to write and explore.
"What new themes are out there for people to talk about in their poetry?" Duferenna said. "There are a lot of new issues out there a person could write about, except this is the first poem I've heard about fish and game," referring to Romtvedt's story about vultures.
Vicky Goicoechea of Elko was in the audience for the kickoff and said she enjoyed the Romtvedts' performance.
"It was wonderful. I enjoyed their music and poetry. Of course, everyone loved the vulture story," Goicoechea said.
The bertsolari performance "I think is new for here and that's wonderful," Goicoechea said, adding she was planning to attend the McAdoos' presentation "Basque Sheepherders: The End of an Era."
Veronica Mendive attended the kickoff to watch her daughter Mercedes perform and her 9-year-old granddaughter Nekane dance with the Arinak Dancers. She said she liked Duferrena's poetry; and it was her first time hearing the bertsolaris sing.
"My son-in-law translated what they said. He's from the Basque country," Mendive said.
For 17 years, Sherry Sanders, Earnstine Howell and Bobbie Ann Howell have traveled together from Las Vegas to attend the Gathering and look forward to seeing other cultures represented every year.
Sanders said she and Earnestine Howell are also frequent participants in various workshops, including hat-making, saddle making, horse-hair hitching, and cooking.
"We did the first hat-making class," said Sanders, who teaches high school special education in Las Vegas. "I come up here and get new ideas and go back and tell the city kids what it's like to live on ranches."
Some visitors, like Michele and Hans van Heusden, return to the Gathering each year to see friends. They discovered the Gathering 25 years ago when Hans relocated to Elko to work for Newmont.
"We made more friends in 15 months in Elko than 35 years living in San Francisco," Hans van Heusden said.
The kickoff gave the audience a taste of this year's Gathering, which spotlights the art, music, history and literature of the Basque sheepherders who immigrated to the United States and their descendants.
Also performing throughout the Gathering are traditional cowboy artists including Waddie Mitchell, Randy Rieman, Paul Zarzyski, Michael Martin Murphy, Riders in the Sky, Wylie and the Wild West, and others.