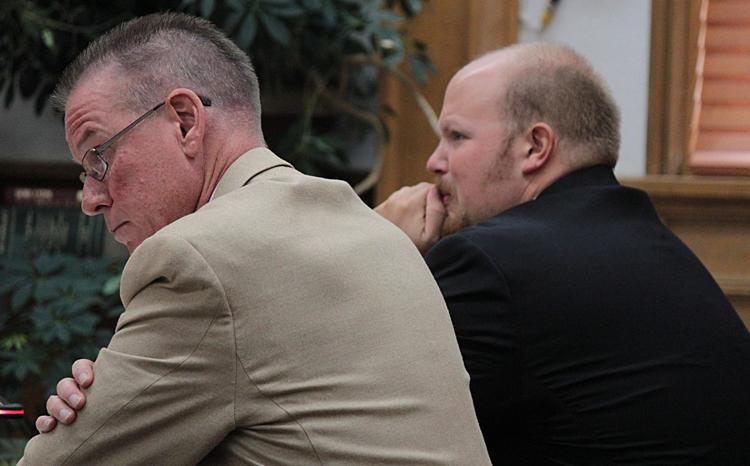 ELKO – Statements read by family members and the defendant moved a courtroom to tears Thursday before the sentencing of a man convicted in the hit-and-run death of the president of the Elko Federal Credit Union last year.
Daniel Vasu, 28, was sentenced to 8 to 20 years and ordered to pay a $2,000 fine on one count of failure to stop at the scene of an accident involving personal injury or death, a category B felony, in Elko District Court.
Vasu pleaded guilty to the charge in May, almost a year after he was suspected of hitting Elko Federal Credit Union President Doug Schwartz with his Jeep on the evening of June 22, 2016, on Commercial Street in front of Machi's Grill and Saloon.
A photo of Vasu's vehicle was posted on social media sites and news outlets in an effort to locate the driver. Vasu was arrested the next morning.
Schwartz died of his injuries at Northern Nevada Regional Hospital several hours later.
In handing down the sentence, Judge Nancy Porter told the court she received letters from people on Vasu's behalf saying that he "made a mistake."
"But leaving the scene was more than a mistake, it was bad judgment," Porter continued.
District Attorney Chad Thompson called lead investigator Dennis Price to "exemplify … the motive in leaving the scene after hitting Mr. Schwartz."
Price explained investigators learned through surveillance video, phone records, interviews and collaboration from Vasu, that Vasu consumed alcohol at the Blind Onion, the Tiki Hut, Goldie's Bar, the Stray Dog Pub & Café, and returned to the Tiki Hut.
"He knew he was drunk, it says so on his own text messages," Thompson said, "and still got behind the wheel."
In asking for the maximum of 8 to 20 years, "we're not asking for the death sentence or even his entire life," Thompson said. "We're asking a statement be sent to the community," Thompson continued.
"We can't prosecute alcohol, but we have to send a message … that you don't get behind the wheel after doing this," Thompson said.
Defense attorney Sherburne Macfarlan said Vasu's sentence "has to consider a number of factors. The impact of this offense on Mr. Schwartz's family and friends and will continue to have on [them]. But you also have to consider the impact it will have on the defendant's family and friends."
Macfarlan asked for a "fair sentence" of 24 to 72 months, explaining that Vasu did not have any prior criminal history and "in all likelihood, he is probably going to do more than the 24 months."
Macfarlan referred to letters from Vasu's mother, family and friends describing Vasu's character.
"Those people are obviously not condoning what Mr. Vasu did and the harm that he has caused, but they are pointing out that Mr. Vasu does in fact have some very fine characteristics," Macfarlan said.
"I am in no way trying to diminish the impact of Mr. Vasu's conduct on the Schwart's family … and friends," Macfarlan continued. "Nothing can be done to repair the damage."
Offered by Porter to speak, Vasu read a letter to the court and members of Schwartz's family.
"I express my sincere remorse for my irresponsibility and dangerous actions. There is no excuse for it. I wish I could take it all back, all of it," Vasu said.
"But I want to own up and deal with my consequences. I'm sorry I didn't that day," Vasu said. "I want to show people they need to know what's right. They need to do what's right in any case, in any circumstance."
Victim impact statements read by Schwartz's wife Diane and son DJ offered forgiveness to the defendant and described Schwartz's contributions to his family and the community.
Diane Schwartz said while her husband was in the hospital, he wouldn't allow others to assume a drunk driver hit him.
"He forgave you as he lay in the hospital," she said tearfully. "Doug still continued to say 'that we shouldn't be accusing because we simply didn't know.'"
"I thought it was important for you to know that he gave you the benefit of the doubt," Diane Schwartz said. "I also want you to know I forgive you."