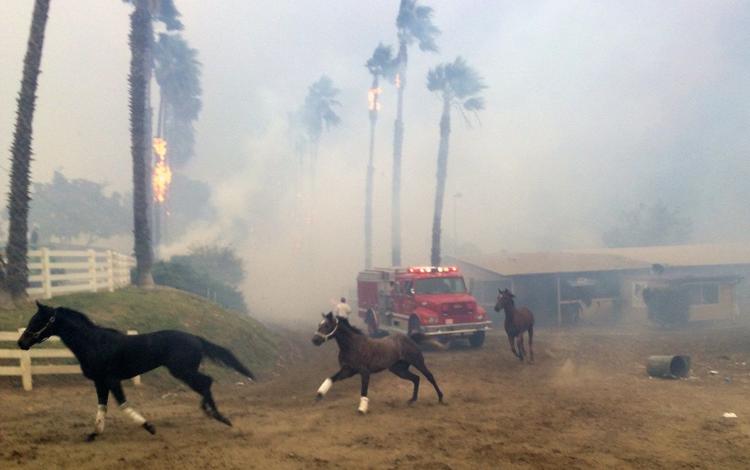 BONSALL, Calif. (AP) — A routine day at an elite training center for racehorses transformed into terror and chaos in minutes, with hundreds of thoroughbreds stampeding out of their stalls in a desperate attempt to flee a Southern California wildfire that set their barns ablaze.
Turned loose by their trainers in a last-ditch effort to save their lives, the huge, muscular animals, their eyes wide with fear, charged through thick smoke and past dancing flames.
While hundreds made it to the safety of a nearby racetrack, others galloped in circles, unsure which way to run. Still others, too frightened to leave their paddocks, stayed there and died.
Workers at San Luis Rey Downs said an estimated 30 to 40 horses perished Thursday in the wildfire still raging out of control north of San Diego on Friday. At least two stable workers were injured, and their conditions were not immediately known.
Trainers described a terrifying scene that erupted at the facility Thursday afternoon, recalling how only minutes after smelling smoke, they saw flames roaring down a nearby hillside.
"I was heading to my barn to drop my equipment off and I smell smoke," trainer Kim Marrs said Friday as she stood outside the still-smoldering facility. "Within two minutes, I look up the hill and you could just see it come up over the ridge."
She and others tried to turn back the flames with hoses and fire extinguishers before firefighters arrived. But when embers from burning palm trees began igniting the roofs of barns, they realized they had no other alternative than to turn loose the approximately 450 horses stabled there.
"The next thing, there's a stampede of 100 horses coming through here," said Marrs, who was trying to lead one of the horses she trains, a 5-year-old named Spirit World, through a tunnel. "We almost got trampled to death."
At one of the center's many barns, video showed a group of trainers frantically tearing down a wooden fence and shouting at their horses to run.
One large black horse, its forelocks wrapped in white leggings, bolted toward safety but then spooked by the burning palm trees, turned and fled back toward its stable. Scores of others charged through thick smoke to safety.
Trainer Cliff Sise suffered burns on his chest and arm trying to get a 2-year-old filly named Scat Home Lady out of her stable. She wouldn't budge, and he said she burned to death there.
"She was one of my favorites," Sise said as he sat outside the facility.
Trainer Jerry Contreras said one of his best friends, a fellow trainer, was hospitalized.
"He was trying to get his horses out and was burned," Contreras said.
At San Luis Rey Downs, the phone rang unanswered and the owners quickly barred outsiders from the sprawling facility.
It is Southern California's premier training center for thoroughbreds, with a competition-sized racetrack, a smaller one for training, numerous trails for horses to relax on and even a swimming pool for them to work out in.
The fire also destroyed dozens of mobile homes in a retirement community in the small city of Fallbrook, known for its avocado orchards and horse ranches. Three people were burned trying to escape the flames, said Capt. Nick Schuler of the California Department of Forestry and Fire Protection.
The destructive blaze broke out as firefighters tried to corral the largest fire in the state that was burning around Ventura — 130 miles to the north — and destroyed 430 buildings as it grew to 180 square miles since Monday. Fire crews also fought large fires around Los Angeles, though they made enough progress to lift most evacuation orders.
More than 100 minimum security inmates at prison camps in Nevada were being deployed to Ventura to help fight the fires.
Nevada Department of Corrections Director James Dzurenda said the camp officers and inmate firefighters are trained and prepared to do the job.
Dzurenda said Thursday they were en route from prison camps in Carson City, Pioche, Ely, Jean and the Three Lakes Valley Camp about 30 miles north of Las Vegas.
He says only those inmates who pose the least security risk are allowed to work on the crews.