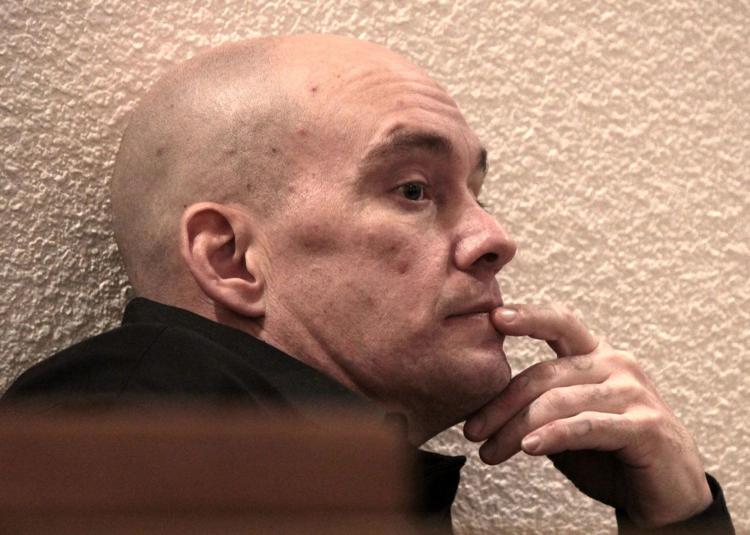 ELKO – An Elko man who is accused of attempted murder in the Red Lion parking lot is on trial this week in district court.
Carl Bond Jr., 41, is accused of attacking Rick Huerta with a knife on Sept. 9 as Huerta and his wife, Beverly, were walking into the Red Lion Inn and Casino for dinner.
Huerta was not seriously injured in the altercation, only having cuts, scratches and a ripped shirt, according to Free Press files. His wife was unharmed.
Bond was charged with attempted murder with the use of a deadly weapon and assault with a deadly weapon, both category B felonies. If convicted of attempted murder he could receive 10 years to life in prison.
The jury trial began Feb. 13 in Elko Justice Court Department 2 with Judge Al Kacin presiding.
In opening arguments, Deputy District Attorney David Buchler recounted the incident, telling the jury the Huertas would testify about the evening they met Bond, who was walking toward the Huertas that night as they were going into the Red Lion.
Buchler said that as the Huertas approached the defendant, Rick Huerta asked Bond "How are you doing tonight?" and Bond replied "I'm going to kill somebody."
After Huerta said "You don't want to do that, buddy?" they kept walking. Then Huerta's wife told her husband Bond was coming after him right before he attacked Huerta from behind, Buchler said.
"Rick turned and a struggle ensued, and at some point, Rick struck the defendant," Buchler said.
During the altercation, Huerta's wife called out that Bond had a knife and "ultimately, Rick was able to subdue the defendant and get the knife away," Buchler said.
Buchler said the two Red Lion security guards on duty that night would testify that when they arrived, they saw Huerta struggling with the defendant on the ground and saw the knife thrown, landing beyond one of the security guards.
"We believe that based on that testimony and evidence that we will prove our case beyond a reasonable doubt," Buchler said, asking the jury to find Bond guilty of attempted murder and assault with a deadly weapon.
In the defense's opening argument, Deputy Public Defender Ben Gaumond, who is representing Bond, told the jury his client Bond and Huerta "exchanged words" as they approached each other when Huerta "threw the very first punch to set off the altercation."
"All of a sudden, Huerta punches my client," Gaumond said, explaining that both men rolled on the ground as Huerta's wife told the men to "stop, guys," but Huerta did not let up.
"Eventually a knife shows up in between the two men. Mr. Huerta never saw Mr. Bond take out a knife and Mr. Huerta never sees Mr. Bond try to stab him," Gaumond said, adding that Huerta's wife did not see Bond try to stab her husband.
Gaumond said the jury would also hear what the Elko Police "did … and didn't do with the knife" when officers took the knife into evidence to send out for fingerprint analysis.
"They never actually tried to figure out if Mr. Bond touched the knife, whatsoever," Gaumond said, before asking the jury to find his client not guilty.
The trial is expected to conclude Thursday.