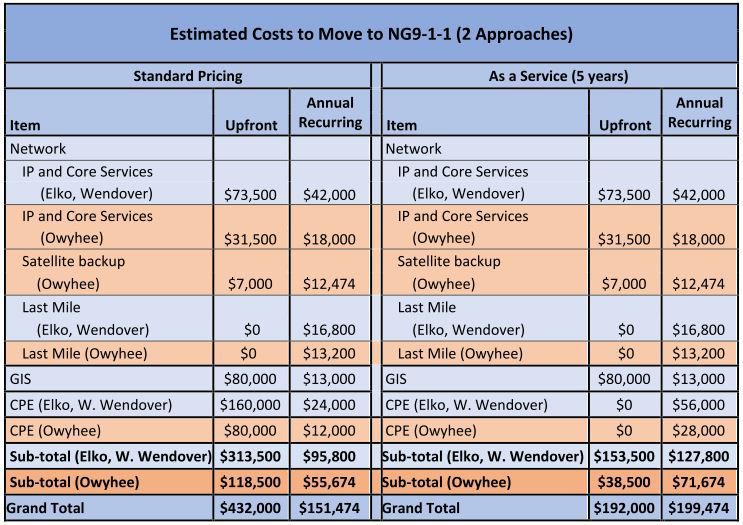 ELKO — Winbourne Consulting LLC is slated to present a report to the Elko County Enhanced 911 Board on Monday that recommends the county aim for Next Generation 911 rather than take the middle road of Enhanced 911 to provide the best service to residents.
"Many critical components of E911 are no longer offered by 911 service providers, as these components have reached 'end-of-life' status," Winbourne writes in the report to be heard at the 1:30 p.m. meeting Feb. 26 in the Nannini Administration Building.
"In addition, E911 systems are not compatible with emerging technologies (multimedia such as text messages, pictures, audio files and video) as the system was designed for wireline phones," the report states.
Moving to E911 "makes little sense from an economic point of view. The money spent on implementing E911 would eventually be followed by money spent on moving to NG911," Winbourne also writes in the executive summary.
Winbourne estimates the standard cost for Next Generation 911 would be $432,000, with annual recurring costs of $151,474. The company will explain cost estimates at the upcoming meeting.
Elko Police Chief Ben Reed, who chairs the Enhanced 911 Board, said this is one of the first times the consultants have recommended to "someone like us so far behind in technology to go straight to NextGen."
Elko County formed the Enhanced 911 Board to look at options for improving 911 service that currently is geared to landline telephones and provides no accurate location information for wireless callers, even though most calls are from cellphones.
Winbourne writes that the county only has rudimentary "work-around" location information for the cellphones, and Next Generation 911 is rapidly replacing Enhanced 911 around the nation.
Financing for the improvements is coming from donations and a 25-cent surcharge that companies providing landline and cell service in Elko County must charge and pass on to Elko County. Those collections have been slow to reach the county, which raised questions at the Feb. 7 Elko County Commissioners meeting.
"It's just a time factor, and I don't think some people are happy with the time factor," said Cash Minor, the assistant county manager and the one handling the collections.
Minor said earlier this month he has sent letters notifying all cell-service providers, and Winbourne provided additional listings of small phone companies that service the county.
"We're trying to get the process rolling. Under the statute they actually have almost a year to put stuff together," he said. "Everyone thinks you can just turn a switch on and the money starts coming in. Part of the problem is with these big corporations, it is tough to find the right person to talk to."
Reed said the one-year mark kicked off last spring once the county adopted a five-year plan.
Minor provided a spreadsheet on Feb. 20 that shows $6,211 in surcharges has been collected so far, including in fiscal year 2017, but a big check is coming from Verizon.
"We should get a check from Verizon in the next day or two for $32,000," he said on Feb. 20. "That covers January 2017 to January 2018."
Frontier started collections in December, and AT&T was supposed to start Jan. 1 "so we should see that check by the end of February," Minor said.
The figures provided by Minor show that the Enhanced 911 fund had $196,450 in donations in fiscal 2017 and surcharges of $195.75 collected, while expenditures totaled nearly $161 for a total of $196,485. For the current fiscal year that began July 1, new donations totaled $9,783 and expenditures $26,480. Surcharges of $6,015 for this year so far brought the total in the fund to roughly $185,803.
The $26,480 expense in the current fiscal year is "the first invoice from the consultant and was recently paid by Elko County," Minor said in an email Thursday.
Winbourne's bid for the 911 project was $161,280, which included planning enhancement of 911 and providing advice on obtaining new equipment and on the installation and setup of an improved 911 system.
The surcharge has been estimated to bring in $170,000 a year.
"Funding will be an issue regardless of whether Elko County decides to implement E911 or NG911. Although local Ordinance 2016-3 calls for collection and remittance of 911 surcharge money for the county, mechanisms have only recently been put in place for the revenues to go to Elko County 911," Winbourne writes.
The report states there remains uncertainty on the level of compliance with remittances from the carriers in the county that will cause a near-term shortfall of the anticipated revenues, but without the surcharge, the county can't afford any modernization of 911.
Reed said Elko County is also at a disadvantage because federal grants aren't available unless the state has a state 911 coordinator, and Nevada is one of two states that doesn't have a coordinator.
"This hurts us," he said. "It means it is on the backs of locals. Here we are in 2018, and we still have basic 911."