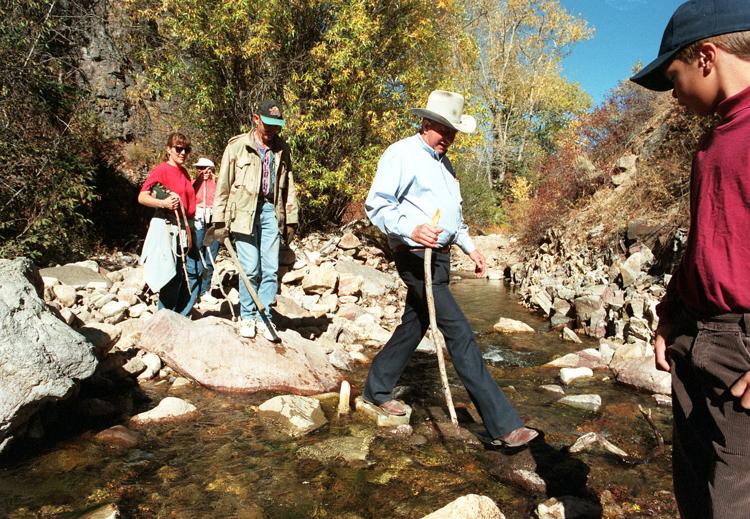 ELKO – An 18-year-old federal lawsuit over a remote road will remain active after county commissioners decided to take their case to the 9th Circuit Court of Appeals for a third time.
Commissioners voted unanimously Nov. 15 to file an appeal, after hearing from former district attorney Gary Woodbury that The Wilderness Society is unlikely to be awarded costs from the county, and that giving up now could put access to thousands of other roads at risk.
The dispute over South Canyon Road, which leads to Nevada's first wilderness area near Jarbidge, began in 1998 – three years after a major flood wiped out portions of the road and rechanneled parts of the west fork of the Jarbidge River. The U.S. Forest Service placed a large boulder in the road to block traffic from entering the once-popular camping and recreation area.
The Jarbidge Shovel Brigade reopened the road by removing the boulder, and the county sought to exert a claim of title to the road based on an 1866 law that promoted mineral exploration in the West.
The federal government sued, but after much legal wrangling over whether the road existed before the creation of the Humboldt National Forest in 1909, the county and Forest Service agreed to cooperate on keeping the road open.
Then two environment groups – The Wilderness Society and Great Old Broads for Wilderness –intervened, claiming the settlement would set an illegal precedent over other disputed roads across the West.
U.S. District Judge Miranda Du ruled against the county last summer and again this fall, stating there was not enough evidence to prove the road existed prior to the national forest.
"The continuous public use of the South Canyon Road requires a demonstration of more than random or merely occasional use," she wrote.
The decision put Elko County in the position of deciding whether to appeal or accept a settlement.
"The Great Old Broads, they had made an offer to the county to not assess costs against us if we agreed not to appeal," Deputy District Attorney Kristen McQueary told commissioners at their Nov. 1 meeting.
"We are also trying to get the Department of Justice to look at the precedence this case has set if there is not an appeal," she said.
The matter was postponed until Nov. 15, when Woodbury told commissioners the "costs" involved should not include attorney fees.
"They are not entitled to attorney fees from us," he said, "but it is theoretically possible they are entitled to costs."
Woodbury said The Wilderness Society is claiming $60,000 in unspecified costs. He told commissioners he did not believe the county is liable because the county was not a party to the Administrative Procedure Act under which the group prevailed in court.
"The Wilderness Society saw fit to seek intervention in a quiet title action. The quiet title action is the only action that Elko County had an interest in, but that quiet title action had been dismissed through the settlement agreement signed between the United States and Elko County. It has never, ever been reinstated by anybody," he said.
Du has not responded to the county's motion regarding the costs, Woodbury said.
"She's put you all in a hard spot," he added.
The county paid for repairs on South Canyon Road as part of the settlement agreement, Woodbury said, and Du's rejection of the entire agreement left the county with no compensation for its costs.
"We filed pleadings with Judge Du and said 'Look, the settlement agreement says it's severable. If in fact you're going to say that you're not going to treat it as a consent decree, you have got to come up and have hearings concerning how Elko County is going to get its money back for repairing the road …" Woodbury said.
When asked by Commission Chairman Cliff Eklund what the appeal would cost, Woodbury said he estimated between $20,000 and $25,000.
Commissioner Delmo Andreozzi said the case has already cost the county about $300,000.
"I'm trying to make a very thoughtful and prudent decision," he said, "but I also feel that if we don't protect those other 15,000 miles of roads … then how else is that going to impact mining, or recreation, or any of those other things that we do in the public lands?"
"I see that this decision is a threat to our way of life here," he added.
Commissioner and Shovel Brigade leader Demar Dahl described how the road dispute originally galvanized the community.
"Nearly 2,000 people showed up there to open that road," he said. "If we hadn't opened the road we would be in a lot weaker position today."
Commissioner Jon Karr agreed with Andreozzi's assessment of the situation and motioned to appeal the case. He was seconded by Commissioner Rex Steninger before Eklund opened the floor to public comment.
"We're looking at a more favorable federal government here," Thomas Burney of Carlin said of changes under the Trump administration.
As to whether making the appeal is right or wrong, he said, "I guess at some point you have to decide how much 'right' you can afford."
Councilman John Patrick Rice warned commissioners that there battle could become "quixotic."
"There are no winners on either side of a prolonged lawsuit," Rice said, referring to the City of Elko's long and expensive case with Canyon Construction over concrete work at the airport.
"One-third of my life has been spent in Elko County, and one-third of my life has been spent following this particular lawsuit" over the Jarbidge road, he said. "And it continues to go on and on."
Rice agreed with Dahl that 2,000 people were marching down Idaho Street with picks and shovels back in the year 2000, "… but now there are three of us in this room. I think that really speaks to what is happening in this community."
Former county commissioner Brad Roberts told the board that the federal government needs to follow the rule of law. He cited articles in the Constitution supporting the county's position.
"You guys don't have a choice," he said. "You guys have to hold up your oath" to uphold the law. "Just by giving up one mile of road, you're giving up one mile of my freedom. And I don't want that to happen, because that will expand and expand."
Dahl said there are still 3,000 shovels remaining from the 11,000 that were sent here from people in 38 states to show their support for the Shovel Brigade.
"The Shovel Brigade is still an active organization," he said. "Not very active, but it's there. I'm still the president of it, and we're ready to open another road that is closed, and don't you think the Forest Service knows that?"
Before the commission voted, Steninger said he took the mostly empty chamber to be an indication that county residents trust them to make the right decision.
"They don't have to come here and shout at us," he said. "I think if we made the wrong decision, then they'd come and shout at us."
Steninger said he took The Wilderness Society's offer as a threat, and a sign that the group is in a weak position. "It's a 20-year-old fight, but I think we have an obligation to that fight to continue it."
Continuing the fight is something the county is forced to do, he added.
"I really liked what Gary said about, 'We stood up to fight the attitude of the federal government that they're all powerful and we need to shut up and do what they say.' That just flies in the face of the whole concept of federalism that this country was founded under. They're supposed to be listening to us. We're equal sovereign here in Nevada."
Woodbury said it could be 18 months before oral arguments are heard in the latest appeal.