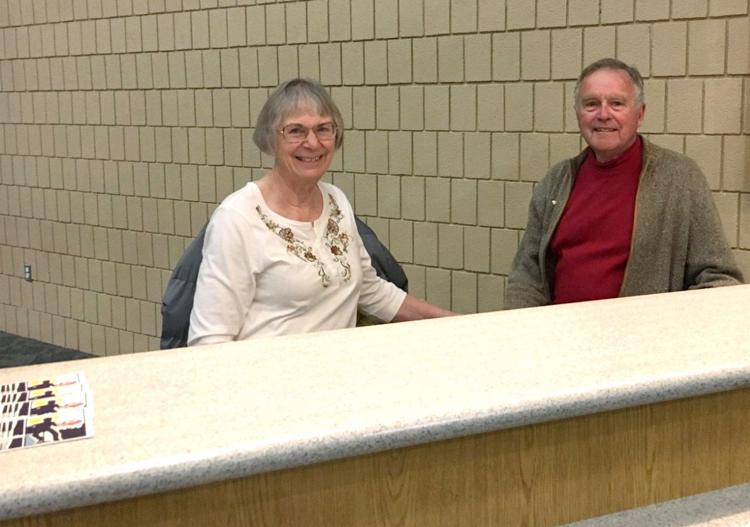 ELKO — Bill Nisbet is the president of the board for the Elko Community Concerts Association, and Ann Nisbet is the treasurer. They have been volunteering with the organization since the 1979 season.
Bill grew up in Pomona, California, and played the B-flat clarinet when he was in school. He moved to Elko in 1959 after attending Pomona College for wildlife conservation. Bill worked as a water surveyor at an engineering office for 50 years for Water Matters LLC before retiring. Bill performed on the B-flat clarinet with the Elko Community Orchestra for 15 years.
Ann was born and raised in Elko. She went to school locally and moved out of state to study home economics at Iowa State University. Upon graduation in fall 1963, Ann returned to Elko and continued her profession as a homemaker and volunteer musician. Ann still performs with the Elko Community Orchestra on second violin.
In a recent question-and-answer session, the board members discussed the history of the Elko Community Concerts Association, their involvement in the artist selection process, and how residents can get involved in the future events and memberships with the Elko Community Concerts Association.
What is the history of the Elko Community Concerts Association?
Bill: In 1946, and the 1946-1947 season, was the season right after the war, Ann's mother was a musician at the right place and at the right time for promoting community concerts in Elko. Laura Wilson was the chairman that year, and, of course, her and Ann's mom were very good friends. They found out about the possibility of a culture committee. The chamber of commerce was sort of the under writer of it all.
Ann: At that point, the booking agency [for artists] was out of New York called Columbia Artists. Things were pretty tight after the war in the first place, so there were artists that needed to be seen. People who were out of these cities were not getting any exposure to these big artists who became famous after becoming known on the community concert circuit. It was an outreach from Columbia artists to reach into communities for exposure to audiences, as well as jobs for artists. My mother was really involved. I remember falling asleep as a very young child at some of those concerts. Those seats were not comfortable to sleep in.
Bill: The concept was that there were national booking agencies with lots of artists, but they didn't get away from the big cities often. So, how could they go across the whole continent and bring music to the towns at a reasonable rate? This gap right here is about four years from 1972 to 1979. That's when the high school auditorium burned down. So, there was no place for us …
Ann: … to perform. We lived through that last year by performing in a multipurpose room in Schoolhouse No. 1. That was at Eighth and Court [streets]. That was not quite right, so we decided not to book anything for several years. Then, after the auditorium was built, we had a reliable and good performing hall. It's always been in the Convention Center since we had the Convention Center. Before that, it was the high school gymnasium.
Bill: It had a capacity of about 200 to 300 people with a small balcony.
Who runs the Community Concerts Association?
Bill: We're all volunteers. We don't get any salary. We get the crumbs left over if the guest artists don't eat all the food provided.
Ann: That's never happened.
Bill: We used to have a more deliberate nomination and election for our board of directors, but it seems as in recent years we just sort of say, 'Oh, you'll serve again next year, won't you?' and assume everybody will keep going. There's three or four names here that have been added in the last few years, and two or three long-timers that will yield soon to somebody else. It's almost our turn to yield pretty soon.
How does the board of directors decide what artists to bring into Elko?
Ann: The board does a really careful and deliberate job of choosing presentations with each season, and from season-to-season, so there's a variety of things. We may choose one classical artist one season or a solo artist.
Bill: The national representatives for the booking agency bring with them a video clip as well as their own personal descriptions of the event. We then run through a brief review of 20 to 30 artists or attractions, whether it's a single individual, duo or quintet.
Ann: We just meet at our home for the board meeting to choose for the following season. This season is pretty good. We've got dance, and already had the guitarist. We try to choose unique-sounding artists and attractions like the Breaking Winds [Bassoon Quartet]. Who wouldn't want to come see them with just the name alone? Then, we've got Two on Tap for tap dancing. We always choose performers that we feel would appeal to the community and sell memberships. It's always a negotiation of time and money with the artists and what's available at the time. They're all professional musicians. They're all on tours, or for segments of seasons.
Bill: Here's an idea of our list of performers over the years. Our artists' rate budget started around the $2,000 range in the 1940s and now it is up around $30,000. We always seek people in the community to help out, and so we're always looking for new memberships all the time. We cannot always rely on people walking up to the window that night to buy their tickets. That's why we budget for the whole year and artists in advance. That's why we sell memberships for the next year in the spring for next fall, so we have the money in advance to book the artists and auditorium. That's how we know what our memberships are and what subscriptions we have.
What should people know about the Community Concert Series?
Ann: We have not asked for grants or anything, but we do have a reasonably successful patron program. These are businesses and individuals who have paid extra money.
Bill: Dinner patrons.
Ann: Yes. They offer meal deals for the night of the concerts. Each restaurant decides what they want to offer the night of the concert. It's a partnership with the community concerts. It's just a few select restaurants in town listed, and we really appreciate that. … We also offer single event passes and subscriptions for businesses as supporters and patrons. Then, the passes can be distributed to their customers, vendors, or staff by the business or patron. We just like to have an audience.
[From the printed programs], people know what else is going on in the music community. It's disseminating information in a place where you have an audience. We try to announce them so people can hear about what else is going on in the music community. I found that if people have something to stick on their wall or write down on their calendar, that they are more likely to go to it and remember what's happening.
Bill: Typically, we take a break in the middle of our year to not overkill the other musical things happening in our community. The schools are always filled with Christmas-themed music, and cowboy poetry time, as well as January is not a dependable travel month for some of these artists with the roads and flying. We decided let's skip those months and start again in February.
Ann: One nice adjunct in the past few years is the fundraiser project from the high school string project. They offer refreshments at intermission.
What are the favorite parts about what you do?
Bill: It's nice to hear people after a concert say, "Oh, I didn't know they could do that." It's something new, or they were skeptical about it, and they found that they enjoyed the discovery of what they heard by enlarging their own exposure to it. Most of the artists are carrying recorded samples, and that's kind of a gauge to see if people snatch it up because they want some more music before they leave.
Ann: Each concert does not have to be our favorite, but they're all amazing performers. We've had Chinese acrobats for heaven's sake! There's great music every time. That's the goal of community concerts as an evening of entertainment. Some of the best comments are those that say, "Man, that concert was worth the whole price of the season." When I'm in there hearing these, I turn around and say to them, "That's when the rest of the concerts are free, aren't they?" It's a perspective that they just felt that a particular concert really resonated with them. That's what we hope. That any of the concerts would resonate with the people who didn't expect it.
"We cannot always rely on people walking up to the window that night to buy their tickets. That's why we budget for the whole year and artists in advance." — Bill Nisbet