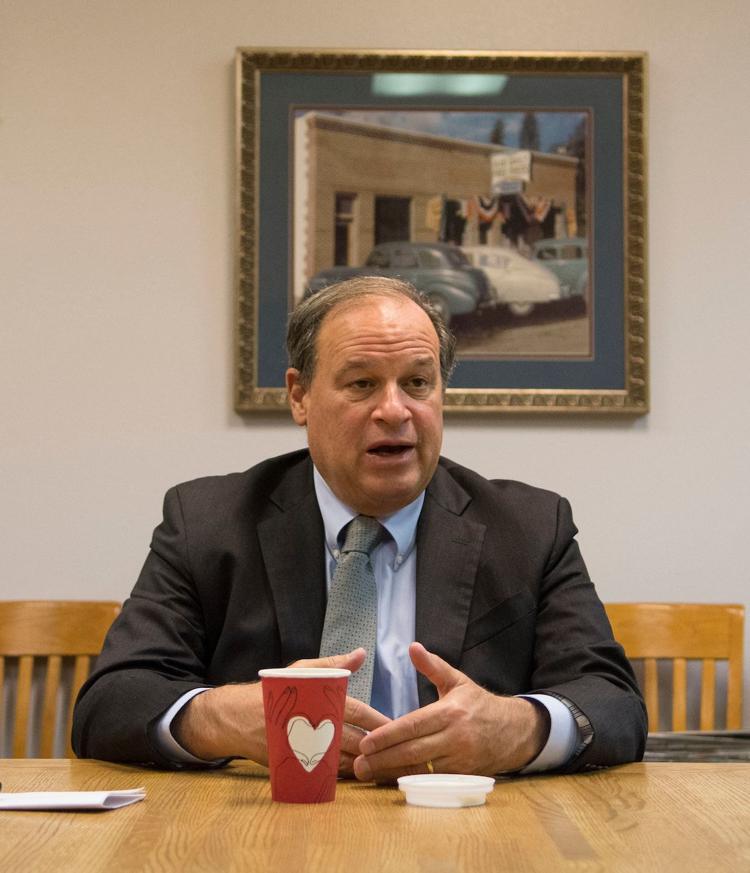 ELKO — After the Legislature passed a bill in 2016 to allow a $2 million National Football League Stadium to be built in Las Vegas, Nevada State Treasurer Dan Schwartz said he had to push through a crowd of lobbyists to leave the Capitol.
The experience led to what he called an "epiphany" that the state needed new leadership to better manage the state's money and economy.
"I said enough is enough," he said. "This is not the way this government should run."
Schwartz is now running for governor in the Republican primary against Attorney General Adam Laxalt. After observing government operations as treasurer since 2015, his platform is that Nevada "is run by the lobbyists and political insiders with the fattest wallets and best connections," according to his campaign website.
The candidate visited the Elko Daily Free Press office Dec. 14 before speaking at a private event for the local chapter of the Veterans of Foreign Wars. During the interview, the treasurer criticized elected officials and appointees for mismanaging the state financially and politically.
"I'm going to put an end to the tax breaks and abatements and financings that the governor and particularly [former Governor's Office of Economic Development Executive Director] Steve Hill have been handing out," Schwartz said. "I think a stadium — a $2 billion stadium — makes no sense."
Stadium supporters say that the tourists will ultimately pay for the stadium and stimulate the economy, but Schwartz argues that millions of state dollars instead could be used for purposes such as education.
He has been a proponent of parent choice of schools, including using funds in government-approved savings accounts, called Education Savings Accounts, to pay for alternatives. His other priority issues include creating jobs, controlling healthcare costs, prohibiting personal or corporate income taxes, and not spending tax money to finance projects such as the stadium, according to his website.
Instead of diversifying the economy by granting tax abatements "like they are going out of style," Schwartz said, the market could be allowed to grow by promoting Nevada's lack of income and corporate taxes, and low cost of living.
"Let's market that," he said. "Let's build infrastructure. We don't have to give away our tax base."
With a Master of Business Administration from Columbia University and 35 years of financial experience, Schwartz said he would use "financial sense" to run the state differently. The Chicago-born businessman and lawyer pledged not to take money from lobbyists or political insiders, putting an end to what he dubbed "pay to play" operations of the government and his opponent.
The gubernatorial hopeful also said he'll seek to unite the state's divided conservatives by upholding core principles, then setting and adhering to an agenda for the Legislature. If it doesn't follow the plan, Schwartz said he'll rely on the governor's right to veto.
"Dan Schwartz is small potatoes, but he has a very powerful Italian friend called 'Veto,' and 'Veto' is going to be a very close ally, and I'm not afraid to use it," he said. "So we are either going to get something done for this state, or I am going to issue a very embarrassing apology to the voters of this state that, 'We had an agenda, this Legislature decided they knew better, and they're all going home without having done anything,' and I am prepared to do that."
Schwartz said his tactics consider the long-term well-being of the state that might even have an effect on the party.
"I'm hoping that a more rational, sensible element in the Republican Party, and one that stays true to its credos, will emerge," he said. "I'd like to think we are in that process right now. Obviously, it's not over."