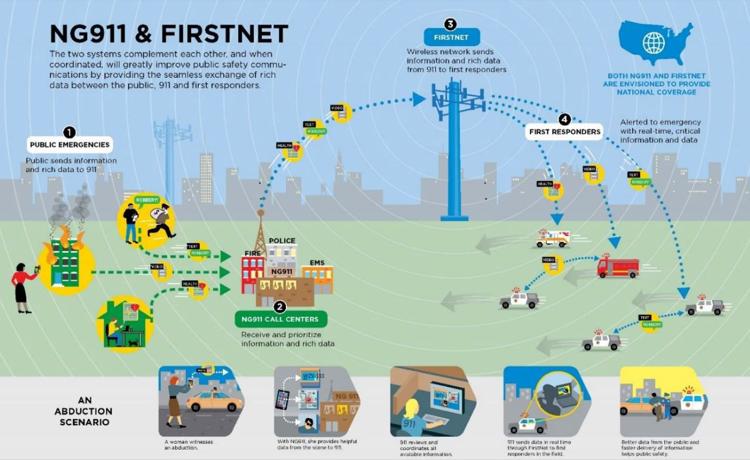 ELKO — The county is now up to speed about what needs to be done to modernize 911 service. Paying for it is the next hurdle, and collecting money is not going as well as planned.
The need for solid resources to bring installation to fruition prompted the Elko County Board of Commissioners to require monthly updates from staff regarding the collection of a telecommunications surcharge that seems to be lacking.
"The Achilles heel of this whole program is that money trickling in," said Commissioner Delmo Andreozzi. "It needs to be coming in steadily so we can project."
The 911 service in Elko County is three generations old. The area is one of about 12 entities in the U.S. that has basic 911 out of approximately 6,600 locations. Basic 911 does not provide a way to verify where an emergency call originates.
"We are just so far behind in the 911 game," said Ben Reed, chair of the Elko County Enhanced 911 Board and Elko's police chief.
At the March 7 county commissioner's meeting, he reviewed a presentation given by Winbourne Consulting LLC. The group recently recommended that the county jump to Next Generation 911 rather than take the middle step of Enhanced 911.
Moving to Next Gen 911 is less expensive than opting for E-911, which is becoming obsolete. The initial cost for E-911 is estimated at more than $400,000 a year with annual fees of about $200,000. In comparison, Next Gen 911 is estimated at $200,000 at first with a $200,000 annual recurring fee, according to the consultant's report.
"It's not as expensive as some of the other ways to do it," Reed said. "It is still what I would call expensive. But remember, you have the funding source. We have the funding source, which is the surcharge."
Reed referred to a 25-cent monthly fee per phone line that telecommunications companies serving Elko County are supposed to be collecting and remitting. The county approved the surcharge sometime in summer 2016 and began sending notices in fall of that year.
The funding mechanism is in place, but the amount that will be available to implement the new system is unclear. Telecom companies' payments to the county have come in sporadically, with start dates that possibly vary.
Total surcharge collections so far total about $46,000, Reed said, although the predicted amount for this stage was more like $150,000.
"I'm disappointed," Reed said. "I wish it would have come faster and bigger and more. We have a lot in front of us, and the funding is just not there yet."
Kristin McQueary, chief civil deputy district attorney, said the county needs to show they have notified the companies, which proved to be a challenge for county staff. The challenge was identifying all the small and large providers and finding the right person within the companies to contact, McQueary said, adding that it is not yet clear whether all the companies serving Elko County have been notified.
"So it's possible that it slipped through the cracks, and they weren't notified," Commissioner Rex Steninger said.
In mid-February, assistant county manager and chief financial officer Cash A. Minor, who was not at the March 7 meeting, told an Elko Daily Free Press correspondent that he had not forgotten to send anything but didn't have all the smaller companies' names until recently.
Andreozzi said it is time for the commissioners to "turn up the heat." He asked that county staff provide a spreadsheet to the board each month outlining which companies have been notified when, how many lines they have, and when they remitted payments.
"I would love to see that same invoicing," Reed said. "Our feeling among us [on the 911 board] is, 'Yes please do that.' … I've asked Cash one-on-one to please make that a priority because it's on county staff to have that interaction."
Minor is expected to have the report ready for the next county commissioners' meeting March 21.
"I just get this funny feeling that we have made a mistake here, and all we can do is fix it," Steninger said.
Reed reminded the commissioners that overall, the consulting firm's recommendation to skip the expensive intermediary level E-911 is good news. He also pointed out that the approximately $46,000 collected from surcharge, combined with remaining community donations, is sufficient to take the next step.
That next step is to develop a geographic information system that Elko County dispatchers can use to cross reference 911 callers' information with public records, such as from each city's building and planning departments.
Winbourne Consulting's report recommended the county start that process with a contractor for an estimated cost of $80,000 and fund maintenance through ongoing surcharge collections — once the system is working as planned.
"We have to go slow and steady here at first to make sure we don't get the cart before the horse," Reed said.
Pending solid financing, the idea is to have Next Gen 911 live by 2019, according to Winbourne Consulting's timeline.