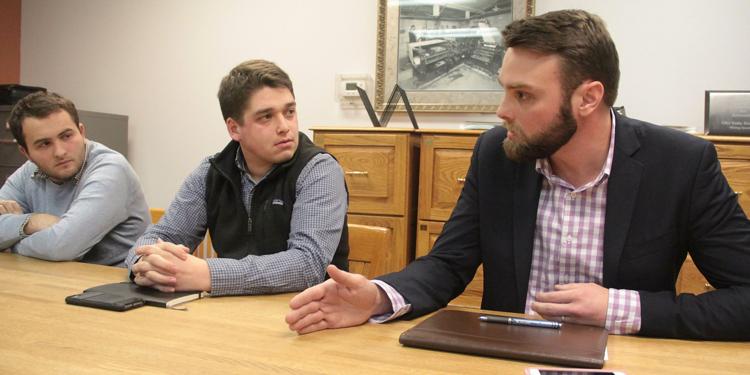 ELKO – Republicans are preparing for this year's mid-term election season using an advanced data system to track and analyze voters in Nevada.
The Republican National Committee is touring the state to explain the data targeting program, which culminates in a data summit Jan. 20 in Las Vegas, coordinated with a live training session for Republican volunteers in Carson City and Las Vegas.
"The data summit should be a very good event for us," said Nevada RNC State Director Dan Coats. "The idea is to get Republican political decision makers all in one room to discuss RNC data, the field program and party unity."
The summit will include Republican incumbents from both chambers of the state Legislature, all statewide campaign candidates and southern Nevada congressional candidates.
The highlight of the summit is the data targeting which will be used mainly for the general election.
"The message there is [that] we have the tools and resources for whoever comes out of these primaries to be successful. We are building the infrastructure to be successful," said Coats.
Coats explained that the party is intensifying its efforts for voter registration in the mid-term elections.
"We've been registering voters since June 1, and we're not going to stop until the deadline in October," Coats said.
National Day of Training date is another push by the RNC to recruit and train volunteers, Coats said. "Our entire existence is to build a volunteer infrastructure that allows us to succeed."
It will include Nevada Leadership Initiative Training that works with volunteers, or fellows, to instruct them in "political organizing 101," Coats said, which includes learning how to have one-on-one recruitment meetings, organize house meetings, and how to register voters.
Once the neighborhood teams are organized, they will go into the community to work on voter registration, voter identification and persuasion and voter turnout, Coats said.
"The neighborhood team model is the key component of it all because Chairman Reince Priebus in 2012 completely revamped the field program," Coats said. Now, it will "empower volunteers, create a clear chain of command and team vibe within this neighborhood team model."
"We've made significant progress in Nevada" for Republican voter registration, Coats said. "I believe the last report was around 76,000, is the Democratic advantage over the Republicans, but that is significantly smaller than what it was going into the 2016 election and previous election cycles as well."
So how is data transforming the way elections are predicted and won? The RNC uses voter scores program, born out of the 2012 presidential election that saw Barack Obama elected President.
"They built an incredible operation, both in the field … and from a data perspective," said Brian Parnitzke, RNC Director of Turnout and Targeting. "They did an incredible job and we got beat."
The RNC program replaced microtargeting, a method that was first used in 2004 to sort voters into their demographics.
"Essentially, they are a unique way for us to look at every single registered voter in the country and go about models on how likely they are to hold different sentiments and what not," Parnitzke said. "It's your typical big data thing."
The voter score program was built from surveys taken in each state, from which models are created that ask how likely they are to vote in the presidential election and narrow down their opinions about issues such as President Donald Trump's tax bill and his current agenda, said Kristian Hemphill, RNC Regional Data Director.
"We have up to 4,000 given points of consumer data on any given voter in Nevada to create an individual score of each voter," Hemphill said.
"We're able to track key events that take place and notice when different shifts in the electorate are happening. If some new bill is introduced or if a major event takes place, we are able to tie that event to those voters who have moved and know this is likely something that causes that shift," Parntizke said.
"It's invaluable information we can turn over to anyone with an 'R' next to their name."
The program also detects shifts in voter habits, comparing how someone votes in each election, starting in 2014.
Parnitzke said the voter scores give a view into a "longitudinal study of the electorate, which is invaluable," allowing the data team to see which voters are shifting up or down from their party affiliations and go after them.
"The party looks very different in 2018 than it did in 2014 when we began this program," Parnitzke said.
Using the individual scores for each voter over microtargeting "allows us to force rank all the voters if we had to, if someone asked for 30,000 best voters," Hemphill said.
The scores are refreshed monthly in target states, show what is trending among the electorate, and turned over to the field teams and all of the campaigns.
Parnitzke pointed to Senate races in Colorado and North Carolina both won by Republican candidates in 2014 as a successful use of voter scores, which countered the polls predicting a loss.
Because of those successes, the RNC invested $200 million in 2016 in the voter score program that was "not just predictive, but prescriptive," Parnitzke said.
"The voter scores can tell you what we think the outcome will be, but the more important portion is really their prescriptive nature. They can tell you who to target and who go after … how to prescribe … to get 51 percent for anyone with an 'R' next to their name."
In 2016, the RNC predicted national turnout to 1 percent and voter turnout in Michigan 0.2 percent, Parnitzke said.
Parnitzke cautioned that the voter scores were "not 100 percent accurate" and not used for predicting the future.
Voter scores were also used in Florida, Parnitzke explained, when the data was used to reach 699,000 voters who had not made up their minds three days before the presidential election in 2016.
"The field team made the difference in that race," Parnitzke said.
However, the voter scores program isn't used for the primary elections and caucuses, just specific candidates in the general election, Parnitzke said.
"We're sort of agnostic to who the candidate is. We had 17 candidates for president last cycle. The RNC and Chris Carr, political director at the time, said, 'We need to build a good organization and turnkey operation that as soon as we get a nominee, we can hand over the reins … we've spent months, years investing in the program. It's yours.'"
The program is "peerless," Parnitzke said, explaining that because of the investment of money and time, the Democrats "will be playing catch up with us for a long time to try and build."
"Even if they do start making those investments, and even if somehow they were able to work out the kinks in their system and match what we have in terms of current projections going forward, they still can't match what we have in terms of the history of the program."
But does the system rely upon computer algorithms to generate a list of voters to target in an election? According to Parnitzke, "It is very human."
"There's a lot of humanity that goes into it, and again I think that's one of the differences between us and the Democrats. The Clinton campaign spent a lot of money and understood the need to have a strong data program…they think of data as a strategy and we think of data as a tool."
"We're able to track key events that take place and notice when different shifts in the electorate are happening." — Brian Parnitzke, RNC Turnout and Targeting
The Republican National Committee provided the correct figures for the number of voters the data program reached in Florida.