Profiles of Courage: Survivors of breast cancer tell their stories in their own words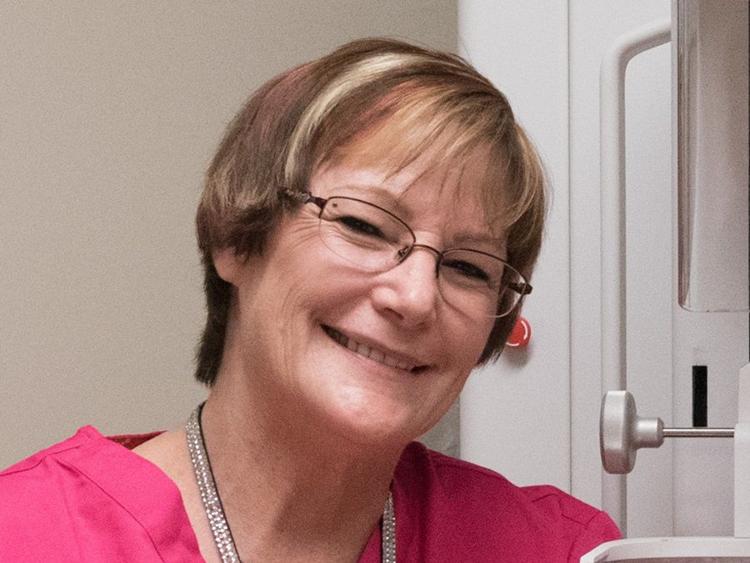 Carol Hockett is a registered imaging technologist at NNRH. She is also a survivor of breast cancer. We recently sat down with Carol and asked her to tell us her story.
———
I was 48 years old when I was diagnosed with breast cancer. Leading up to my diagnosis, I had this feeling that something was off. I couldn't really feel a lump, but my body was telling me that something was wrong. It's hard to explain, but I think it's really important to listen to your body.
Anyway, I scheduled a mammogram. We actually did both a mammogram and an ultrasound of the breast, but nothing showed up. Still, I had this feeling that something was abnormal, so I requested a biopsy. The doctor really didn't think that I had breast cancer, but he did the biopsy because I requested it. When the results came back, they were positive for cancer.
After my diagnosis, I went to the Huntsman Institute in Salt Lake City. That's where I got a mastectomy and underwent chemotherapy. It was a very difficult time in my life. My dad was in hospice in South Dakota, and I was down here. I was trying to deal with his illness while I went through my own. I knew that he was just holding on until I made it through my surgery before he passed away. I got to go see him a few weeks before my surgery. And then I came back and had my mastectomy. Six hours after he was told that I was OK, my dad passed away. It was such a tough time, because I knew what my dad was waiting for. I actually had to plan his cremation before I had my surgery. Like I said, it was just a really tough time.
After the mastectomy, I had several smaller surgeries for the first couple of months. Then I did 16 weeks of chemo. I kept working here at the hospital all throughout my chemo. My friends and my co-workers were a really good support group. Even the patients here at NNRH were a huge support. They watched my whole journey with chemo, and they still talk to me about it when they come to the hospital. I remember, after my hair fell out, I was wearing a stocking cap at work. This gentleman came in for an ultrasound, and he asked me, "Why are you wearing your hat?" And I said, "Because I'm bald." And he said, "Well, so am I, honey. It's not a big deal!" That kind of humor and support helped me get through this.
Now my cancer has been in remission for seven years. I still go to the Huntsman a couple times each year for additional testing. It's important to stay watchful.
I do believe that God worked a great deal in my life to get me to this point. I think my career as an imaging tech actually saved my life. I wouldn't have been aware of my risk and I wouldn't have known that something was wrong inside me if I didn't work in mammography.
I've always been an advocate for breast cancer awareness, even before my own diagnosis. I've been doing mammograms for over 25 years and ultrasounds for over 30. So, I've always had a focus on women's breast health during my career. What my personal experience with breast cancer really brought home to me was how large a role genetics plays in this disease. I have a strong family history of breast cancer. After I was diagnosed, I got tested for the BRCA gene. There are many different cancers that are associated with mutations in the BRCA1 and BRCA2 genes. I have this gene mutation, and we can trace it back to my mother and my grandmother, as well as my aunt. All of these women passed away from cancer before the age of 45.
Now, I encourage people – both women and men – to get tested for the BRCA gene, especially if there has been cancer in every generation of your family. Being aware that you have an elevated risk means that you'll get screenings more frequently than other people. And that helps doctors catch the cancer early while it is still treatable. There are also a lot of preventative steps that people with the BRCA gene mutation can take to help avoid getting cancer in the first place. It only takes a simple blood test to check the BRCA gene. It is definitely worth it.
The fact that I am a breast cancer survivor helps me relate even more to women who come in for mammograms, especially when they are called back for additional tests. Usually these patients are pretty scared. I can sit with them and share my own experience and let them know that it's not the end of the world. Breast cancer is life-changing, but you can still have a really good life afterward. I'm proof of that.
This past summer, I had an amazing opportunity to promote breast health abroad. I was asked if I was interested in travelling to Romania to provide ultrasound screenings to an underserved population. My response was, "Well, sure!" The group that I travelled with is called ServingHIM Healthcare International Ministries. I had to raise quite a bit of money to pay for the trip. I'm very grateful to all of the individuals and organizations, including NNRH, who supported this mission.
ServingHIM helps facilitate the Diaconia Clinic in Braila, Romania. Unfortunately, there has been very little health education in this part of Romania, and that includes breast cancer education. We were able to teach the women there how to perform breast-self exams, and we talked a lot about the importance of mammography and early detection. I performed breast ultrasounds for dozens of women, many of whom had never been screened before. We sent all of the images back to a radiologist in the U.S. for interpretation. Then the local clinic staff provided follow-up with each woman.
The patients in the clinic were wonderful. They were just so grateful and appreciative. I know that many of them really needed the care and the education that we provided. It was very rewarding to get to know them and to serve them. It was a great yet humbling experience. And I'm hopeful that I can go back before too long.
I guess, as a survivor of breast cancer, I really just want to give back. I have been blessed with so much and each day truly is a gift. If I can give back and be there for women who are going through something similar, then that is a reward in and of itself.
On behalf of all of us at NNRH, we want to say "thank you" to Carol for sharing her story with such honesty and courage. Her passion for women's health – not just in our community, but around the world – is an inspiration to us all.