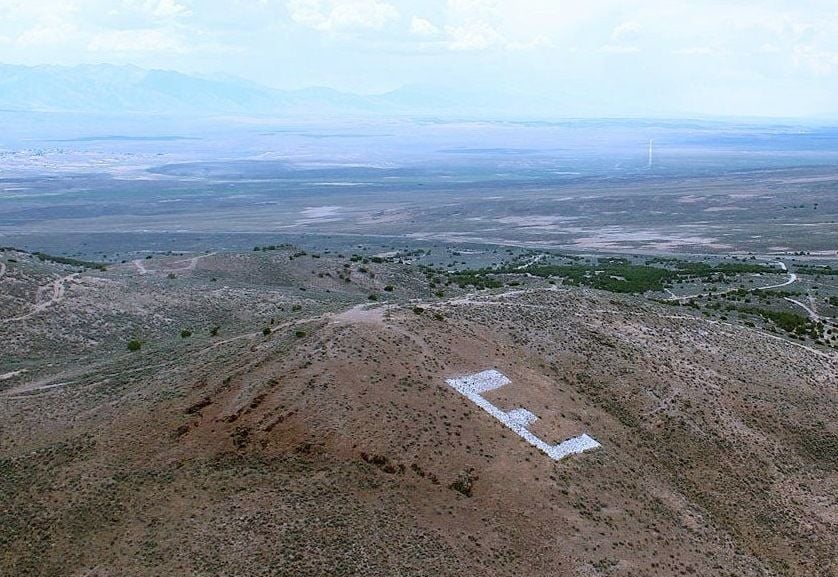 Movie at the library
ELKO -- The Elko County Library will host a Saturday movie matinee from 2- 4 p.m. July 13 in the Bruce Memorial Meeting Room. This is part of the summer reading program, "A Universe of Stories."
The movie will be "Galaxy Quest," starring Tim Allen, Sigourney Weaver and Alan Rickman. The library has limited seating so come early. Families are encouraged to attend. Snacks will be provided.
For additional information call 738-3066.
Elko County Library Book Club
ELKO – The book club will discuss the memoir, "Educated," by Tara Westover, at 6 p.m. July 15 in the library meeting room. The book is a Nevada Reads selection for 2019. Copies of the book are available for checkout. Call Patrick Dunn at 738-3066 for more information.
Southwind at the Pioneer Saloon
ELKO – Drop by the Western Folklife Center's Pioneer Saloon from 6-8 p.m. July 17 to enjoy Southwind's lively Americana, folk and Celtic music. The bar will be open and there is always room to dance.
Mike Beck Live at Western Folklife Center
ELKO – Contemporary cowboy singer and songwriter Mike Beck returns with a solo acoustic show from 7-9 p.m. July 18. Admission is $15 for non-members and $10 for Western Folklife Center members, seniors and students. Tickets are available at the gift shop or at the door the night of the event. Please pay by cash or check at the door.
Kids Classic Gold Tournament
ELKO -- The Boys and Girls Clubs of Elko invites you to the eighth annual Kids Classic Golf Tournament on July 20. The cost is $240 per team (carts and green fees are not included) with lunch and beverages provided. This is a four-person scramble with prizes for first, second and third place teams.
Signup sheets are available at Ruby View Golf Course and the Boys and Girls Clubs of Elko. Call 738-2759 to reserve your team or if you would like to be a hole sponsor. All proceeds go directly to the Boys and Girls Clubs.
Lamoille Steak Fry
LAMOILLE -- The 57th Annual Lamoille Steak Fry will be held from noon to 5 p.m. (or until the food runs out) July 21 in Lamoille Grove. The money helps take care of the old schoolhouse in Lamoille. Call 753-9614 or 934-6093 for more information.
Ruby Mountain Bible Church
Spring Creek -- Ruby Mountain Bible Church will host Vacation Bible School from 6-8 p.m. July 22-26 at 475 Diamondback Drive. The program is open to boys and girls ages three and older.
The VBS program is free and you don't need to be a member of the church to attend. Adult classes will be held at night while the children are at VBS. A nursery is available for those under 3. Learn more at rubymountainbible.com.
Elko Senior Games
ELKO -- The 18th Annual Elko Senior Games are scheduled for July 24-28. The games are for anyone between the ages of 50 and 100. Competitors may participate in horseshoes, darts, basketball shoot, table tennis, tennis, billiards, bowling, swimming, river walk, bicycling, weightlifting, track and field events, pickleball, pistol shooting and, coming back this year, Novice HIIT (High Intensity Interval Training).
Gold, silver and bronze medals are presented to competitors in incremented age groups of five (50-54, 55-59, 60-64, etc.) Pick up a registration form at The Terrace's, GBC Athletic Center and Full Range Physical Therapy or on registration day, July 24, at the Terraces. The cost to participate is $15 plus $2 for each event prior to July 17. After July 17 the cost is $20 for registration and $2 for each event. For more information call Jenny at 801-671-7857 or visit www.elkoseniorolympics.com.
Community Barbecue
Starr Valley – The Starr Valley 4-H Club will host a community barbecue from 6-7:30 p.m. July 31 at the Starr Valley Club Hall. Join them for an evening of good food and fun. The cost is $7 per person or $25 for a family. The evening includes a raffle and dance.
To get to the hall take Interstate 80 to Exit 333 and head south for four miles. Call 934-6384 for more information.
Ruby Mountain FFA show and sale
ELKO – The Ruby Mountain FFA is putting on their annual Livestock Show and Sale August 1-2 at the Elko County Fairgrounds. This event is open to all 4-H and FFA youth of Elko County and Nevada.
If you would like to exhibit a market hog, show up for weigh in at the fairgrounds from 4-7 p.m. August 1. Weigh in for market steers and lambs will be 8 - 9 a.m. August 2. Breeding animal classes will be based on signups posted August 2. The show starts at 8:30 a.m. August 2.
A free dinner will be provided to all exhibitors and buyers beginning at 5 p.m. At this time you may also register as a buyer for the sale. The live animal auction will begin at 6:30 p.m.
Come support the youth in our state as they sell their market animals and get some home grown meat in your freezer. Resale option is available. For more details contact jbutz@ecsdnv.net.
Elko Garden Club
ELKO – The Elko Garden Club meets from noon – 1 p.m. in the Elko County Library meeting room August 2. The library is located at 720 Court St. Club members will discuss the flower show at the Elko County Fair. Join them to learn about volunteering, entering flowers and floral display categories.
American Legion poker run
Elko –The first annual American Legion Riders Post 7 Poker Run will take place at 9 a.m. August 3 at VFW Post 2350 located at 731 VFW Drive. Registration begins at 8 a.m. The VFW barbecue starts at 1:30 p.m. The entry fee is $20. A free patch will be given to the first 50 entries. Riding t-shirts can be purchased for $25. Contact 340-8083 or gamann51@yahoo.com. All proceeds go to the American Legion to continue supporting veterans and service members.
Hospital presents free nutrition class
ELKO – Northeastern Nevada Regional Hospital will present the next installment of the Healthy Living Series from 5:30 – 6:30 August 7 in the hospital classroom from. The topic for August is "Hydration: Rethink Your Drink". This class series is designed to provide practical, everyday steps toward achieving a healthier lifestyle. The classes are open to everyone in the community and are offered free of charge. Those who are interested in learning more may call 748-2094.
Lamoille Canyon Hill Climb
Lamoille -- The Elko Velo Cycling Club will hold their 14th annual Lamoille Canyon Hill Climb on from 7:30– 8:30 a.m. August 10. Registration is $50 on race day or preregister at Webscorer for $40. All riders will receive socks, a t-shirt and a barbecue lunch after the race. The race begins at 9 a.m. with a mass start and consists of a challenging 12 miles up Lamoille Canyon, gaining 2900 feet of elevation. There are classes for all age groups in both mountain bike and road bike categories so whether you're new to cycling or an experienced cyclist this is an experience you will want to participate in. For more information visit www.elkovelo.com.
Walking Tour: "Portraits of the Gathering Exhibition"
ELKO – The guided tour begins at 9 a.m. at the Western Folklife Center, 501 Railroad St. As you walk you can use your mobile device to scan the QR code and be taken to an online site to listen. Maps of the full presentation will be available. For more information visit www.westernfoklife.org/event-calendar.
Jam On!
ELKO – Join a musical jam session from 6 – 8 p.m. at the Western Folklife Center's Pioneer Saloon, 501 Railroad St. The event is facilitated by Southwind. Bring your favorite tunes, your instruments and friends. The bar will be open for business.
Southwind at Pioneer Saloon
ELKO – Join Southwind from 6 – 8 p.m. August 21 at the Western Folklife Center for an evening of free music. The band plays Americana, Folk and Celtic music. There is always room to dance.
ASSIST suicide prevention training
ELKO – Assist is offering a course from 8 a.m. – 5 p.m. Oct. 28 and 29. The class will be held at the Elko County School District Office in the Resource Library Room at 850 Elm St. Registration for the training is $65 per person and there is room for 30. There are continuing education units available for this training for those licensed by the Nevada Boards of Social Work/ MFT/ ADGC/, Psychological/Pharmacy and EMS/Physical Therapy/POST. You will need to give your Nevada Board license number on the registration form in order to receive the credit. Please note that due to scheduling rooms and trainers, we are not able to offer refunds, so please be sure the dates work into your schedule before you register.
Western Folklife Center exhibition
ELKO – "Portraits of the Gathering: Faces and Voices of Cowboy Poetry" is installed in the Wiegand Gallery and on Elko storefronts. This is a photographic exhibition of individuals who have brought heart and soul to our community through their poetry, story, song and artistry; The "I've Got Spur exhibition of handcrafted pieces from the Western Folklife Center's collection is displayed alongside other contemporary and historic examples.
FRC offers private parent education sessions
ELKO -- The Family Resource Center offers free individualized parent education sessions to build parenting skills. There are eight different programs, including the age and stage of development for the children in the home. Curricula is developed for specific family situations such as co-parenting through divorce or separation, blended families or improving school performance. These evidence-based programs focus on the families' strengths and provide tools and information designed to help parents better handle stress, positive interaction, discipline and helping the child to develop lifelong learning habits. For more information call 753-7352, or email parenting@elkofrc.org.
Free healthy teen program
ELKO -- Family Resource Center hosts free healthy teen programs each month at 331 7th St. These fun, lively, evidence-based age-appropriate programs teach youth about making healthy life decisions. The program incorporates medically-accurate information along with crucial knowledge identifying and handling social pressures, communicating effectively and dealing with peer pressure. Youth learn about puberty, hygiene, personal responsibility, independence, avoiding risky behaviors, respect for self and others and reproductive health while building knowledge, skills and confidence. Youth receive their choice of a free backpack full of school supplies or a $25 gift card for Marshall's or JCPenney after completing the program. Parents receive a free $15 gas card upon their children's completion of the program. There is a limit of one free incentive per participant per year. A parent or guardian must pre-register by completing a permission slip before class. For more information or to sign up, contact 753-7352 or teenhealth@elkofrc.org.
Let's Dance!
ELKO—Dancing happens every second and fourth Thursday of the month in the Western Folklife Center's G Three Bar Theater. The program starts at 6:30 p.m. with a $5 dance lesson. Open dancing begins at 7 p.m. Adults and teens welcome, no partner or experience necessary. For questions on lesson specifics, contact ElkoLetsDance@gmail.com.
St. Mark Lutheran Preschool
ELKO – St. Mark Lutheran Preschool has openings for 2019 – 2020. Call 753-4750 between 8 a.m. and noon.
Summer of Silver program
ELKO -- The Northeastern Nevada Museum is collecting aluminum cans for a new interactive exhibit featuring Silver the bald eagle as part of the museum's Summer of Silver program. Cans can be dropped off at three locations: the museum, 1515 Idaho Street; Spring Creek Association, 401 Fairway Boulevard; and the Elko Daily Free Press, 3720 Idaho Street. For more information call 738-3418.
Alzheimer's Support Group
ELKO -- The Alzheimer's Support Group in Elko will be postponed until further notice. In the meantime, please check out alternative resources like the Alzheimer's Association Virtual Support Group Link, Telephone Support Groups or Online Forum. For more information about alternative support groups, please call the Alzheimer's Association 24-hour Helpline at 1-800-272-3900 or visit our website at www.alz.org/CRF.
Beta Sigma Phi seeks members
ELKO – Are you looking for new friends and fun things to do? Would you enjoy a social or community service-oriented group? Beta Sigma Phi could be just right for you. The international women's friendship network provides service opportunities and educational programs to its members. There are women of all ages, interests, educational and economic backgrounds. It is the largest organization of its kind in the world. For information about Beta Sigma Phi visit www.betasigmaphi.org or contact Karla Walker at 397-3562.
Horizon Hospice support group
ELKO — Those who have experienced the death of someone significant are invited to join Horizon Center Grief Group meetings on the first and third Mondays of every month, except on holidays. The group meets at 1250 Lamoille Hwy, Suite 413, from 6-7 p.m.
The purpose of the group is to provide information about the grief process; to share experiences; and to alleviate the feeling of isolation.
For more information call 778-0612.
Sunrise Rotary meets at Dalling Hall
ELKO — The Rotary Club of Elko Desert Sunrise meets each Thursday morning (except the second Thursday of each month is an evening social) in Dalling Hall – 600 Commercial St.
Members are dedicated people who share a passion for community service and friendship. The club connection gives you the chance to develop skills like public speaking, project management, and event planning. Buffet breakfast begins at 6:30 a.m., cost is $15 per person. Call at least one day in advance to reserve your breakfast. Everyone is welcome.
Interested to learn more? There are two active Rotary Clubs in Elko. See https://www.elkorotary.org/ for information on the Rotary Club of Elko, which meets around the lunch hour.
Young Life teens meet every Monday
ELKO — Young Life plays an important role in our community and offers teens hope, faith, adventure and unconditional friendship. Young Life is looking for new teen members. Want to go to camp this summer and have some fun with other teens? Meetings begin at 6:42 p.m. at 616 Commercial St. Call 397-8129 or see Facebook page under Young Life Elko/Springcreek.
Watercolor class
ELKO – Melanie Smith will be offering a watercolor class from 5:30 to 7:30 p.m. every Tuesday at the Elko County Art Gallery located at 407 Railroad St. Supplies will be provided or feel free to bring your own. The cost is $10 for members and $15 for non-members. Email ecacelko@gmail.com for details.
Tai chi in the park
ELKO – A free tai chi session will be held at 5:30 each Wednesday during the summer in Main City Park behind the museum.