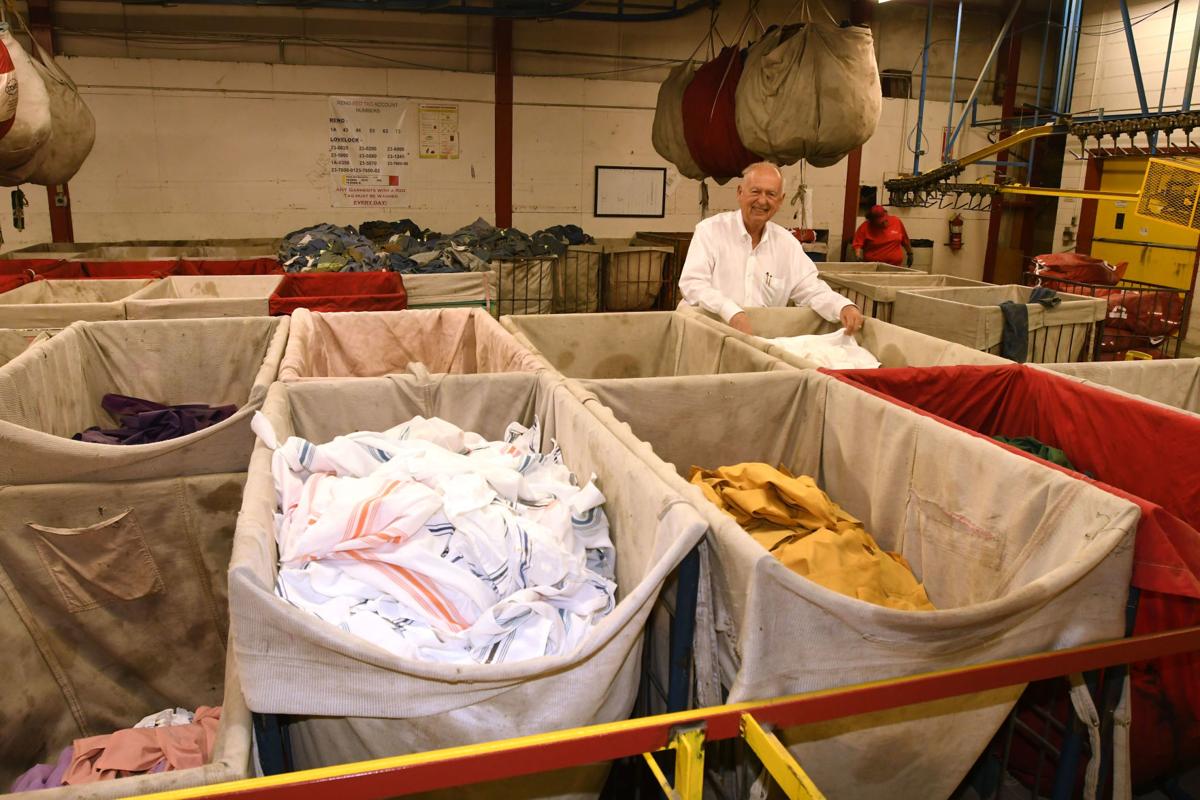 ELKO – "Throwing in the towel" has never been an option for Jimmy Meeks, owner of Vogue Services. In fact, he began his 60-year career "folding towels" for 50 cents an hour.
"They [my parents] put me to work when I was 12," said Meeks. "I was probably not worth that!"
Meeks worked the 6 a.m. to 2 p.m. shift in the summer. At the end of each season he spent the money on school clothes and, eventually, a motor scooter.
He later moved to the "flat department" where he laid out sheets. After that, he worked in the washroom for a long time.
"That's where we physically wash all the linens and we put them in the machines, pull them out of the machines, extract them and get them ready for the dryer," Meeks said.
Immersion helped Meeks understand the laundry business "inside out." When he was 16 he began working under Leonard Herrera.
"Leonard taught me how to manage," Meeks said.
Vogue processes 298,000 pounds of laundry per week, according to Meeks, who took me on a tour behind the scenes.
In the back of the plant giant machines gurgled and churned, filled with big batches of dirty laundry. The plant hummed with activity around every corner as people worked, chatted and laughed. Humidity was at a constant high with all the water in use. Vogue is connected to the geothermal system that runs through Elko's underground.
Meeks escorted me to the "flat area" where hotel sheets go through a process that removes wrinkles and folds the linen into nice, white bundles, ready for delivery.
After high school, Meeks served in the Army in Germany. He then went to college at Arizona State University, finishing in 1974. He returned to Elko with a degree in business.
Meeks recalled his upbringing with entrepreneurial parents. He said they would often talk about business at the dinner table.
"Every night we would drive down the street to see how many hotels had 'no vacancy' signs so we could tell about how busy we would be the next day," Meeks said.
The Meeks family started Vogue Laundry in 1946 in Wells. One year later, Jimmy was born.
They eventually moved the business to Elko. Meeks fully took over the operation in 1995.
"It's not the brick and mortar," Meeks said. "It's about liking what you do and helping the people who have come through here."
A number of those people have been with Vogue for 30 years or longer. The company employs 150 people.
You have free articles remaining.
"I learned by doing," said plant engineer Sergio Cortes.
Cortes has been working at Vogue for 30 years.
"Our business extends all the way to Mammoth, Lake Tahoe, Reno, Carson City, Minden, Winnemucca, Wendover, Ely and Twin Falls," Meeks said.
Bundles filled with dirty laundry moved along via a conveyor system, eventually ending up in large pushcarts. Clean, wrapped uniforms were transferred across a room on hooks, one after the other, like soldiers marching in rhythm.
Meeks reminded me for the second time that day that dry-cleaning represents just the tip of the iceberg when it comes to linen services at the Elko plant.
The company provides laundry services for the Reno Veterans Administration Hospital, the Fallon Naval Air Station and Nevada Gold Mines, among other large clients.
"I am very fortunate because I have always worked at something I wanted to do," Meeks said. "I like what I do and because of that it doesn't seem like work. My advice to anyone out there is to find the job that you want to have and it will be fun for you to get up every day and come in. It makes all of the hardships worth it."
"There is one thing since I have been here that Jimmy and his general manager have ingrained in us; if there is not change, there is not growth," said Angie Nash, human resources director.
Meeks enjoys providing jobs for local high school students. This summer the company has nine teenage employees.
"We also employ day labor," Nash said. "We employ ex-felons and give them a second chance."
"Somebody who is homeless and has no money to eat on can't wait two weeks for a paycheck," Meeks said. "We pay them every day so they have some money in their pocket to eat."
When he first started hiring day laborers, Meeks really needed the help. He adopted this method of work exchange with no questions asked. The company gets references from F.I.S.H.
Vogue also employs people who have gone through drug addiction rehabilitation. A support group takes place once a week for employees who are making a positive transition in their lives.
"They motivate and help each other," Nash said. "It's called the Hope Support Group."
Besides working hard his entire life, Meeks feels it is important to participate in community events. His favorite is the Elko County Fair. He serves as a steward during the races.
"A steward at the race track is like God; we make the rules," Meeks said, laughing.
Meeks has been attending the fair since he was a child. He was even selected as grand marshal a few years back.
"The fair is all about what Elko County needs to be," Meeks said. "It's about all the families that get to come in once a year for one last hurrah before the winter starts. People come home for the fair from all over the country."
"That's the world that was, and we need to hang on to that," Meeks said.