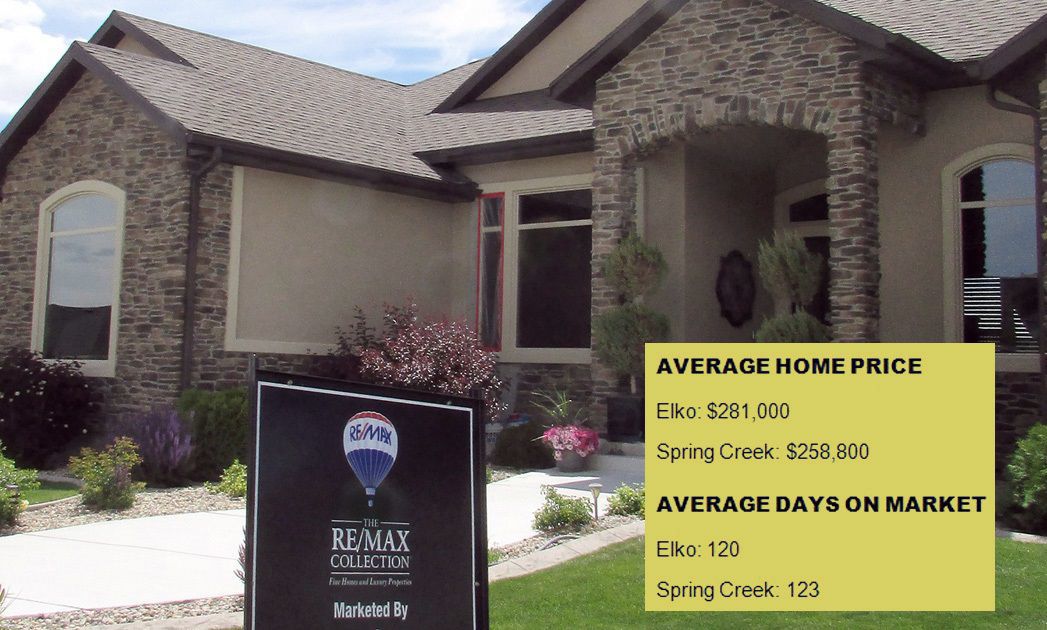 ELKO – Although the joint venture of Newmont Goldcorp Corp. and Barrick Gold Corp. for Nevada operations and recent mine layoffs and transfers are affecting the housing market in Elko County, real estate brokers say the impact is minimal, and the market is still strong.
"I do think there were some concerns about layoffs in the early spring. People were holding their breath to see what was happening," said Marissa Lostra, broker-owner of Lostra Realty and president of the Elko County Association of Realtors.
Now, she said "people were waiting to see, and it ended up not as bad as they originally expected. I predict that in the third quarter we will see an uptick in sales."
Housing prices are up from last year and sales are down, but "percentage-wise we are still holding pretty steady," Lostra said. "We have approximately a four-month supply of inventory."
The median sold price for all types of homes in Elko County was $250,000 as of June 1, compared with a median sold price of $238,000 in 2018, according to the Multiple Listing Service. Median is the midway point in listings that currently go as high as $1 million.
The number of all types of houses sold in Elko County this year was 351 as of June 1, compared with 394 last year, Lostra said.
She said the days on market for this year in Elko were 122 as of June 1, down from 134 last year. Days on market for Spring Creek were 123 this year, down from 128 last year.
Jim Winer, owner-broker of Coldwell Banker/Algerio Q Team Realty, said "prices went up and the number of sales went down maybe 10 percent."
He hasn't seen a big change with the joint venture and layoffs, but he said Newmont is relocating managers so there has been an "uptick of 12-15 houses" on the market with the relocation packages.
"No one knows what all will happen because the joint venture is for all of the state," Winer said.
He said on June 17, there were 142 properties for sale in the city of Elko, one-third of them new construction, and the average home price in the city was $281,000, compared with an average price of $271,000 last year on the same date.
In Spring Creek the average price was $258,800, compared with an average price of $234,471 last year.
Jesse James, owner-broker of RE/MAX Gold, said people working for Newmont are being transferred to Cripple Creek Mine in Colorado, Denver headquarters or to Vancouver, which is now North American headquarters, but she believes the market is still "really good."
She said there have been 704 buyer and seller transactions this year, compared with 786 buyer and seller transactions last year throughout the county, so "buying has slowed down waiting the outcome of the joint venture closure, and we're seeing more listings on the market."
James said on June 18 that prices are up, and there is "still a shortage of anything under $300,000."
Barrick and Newmont agreed in March to a joint venture, now called Nevada Gold Mines, and this JV is expected to be completed by June 30. In advance, the JV eliminated 130 positions in late May, but transferred 60 of those employees to new positions or locations. That meant 70 employees were laid off.
The layoffs involved workers mostly in the Elko area but also some from mines located nearer to Winnemucca and Long Canyon Mine between Wells and West Wendover.
Newmont already had laid off roughly 120 workers in early January before the joint venture agreement because of economic impacts from an earthen slide at the Gold Quarry pit and economic setbacks at the Emigrant Mine.
The latest layoffs came when Hecla Mining announced on June 9 the suspension of operations at its Hollister underground gold and silver mine in northern Elko County. The company laid off 56 workers, but many of them live in Winnemucca.
You have free articles remaining.
Winer said even when employees are laid off, if a family is double-income, the family may stay in Elko because "Elko has become their home. People want to stick around. I noticed this trend about 10 to 15 years ago."
He also said Newmont and Barrick have told him in the past that they had turnover rates of 8 percent to 14 percent, so there have been people leaving the companies every year without layoffs. Natural turnover isn't announced like layoffs.
James said people still don't know if there will be another round of layoffs with the joint venture so buyers are more cautious, but she believes the market will be "business as usual" once people know the final outcome of the JV.
Gary Morfin, a broker for Century 21 Gold West Realty, said there are employers in Elko still looking for good people, so the layoffs may lead to new jobs.
"There is still a shortage of good employees," he said.
Morfin also said he believes the housing market is turning from a seller's market to a buyer's market because there are more site-built homes listed now, 256, compared with 221 last year. Site-built homes include condos and townhouses but not manufactured or mobile homes.
"In 2017, I felt it was a buyer's market, and 12 months later it was a seller's market. Now it is turning back to a buyer's market," he said. "people are still buying and selling. People are optimistic about the economy here."
A buyer's market is created when supply exceeds housing demand.
Morfin pointed out that with mortgage interest rates low and inventory up, it's a good time to buy a house.
The Associated Press reported on June 20 that 30-year, fixed-rate mortgages averaged roughly 3.8 percent for the third straight week. Before leveling off, rates marked six straight weeks of declines, putting them at historically low levels during the spring homebuying season, AP stated.
Mortgage buyer Freddie Mac said the average rate on the benchmark 30-year mortgage ticked up this week to 3.84 percent from 3.82 percent last week, according to AP. The average rate for a 15-year mortgage is 3.25 percent.
Bankrate.com listed rates on June 20 that included 3.41 percent for a 30-year FHA loan and 3.45 percent for a 30-year VA mortgage.
Tammy Bawcom of Bawcom Realty in Spring Creek said she believes the market "is doing extremely well at this time. The interest rates are staying down, which encourages buyers to purchase. There is not a shortage of homes in the upper price range, but there is one in the lower ranges. I feel the range falls between $200,000 and $230,000 for most buyers."
She said once prices are more than $300,000, the number of buyers is limited. Even if they qualify for a mortgage, buyers don't want to spend a higher amount on a home.
Bawcom said she and her agents have heard comments from buyers and sellers about the layoffs, and most of those concerns are from sellers asking if the layoffs will affect the price of their homes.
"So far it has not. We still have a large number of buyers out there searching for homes," she said.
Looking beyond Spring Creek since Bawcom Realty also serves the rest of the area, she said that "the market in Elko County as a whole is still strong. Priced right for the area and condition of the home, they are selling fairly quickly. I expect the summer market to stay strong."
Meanwhile, housing construction continues in the Elko, and Winer said builders are booked out "months and months" ahead on homes. He also said lots in Spring Creek are going up in price because so much of Spring Creek is now built up. Lots that were $25,000 are now $30,000.
In Elko, the city's development manager, Michele Rambo, said in a June 19 email that there was "some initial concern" regarding the joint venture and layoffs, "but overall we have not seen a major impact on the rate of housing development within the city."
She said subdivisions in development in Elko include Autumn Colors, final phase under construction; Tower Hill, first phase under construction; Humboldt Hills, under construction; Copper Trails, first phase almost complete and second phase in approval process; and Great Basin Estates, phase two almost complete and phase three in approval process.