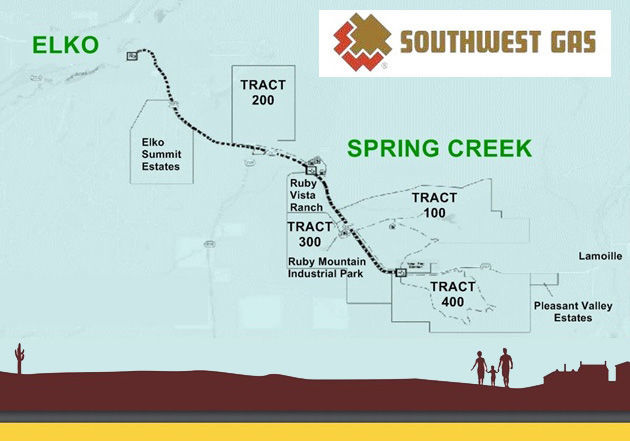 ELKO — "You're probably wondering what's taking so long," Debra Gallo of Southwest Gas said to the Elko County commissioners on June 5 when she talked to them about extending a natural gas pipeline from Elko into Spring Creek. "We've been doing a lot of things."
After Gallo gave her presentation on the plans, Commissioner Rex Steninger said, "That's great. That's amazing. I don't think we'll have any trouble supporting the project."
The commissioners voted unanimously to express their support.
Gallo also talked about the Spring Creek natural gas project with residents who attended the Spring Creek Association annual meeting on June 15.
Gallo, who is the director of regulatory projects for Southwest Gas Corp., last talked to the county commissioners in September. Since then, Southwest Gas has been doing a lot of work on the project. They have completed several studies and they have been identifying potential customers, conducting customer outreach and gathering information on projected customer usage of natural gas.
More than 1,000 households — about 20 percent of all the potential natural gas customers in Spring Creek — completed an intent form indicating that they intend to get hooked up to natural gas if it comes to Spring Creek.
"And we went to the schools and all the commercial entities," Gallo said.
She said all the schools in Spring Creek, including the new Liberty Peak Elementary School, have completed detailed forms expressing their intent to use natural gas. Over 30 businesses in Spring Creek have also said they intend to use natural gas.
It's not too late for Spring Creek residents to fill out a form expressing their interest. Gallo said additional interest from residents is something Southwest Gas will be able to share with the Public Utilities Commission of Nevada as their application progresses. Filling out a form is not a commitment to use natural gas – it is just an expression of interest. The form can be found at www.swgas.com/en/springcreek.
Southwest Gas has also been working on getting natural gas to Mesquite, a city northeast of Las Vegas that is comparable in size to Spring Creek. In November 2017, Southwest Gas filed its first application to extend natural gas to Mesquite. The application was approved in May 2018, and the first customer in Mesquite was hooked up on Feb. 11, 2019.
Getting natural gas to Spring Creek is next on the Southwest Gas agenda. They filed their application for the project with the PUCN on June 13.
"We're pretty excited that we got it filed," Gallo said on Friday.
"It's very detailed," she told the county commissioners. She said if they look through the application they will see why it took so long to complete.
"It's not as easy as one would think."
You can find the complete application – a total of 539 pages in two sections – on the PUCN website, puc.nv.gov. Look under gas dockets and find docket number 19-06017. Additional documents will be available on the website under this docket number as the PUCN process proceeds.
The Southwest Gas application has been assigned to Commissioner C.J. Manthe, who was appointed to the PUCN in 2018 by Gov. Brian Sandoval.
A prehearing conference on the Southwest Gas application will probably be scheduled for July, PUCN Public Information Officer Peter Kostes said. At the prehearing, the procedural schedule will be discussed, along with any petitions to intervene that may be filed.
Southwest Gas will also be working with the Nevada Department of Transportation and the Bureau of Land Management to get permits as the project progresses. The main line will be in the NDOT right-of-way, and Gallo said the route crosses BLM land in three or four small areas.
"We have met with NDOT representatives and with BLM just to share our proposal," Gallo said Saturday.
The PUCN has 210 days from the filing date, until January 2020, to review the application. Once that process is complete, Southwest Gas plans to spend 2020 working on permitting and environmental assessment of the project, along with the design and bidding of the backbone of the Spring Creek natural gas system.
The construction of the backbone of the system should start around the beginning of 2021, and may continue through 2022. The design, bidding and construction of the distribution systems which will extend out from the main line should begin around the middle of 2021 and could continue through 2024.
Schools, businesses and residences should begin to get hooked up to natural gas in 2021, shortly after construction of the distribution systems begins. All the schools and businesses that want natural gas should be hooked up by early 2024, and all the residences that want natural gas should be hooked up by the end of 2024.
This timeline is conservative, Gallo said, and hopefully things will progress more quickly, but a variety of factors, including the weather, will play a role.
The plans call for putting in 12.1 miles of the high-pressure main line, 22 miles of backbone distribution facilities, and about 168 miles of distribution lines, going down just about every street in Spring Creek.
"That's a lot of pipe," Gallo said.
While the main project is in progress, Southwest Gas will take lines to the homes of those who sign up to use natural gas. It will then be the homeowner's responsibility to connect their appliances to natural gas and make the necessary conversions.
Southwest Gas personnel will talk with Spring Creek residents about what will be involved in getting their homes converted to natural gas. Every residence will be different, Gallo said, depending on what appliances in the home are being connected. Residents can work with local plumbers on making the conversions. Southwest Gas will be able to provide guidance to homeowners in working with plumbers and looking for possible rebates.
The uses for natural gas include space heating, water heating, clothes drying, cooking, fireplaces, pool and spa heating, barbecue grills, fire pits, and backup generators.
Gallo said residents will not be able to get a dead-end gas line to their homes for potentially hooking up to gas at some time in the future. If people decide after the project is complete that they want a gas line to their home, then there will be a cost involved to install the line.
The total project cost is an estimated $61.9 million. To pay for that, Southwest Gas has put together a detailed plan dividing the costs between Spring Creek, Elko and northern Nevada customers, with Spring Creek customers paying the bulk of the costs over about 20 years.
In the PUCN application, Southwest Gas Regulatory Professional Randi Cunningham said they believe the plan they have developed "is a fair and reasonable means of recovering costs after balancing the interests of those who directly and indirectly benefit from the project."
The application proposes that Spring Creek customers will pay a monthly surcharge totaling about $33.50. An average monthly natural gas bill in this area is $70.35, so with the added surcharge, Spring Creek customers would pay a total of about $103.85. Elko customers will pay a surcharge of about $2.55 per month, bringing their average monthly bill of $70.35 up to $72.90. Other Northern Nevada Southwest Gas customers will start out paying a surcharge of about $0.98 per month, increasing their average monthly bill from $71.34 to $72.32.
The cost estimates were developed based on the numbers of intent forms that Southwest Gas has received so far. At the time the application was written, 1,020 homes, 31 businesses and seven school buildings had submitted forms expressing their intent to use natural gas. If additional homes and businesses use natural gas, then the surcharge costs may go down.
Spreading the costs of the project to customers throughout Northern Nevada in this way makes the project economically feasible for Spring Creek residents. In the application, Cunningham said their analysis showed that if Elko customers paid only a small surcharge and all the rest of the costs of the project were borne by Spring Creek customers, they would start out having to pay a surcharge of about $360 per month, so their total bill would be about $431 per month. With a rate like that, no one in Spring Creek would have a reason to sign up for natural gas, and the project would be impossible.
In the application, Cunningham said their study showed that even with the proposed Spring Creek surcharge of about $33.50 per month, "a typical Spring Creek residential customer currently using 70 gallons of propane per month could save $899 annually when usage is replaced with natural gas, approximately 64 therms per month. A customer using approximately 1,864 kWh of electricity for heating could save up to $965 annually when replaced with 64 therms of natural gas per month."
The savings will vary depending on usage and what people are currently paying. Gallo said people in Spring Creek are paying a range of different prices for propane.
Gallo said Southwest Gas has also been looking into the possibility of having a broadband company put a cable into the same trench with the new natural gas main line to provide high-speed internet service to Spring Creek. She said that Jojo Myers Campos, the broadband manager at the Nevada governor's office of science, innovation and technology, has been working on this.
"This is very high on her priorities," Gallo said. "They are talking to several companies that have expressed real interest in coming out there. … Once we make the filing and they see the route and see that we're actually committed and we have a timeline, we're hopeful that we will get someone to step forward."
"I'm glad that's being explored," Commissioner Delmo Andreozzi said. "But if for some reason it doesn't happen, that would be a tremendously huge missed opportunity."
Southwest Gas has been providing natural gas to the City of Elko since 1964, but the service area stops at Northeastern Nevada Regional Hospital. With the Spring Creek expansion project, a new main line will connect to the end of the current main line, which is around the intersection of Lamoille Highway and 12th Street.
The new main line, which will be about 12.1 miles long, will go alongside the highway, up over the summit and through Spring Creek. The plan is to end the main line near the intersection of Lamoille Highway and Palace Parkway and Spring Creek Parkway. Distribution lines will extend from the main line to the Elko Summit Estates and to all the different sections of Spring Creek.
The current plans do not include service lines to Lamoille.
"We will still be working with residents in the Lamoille area to see if this is something they are interested in," Gallo said. "When we were doing intent forms, we didn't get a lot of intent forms from the Lamoille area, so we're focusing on where we did get the greatest percentage at this point."
Gallo said that with the main line going through Spring Creek, it would be relatively easy to extend service into Lamoille.
Commissioner Andreozzi commented that he assumed that Southwest's plans must be taking into account the possibility of future growth and subdivisions in the Spring Creek area.
"Absolutely," Gallo said. "We will be able to serve them. And if there is more interest in going further into Lamoille, we're fine. We have that covered."
Southwest Gas commissioned the University Center for Economic Development at the University of Nevada, Reno to complete an economic contribution and impact study of the Spring Creek natural gas project. Gallo said the project study said the estimated capital investment of $61.9 million in the project over six years could add about $38 million of economic value in Elko County and approximately $454,000 in the other 11 counties served by Southwest Gas in Northern Nevada. About 362 jobs in Elko County and five jobs in other Northern Nevada counties could be supported during the six years of construction.
Gallo said the study showed that the Spring Creek natural gas project will bring positive economic contributions which will be realized through construction and conversion activities, expanded Southwest Gas operations and consumer savings. The study said that the positive economic contributions should offset the decline in propane dealer sales and the money that people will spend to convert to natural gas.
"The study concludes that not only would natural gas be available to the residents of Spring Creek, but would become a significant asset for economic development and diversification efforts in Spring Creek and Elko County," Gallo said.
Gallo said Southwest Gas has been exploring the possibility of extending natural gas service to Spring Creek for years. The process really got started after they were contacted by a developer in 2013 looking at the possibility of a master-planned community in the Spring Creek area. However, a natural gas project was held back by the PUCN's investment requirements.
"When this developer contacted us, we decided to work with legislators and the commission and see what we could do," Gallo said.
In 2015, Southwest Gas sponsored Senate Bill 151. This bill required the PUCN "to adopt regulations authorizing a natural gas utility to expand its infrastructure in a manner consistent with a program of economic development." The bill was designed to promote economic development by extending services to unserved and underserved areas of Nevada, allowing the PUCN to apply a "balanced and equitable" approach to review and approve projects, and providing the PUCN with the flexibility to consider alternative cost-recovery methods that balance the interests of people receiving direct benefits and those receiving indirect benefits from a project.
Southwest Gas has used the provisions in this bill to move the Mesquite and Spring Creek natural gas projects forward.
Southwest Gas serves more than 2 million customers – over 1 million in Arizona, 763,000 in Nevada, and some in California. In Northern Nevada, Southwest Gas has over 100,000 customers, serving people in the Elko, Carlin, Battle Mountain and Winnemucca areas. Southwest Gas has over 1,100 full-time employees in Nevada.
In 2016, Southwest Gas and subsidiary Paiute Pipeline Company opened the Adobe Lateral Transmission Line connecting the Ruby Pipeline to Elko, increasing the natural gas capacity and reliability for the Elko area. Southwest Gas opened a new 16,000-square-foot, $8.5 million operations center in Elko last year.
Last year Jim Gibbons, who was governor of Nevada from 2007-2011 and now owns a 40-acre ranch property in Lamoille, proposed the idea of forming a cooperative to bring natural gas along with high-speed broadband to Spring Creek and Lamoille. The Elko County commissioners voted last summer to contribute $5,000 to the project. Commissioner Rex Steninger said last week that since then he has not heard any more about that proposal, and the county has not given money to the project.
Elko Daily Free Press reporter Toni R. Milano contributed to this story.
The business news you need
With a weekly newsletter looking back at local history.