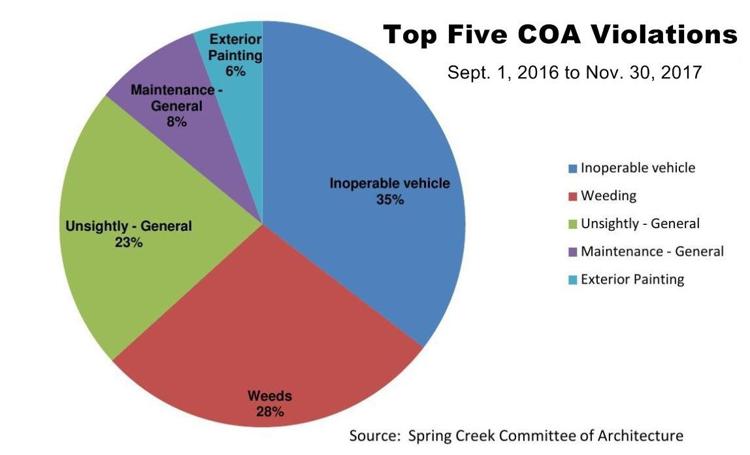 SPRING CREEK – The top property violation for Spring Creek residents is inoperable vehicles, according to Committee of Architecture records, but what if homeowners have unregistered show cars or racing cars stored on their property? Could that be considered a violation?
During the COA's regular meeting this month, the committee looked at tightening up rules on vehicles, livestock, metal storage containers and fencing materials.
The panel is looking to clarify gray areas and other rules from the master Declaration of Reservations that are unclear, and in some instances, seem to contradict their own wording.
"The wording in the DORs at times are vague, and the reason [for] the Committee of Architecture," said chair Diane Parker.
Because of problems created by the gray areas in the master DORs written in 1971, the COA wrote the Rules and Regulations that make each rule clearer for less confusion, Parker said.
A change in the DORs can occur only by a vote of 75 percent of property owners. As of November, 4,848 Spring Creek properties out of 5,420, or 89 percent, were occupied, according the COA's report to the association board of directors.
"At this point it is pretty unlikely that the DORs will change," Parker said.
One example was highlighted at the Jan. 9 meeting. According to the last line of rule No. 15 in the DOR, "Storage of junk, old inoperative un-licensed cars and other unsightly objects on any lot or parcel is expressly prohibited."
Currently, the COA specifies that vehicles that do not have a license plate, registration, and are not in a condition for highway use, must be out of public view or covered with a heavy-duty vehicle cover.
The COA plans to vote on a new rule in February that would permit storage of race cars, heavy equipment and semi trailers because they are likely not to be licensed or registered.
Jim Jefferies, Tract 200 Vista Grande director, attended the COA's meeting and posed a question: What in particular was considered an old vehicle in the eyes of the COA?
"Just how old does it have to be? One day or 20 years or 40 years?" Jefferies asked. "How do you know it's unlicensed? You're making an assumption there."
Parker explained to Jefferies that the COA investigates reports of violations and begins the process of resolving the issue.
"It is the COA secretary's responsibility to contact the property owner and to make arrangements to make sure a car is registered and licensed. It is her job to work with them on this," Parker said.
"We spent four months working on rewriting rule No. 11 to satisfy everybody," Parker said, adding that six months after the Rules and Regulations were revised in April, the committee had to go back and review the rule again.
Committee member Brien Park said not much needed to be changed on the rule to define storage of vehicles, which was tabled until the Feb. 13 meeting, pending legal review.
Changes to the rules about livestock buildings on properties, amendments to the wording to prohibit metal storage containers to become makeshift workshops, and types of fencing materials permitted by the COA were all tabled until February.
"At the beginning of our COA packets, it says 'the job of the COA committee is to make reasonable rules and regulations,'" Parker said.