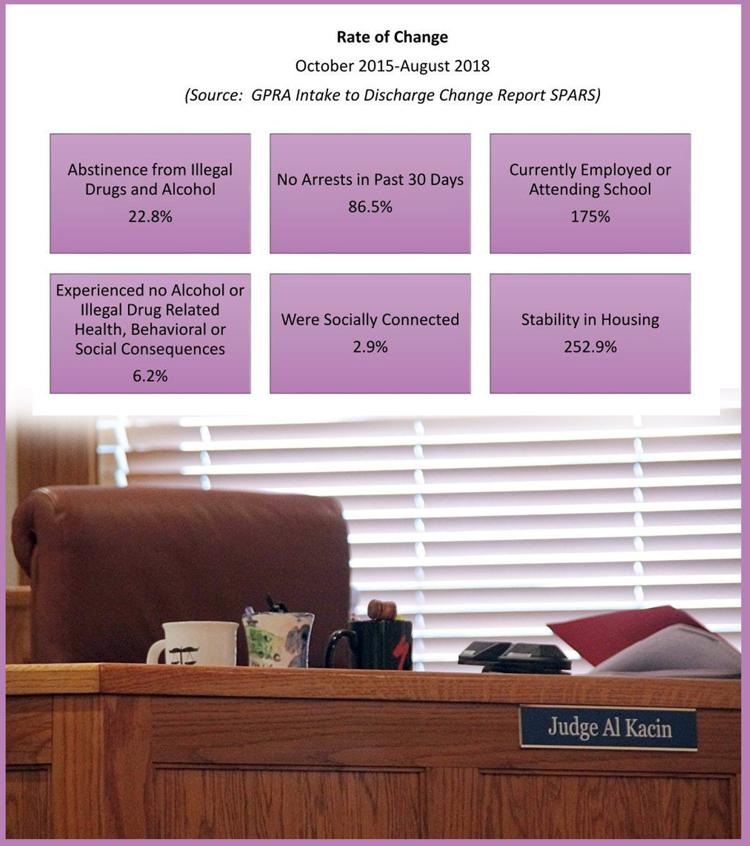 ELKO – Some graduations come with a cap and gown and "Pomp and Circumstance" playing ahead of a grand ceremony.
The graduation that takes place in the 4th Judicial District Court Adult Drug Court Program is less formal, yet just as meaningful to those attending one in Judge Al Kacin's courtroom.
At one such graduation in early October, a participant happily accepted his certificate from Kacin in front of his family and members of the adult drug court team. He described who he had been before entering the program and how far he had come in 14 months from his initial court appearance.
"I didn't think this day would come when I first started," he said after the applause ended. "It was challenging for me to get the grasp of this program."
What is Adult Drug Court?
Since March 2005, the Adult Drug Court program has operated in the Department 2 of the Elko District Court as a treatment program that seeks to rehabilitate an individual facing a felony conviction through a multi-layered support system.
A participant who successfully completes the program is not only learning to break self-destructive habits and get back on his/her feet within society, but also has that felony conviction removed from their record.
The specialty court recently received a nearly $400,000 federal grant that is earmarked to expand the treatment program for additional resources such as training, mental health treatment and recovery housing.
Established by District Judge Andrew Puccinelli, adult drug court deals with high-risk, high-needs defendants who have committed felony or gross misdemeanor offenses related to their substance use addiction.
"They have to be criminal justice-involved. We're not going to take anybody off the street who comes in," said Kacin, who has overseen the program since his appointment to the bench in 2012.
Although defendants may choose the treatment program over serving jail or prison time, it demands a high-level of accountability, requiring the participant to stay in close contact with various agencies and counselors, Kacin explained.
"Drug court is a very rigorous program and entails a lot of supervision," he said. "You have to want this program and I tell people, 'Don't do it if you don't want to.'"
Participants must undergo three random drug tests per week; attend individual counseling, group counseling, and self-help meetings; and make mandatory drug court sessions. It's the level of accountability that defines the program, Kacin explained.
"We can send one off to prison, but they're not going to be supervised or addressing their substance use disorder," Kacin said.
According to statistics gathered for one year between July 1, 2017 and June 30, the Elko County program started with 37 clients, 41 new participants were admitted, and 30 graduated, which was up 9.1 percent from the prior year, a 56.6 rate. Eleven clients were terminated and two voluntarily withdrew from the program.
But what about the participant's lasting success in avoiding new run-ins with law enforcement and obtaining new convictions? According to the National Institute of Justice's Multisite Adult Drug Court Evaluation from 2011, the program is working. Criminal activity, re-arrests, and drug use is 10 to 20 percent less for participants than for comparable offenders.
Treatment investment costs were higher for participants, but with less recidivism, drug courts saved an average of $5,680 to $6,208 per offender, overall, stated the report.
So far locally, and in other jurisdictions, processes are not in place to track recidivism among participants and graduates, Pitts said. It is expected that measurements to collect the numbers on recidivism rates between the drug court and the Elko County District Attorney's office could be ready as early as January.
Be honest and show up
Mary Pitts, Adult Drug Court coordinator, wrote the grant for the program. A member of the team for a couple of years, she said drug court is best defined as a treatment court instead of a punishment court, yet the participants are still subject to being sanctioned for violations such as failing a drug test or missing a treatment session.
"We still hold them accountable for their actions throughout," Pitts said.
Sanctions may include additional drug testing, increased court appearances, stepping back to a previous phase, or even jail time. Termination from drug court is the final step, and is for those who don't engage, Kacin explained, because the resources allocated to the program cannot support them.
The participants are required to pay $35 per week for their program and they are ordered to pay restitution to any victims of property offenses. Kacin said it is something the clients like to do as part of their rehabilitation because it is their opportunity "to make the victim whole."
There are two "first rules" for participants who are admitted into the program, Kacin said: being honest and attending sessions.
"You need to be honest with yourself, and any member of the drug court team and testers," Kacin said. "The second first rule is show up, show up, show up."
When "Adam" first entered the program, he said he struggled to follow those two rules, admitting he did not run a "perfect program" but kept attending meetings and making his court appearances.
"It was challenging to submit to it at first, but I showed up and tried as best as I could … I pushed it to the limit," he said.
Speaking at his graduation, he also recalled being sanctioned early in the program, which eventually led to a personal epiphany in his treatment.
"I realized that what I was doing wasn't working," he said. "This program opened a lot of doors and opportunities for me to learn a different way."
Although the program may seem easy to complete on the face of it, it means having to juggle work with mandatory court appearances, counseling sessions and submit to random drug testing. Elko County District Attorney Tyler Ingram, who once represented his office on the drug court team, watched as participants balanced the rigors of the program and tried to keep their job at the same time.
"It's not an easy option … but it's not easy by design," Ingram said. "If it was easy, then everybody would do it, and maybe no one would benefit from it."
Finding the heart of the problem
The Adult Drug Court team includes attorneys from the Elko County District Attorney's office and Public Defender's office, a parole and probation officer, law enforcement officer, treatment provider and case manager, along with Pitts and Kacin.
Through the grant, the team will receive additional funding for discipline-specific training; something Kacin says offers up-to-date information on best practices from the National Association of Drug Court Professionals.
"We try to adhere to that," Kacin said. "Some of the practices 15 years ago would be considered the dark ages, so we're learning all the time."
That includes assessing short-term and long-term goals – classified as proximal and distal, respectively – for a participant based upon the current living situation along with other issues not immediately visible when treatment begins.
Essentially, the program is treating the client with an eye toward the distal goals because it is largely expected the participant will relapse into substance use even after being sober for a long period of time, which could eventually uncover the source of the issue, prompting treatment responses rather than penalties such as jail time.
"It's a weird world, but we invite that so we can engage our program to deal with it," Kacin said, stressing that the program does not assume everyone's background is alike.
"Everybody's program is different, but their needs are largely the same," he said.
The participant's struggle with addiction is something the team recognizes at the outset, Kacin explained, but expecting someone to suddenly achieve full sobriety after leaning heavily on substances to self-medicate pain from past traumas is not realistic.
"Their brain has been assaulted by these drugs for so long, it's compromised," he said. "If you expect these distal goals to happen overnight, you're crazy and you're not going to have success. You'll be kicking everyone out of your program."
Comparing previous methods on substance use treatment to the current one utilized in drug court, the difference is apparent because the goals have been revised, Kacin said. No longer is simply having a substance user become sober the only outcome. Instead, the program seeks to achieve a lasting sobriety.
"The narrow focus in the past was to work on the drug problem, but you have to think about a whole lot more than that," Kacin said. "To sustain sobriety requires a person to leave that world of anti-social behavior and go into pro-social activities. We call it changing people, places and things."
Adam said his substance use prevented him from initially desiring a clean lifestyle, unsure that he could "do anything sober and enjoy it. It had become part of my life."
His treatment changed his thinking over time, however, and Alcoholics Anonymous meetings opened him up to spiritual growth, slowly removing his need to use drugs or alcohol to get him through the day.
"I can get through a day without thinking about alcohol or drugs," Adam said. "I don't see things the way I used to. I don't have that obsession anymore."
A former drug court participant noticed that getting to the heart of someone's addiction was the only way for that individual to find lasting success.
"In my opinion, they are so determined to use because there is something else going on in their head, you know?" the participant said, who was quoted in the Eastern Nevada Regional drug Court Partnership Evaluation Report. "[There's] something that drives them to use drugs [and] if you can't figure that out, there's no way to help them."
Breaking the circle of self-destruction … or not
Kacin stressed the ultimate goal of the program does not excuse criminality, but rather, it seeks to develop an understanding of each individual's situation in an effort to end the cycle of substance abuse.
"I think we all want this to stop," Kacin said. "Everybody does and anybody who cares about this community. You have to try to understand what may have driven this type of behavior …"
The grant allows the program to increase the number of participants, which Pitts can reapply for in five years through the Substance Abuse and Mental Health Services Administration. So far, the grant was written to include up to 50 participants, however, drug court participation numbers, both locally and nationally, are going down, said Pitts.
That trend raises a red flag for Kacin, who compared someone rejecting drug court to that of a hungry person walking away from a meal prepared for them.
"Frankly, that concerns me," he said. "I would like to see it at capacity so we have maximum impact. Unfortunately, you have those people who don't want to come in."
Even though the "carrot" of wiping away a felony conviction isn't enough incentive for some defendants, who decline drug court and the possibility to work toward a clean lifestyle, it could be because the program demands such a high level of accountability from them, said Ingram.
"I've sat in court and have seen people ask to go to prison," Ingram said. "It's rare, but it happens because going to prison is the easiest way out. They go to prison and they're done."
Although drug court "is not a 100 percent cure" Ingram said, the success stories cannot be ignored.
"[It's] stories where someone avoided some very serious consequences because they chose to get clean, and that's a pretty cool thing to see," Ingram said.
Hope for the future
As Adam worked his way through the program, Kacin said he and others on the team were impressed with his willingness to work hard, noticing that Adam "got it."
"I think he was looking for excellence, and he found it," Kacin said on Adam's graduation day.
Recalling how he started out in the program with few belongings, and no car or living arrangements, Adam said he saw how doors opened for opportunities to "learn a new way."
"The guys in this program helped me to find a place to stay so I had a chance," Adam said. "I was able to start rebuilding my life, and now I have a lot going for me."
One of those things is optimism.
"I'm real optimistic about the future, and it's because of this program," Adam said. "I have quality relationships with the people I love and I have my family back on my team, and that's huge."