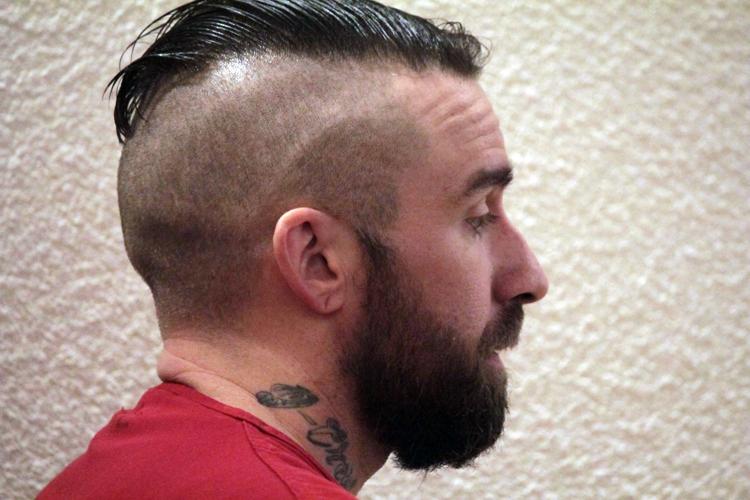 ELKO – An Elko man accused of calling in a bomb threat to the courthouse last year was sentenced Friday to three years in prison and ordered to pay restitution to the county.
Casey D. Overacker, 34, was sentenced by visiting Senior Judge Steven Elliott in Elko District Court to the maximum penalty for attempting to communicate a bomb threat, a category B felony.
He will be eligible for probation in one year and received credit for 164 days served in the Elko County Jail, and was ordered to pay $6,327.41 in restitution.
Overacker was arrested Oct. 4 and charged with making a bomb threat on June 19, the day his girlfriend, Shawna Parker, was scheduled to appear in court.
The bomb threat was called in to the Elko County Clerk's office and forced the evacuation of the courthouse complex for one hour while law enforcement swept the building for a device.
According to court documents, the phone call was traced back to Overacker, who was associated with Parker on social media. She failed to show up for her hearing in court that day.
Overacker intended to plead no contest in a plea deal that reduced the charge on Dec. 5, but Judge Al Kacin recused himself from the proceedings, saying he could not be "fair and impartial in this case" because the threat disrupted court operations that day, including his own court.
"I don't think you want me to be the judge because that angers me greatly," Kacin said at the arraignment.
Elliott heard and accepted Overacker's no contest plea on Dec. 22.
Attorney Jeff Kump, representing Overacker, asked for probation and long-term commitment to a drug rehabilitation program and said his client did not remember making the phone call to keep Parker from attending drug court.
"His girlfriend was due in drug court and she was hysterical that she would test positive," Kump said. "It was stupid and he knows that."
Suzette Cochran, Overacker's mother, was called by Kump as a witness of mitigation. She said her son had a "productive work history prior to his addiction problems."
"He is not a bomber or a terrorist. He is not violent or some one-dimensional career criminal with no redeemable qualities," Cochran said.
"He's a good person who has done a terribly foolish thing while under the influence of narcotics. Nevertheless, he tells me he accepts responsibility for this and is remorseful," Cochran said.
"While a bomb threat is a serious offense, he should not be made an example of for all of the other people who have called in bomb threats or might in the future," Cochran said. "He should not be thrown away or given up on."
Deputy District Attorney David Buchler said the restitution represented the "one hour of lost wages of employees that were evacuated from the building that were waiting in the parking lot while the building was being cleared by law enforcement."
Elko County Sheriff Jim Pitts delivered an impact statement from the county, explaining that all city and county law enforcement were called from their patrols that day to evacuate the building and check for a device, putting calls from Spring Creek, Osino and Mountain City Highway on hold until the building was cleared.
"It's very serious, very heinous I think, because of the potential for people getting hurt and potential death," Pitts said.
"We had 200 employees standing in the parking lot across the street for an hour, not able to do their job," Pitts said. "It doesn't take into account people coming to pay their taxes, to come to court, to come to the assessor's office."
Pitts also recalled "a rash" of bomb threats that shut down the courthouse in the past, some for four hours.
"If we could catch every one of them … I'd be asking for restitution on every one of them," Pitts said. "I feel it's that serious of a crime."
According to Elko Daily Free Press files, nine bomb threats to the courthouse occurred between 2014 and 2017. In June 2015, threats closed the courthouse three times in one week and once more the following week. Overacker was accused of one threat from 2017.
"I feel he should get the maximum penalty and pay restitution," Pitts said.
Kump noted his client was willing to pay the restitution and when asked to speak to the court, Overacker apologized to the county and his family.
"I would like to say I do understand it's a serious crime," Overacker said. "I do want to apologize to Judge Kacin and Elko County for the loss that day and the expenses occurred."
Before handing down his sentence, Elliott said the court had "to take a serious approach to bomb threats … it could actually happen," recalling a bomb that inured an attorney walking into a courthouse in Sparks.
"I also looked at your criminal history, Mr. Overacker," Elliott said. "It's not like you were stoned on drugs and did something impetuous. You have a terrible criminal history of numerous misdemeanor violations through the course of your life in 2017."
"The overall cost and danger to the public plus looking at the criminal history, I don't feel that probation is appropriate," Elliott continued.
After the sentencing, Cochran said the maximum sentence her son received was because of the past bomb threats.
"Sheriff Pitts said, 'there has been a whole rash of bomb threats,' Cochran said. "I don't want it to look like he's the only nitwit who's ever done this."
"I mean it's a stupid thing to do, but he's not the only person who's done it. I believe they're making an example of him."
"I'm not saying he shouldn't be punished for what he's done," Cochran continued. "I'm saying I feel he's being made an example of."
Overacker also will be arraigned next week on 18 counts including burglary, uttering a fictitious bill, and grand larceny resulting from charges filed Dec. 27 in Elko Justice Court.
------
This article has been corrected from the original version to state that the bomb threat was traced back to Overacker but not to his phone; that a Sparks attorney was injured but not killed by an explosive device, and that Judge Elliott cited Overacker's "terrible criminal history of numerous misdemeanor violations … through the course of your life in 2017," not "into 2017."