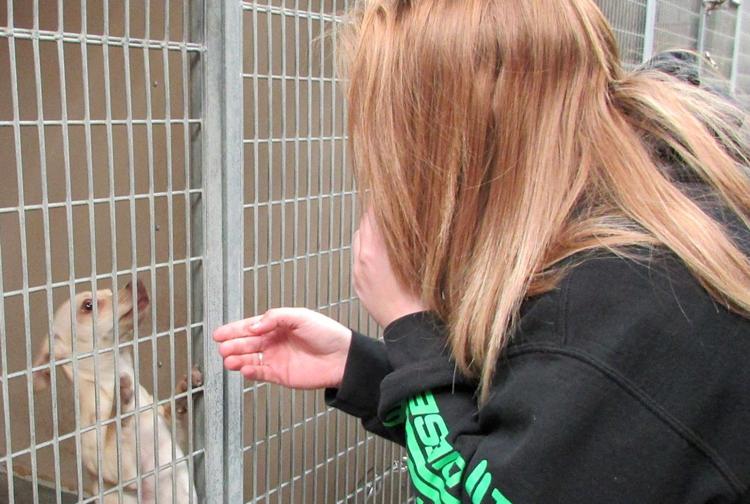 Elko Animal Shelter continues to strive for "very healthy, adoptable animals" that are spayed or neutered and have all their vaccinations, said the city's shelter manager, Karen Walther.
The 2017 figures for the shelter show that there were 599 dogs and cats adopted in 2017, down from 633 in 2016. The number of animals returned to owners in 2017 was 582, down from 594 the prior year, while rescue groups took 368 animals in 2017, up from 285 in 2016.
Dogs and cats are kept on hold seven days to "given an owner plenty of time to call and say their animal is missing," before the adoption process begins, but the animals are often on the adoption waiting list by the time the seven days are up, Walther said.
The shelter had a busy year in 2017, with 2,069 dogs and cats processed, including 1,618 stray animals, 333 surrendered by owners and 105 seized. The seized animals included 81 bite cases. The total processed was up from 1,985 animals coming into the shelter in 2016, 1,554 of them strays and 298 surrendered by owners. There were 111 seized animals in 2016, 75 of them bite cases.
The number taken in varies from the outcome figures because a few animals are dead on arrival.
While many of the dogs and cats find homes, the euthanasia total for 2017 was 455, with 336 of them feral cats. There were 441 animals that were put to sleep in 2016, 305 of them feral cats.
The feral cats aren't adoptable because they are wild, and the dogs that are put to sleep are usually ones that are bite cases or vicious, according to Walther.
"We have to be very, very cautious about adopting out ones that can be harmful," she said.
The total cats and dogs spayed or neutered since 2011, the first full year of the Dumke-Weeks Spay/Neuter Clinic, was 4,178 at the end of 2017.
The number spayed or neutered in 2017 totaled 697, including 330 cats and 367 dogs. There were 538 spayed or neutered in 2016, including 229 cats and 309 dogs.
Elko Animal Shelter also puts micro-chips in adopted animals. There were 767 total micro-chipped animals in 2017, including 348 cats and 418 dogs. That compares with 763 micro-chipped in 2016, when 310 cats and 453 dogs were given the chips.
Walther said adoption fees are $85 for dogs and $65 for cats, and that covers spaying or neutering, rabies vaccinations and the micro-chip. Dogs also are given Parvo/distemper and Bordetella vaccinations, and cats receive basic upper respiratory vaccinations. All animals coming into the shelter except feral cats are vaccinated, she said.
"We have a very healthy population of animals because of these practices," she said.
Walther said that in the earlier days "it was shocking" to have more than 3,000 animal intakes and no rescue groups to help.
The shelter works with two rescue groups in Elko, Mini Paws and Animal House Shelter and Sanctuary. Animals also go to out-of-state rescue groups, including one from Utah, three in the Reno area and one out of Oregon.
"Elko Animal Shelter takes in dogs and cats from all of Elko County, except for dogs from Carlin, as they have a shelter, and dogs and cats from West Wendover, as they also have a shelter," Walther said.
Figures also show that 731 city dog licenses were issued in 2017, up just one from the 730 issued the prior year. The total county dog licenses in 2017 is 697, up from 693 in 2016.
Elko Animal Shelter's current budget is $504,655. Revenue includes fees, donations to the shelter, grants and donations to the Local Animal Shelter Support Organization that raises money for the shelter and shelter projects.
LASSO was "created as a nonprofit fundraising arm of the City of Elko Animal Shelter," said Elko City Manager Curtis Calder, who is president of LASSO. "Through this unique partnership, the Dumke-Weeks Spay/Neuter Clinic became a reality, furthering our mission to eliminate pet overpopulation in our community."
The shelter has two paid part-time veterinarians who run the clinic and handle quarantine for any suspected rabies cases.
Veterinarian Dr. Jack O. Walther, who died last November, was one of those who made the clinic possible and designed the clinic.
"He loved to give back to the community," Karen Walther said.
Calder said the city and LASSO are "so grateful of the continued community support, and proud of our volunteers, employees and veterinarians that work so hard to enhance shelter animal welfare."
The shelter has a volunteer coordinator and 14 volunteers, who also have a Facebook site called Elko Animal Shelter Volunteers.
One LASSO fundraiser is the sale of a collection of 29 Cowboy Poetry Gathering posters from 1985 to 2013. The posters will be sold together.
Another fundraiser is the Kennel Sponsorship Program. Businesses can sponsor a kennel for $400 a year, and they will have signs with their names and logos over the kennels, signs in the shelter hallway and signs for their offices. There are 30 dog kennels and 19 cat kennels.
"It's been slow getting off the ground, but we're making progress," said Walther, who also is on the LASSO board.
Calder said LASSO fundraising also includes the Nevada Big Give, sponsored by United Way.
The shelter accepts money and donations such as toys, treats and blankets.
LASSO's website is LASSOelko.org. The shelter is located at 2210 Pinion Road and the mailing address is 1751 College Ave. The shelter phone number is 777-7333, and the LASSO contact number is 777-7334.