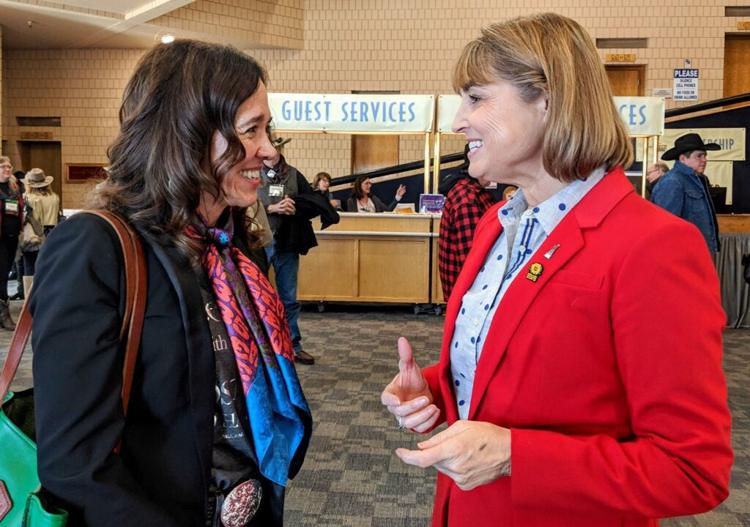 ELKO — Newly elected Lt. Gov. Kate Marshall spoke about tourism, state government and her roots on a visit to Elko. The former state treasurer joined a crowd of hundreds to hear the National Cowboy Poetry Gathering keynote address Jan. 31 for a peek into Western heritage then sat down with the Elko Daily Free Press for a question-and-answer session.
What is the importance of tourism to communities like Elko through events like the gathering?
The tourism commission, of which the lieutenant governor is chair, is really focused primarily on the rural counties. It becomes very important when you look at the numbers. If you look at primary and secondary employment, you're really employing almost half a million people in Nevada, and almost a little over a quarter of the workforce. When you start looking at the income generated to our economy, again you're looking at almost 25 percent of our GDP in Nevada is made up of tourism. Then you begin to realize how much it is in ecosystem that is a lifeblood for so many businesses. …
One of the things that I think we can expand on in addition to the people who are coming [from other states and countries] is having people in Vegas and in Reno remember to come here — that our own state has so much beauty and grace to it and so much to offer.
What personal connections can you make with the lifestyles that cowboy poets or singers are talking about?
Much more lowly. Certainly not as lofty. My mother's family are chicken farmers, so you have to step off the stool for my family. I also have a lot of miners in my family, so more on the hard labor side than on the poetry side.
How do you feel about the makeup of the upcoming legislature?
We've had a political shift. One of the things that is something to be proud of is Nevada is the first in the nation now with a female majority. We also have gender equity on our Supreme Court. I think given that women are half our population, that it is something to be proud of. Historically, many women came to Nevada to rewrite the story of their lives. Nevada has a history of very strong women, independent women, women who knew how to make it on their own, raise their families when their spouses were out on the range. To have a female majority in the legislature I think is representative of how independent we are as a state.
How do you think Democratic and urban officials can represent the needs of rural Nevadans, who largely voted Republican in the general election?
When you run for office, you run under a political party's affiliation. As they say, you speak in poetry — hopefully, not as good though [as cowboy poetry] — but once you're elected, it's really about governing, and you really represent the state. I brought my staff here so we could have a staff retreat in Elko. My staff represents Reno, Gardnerville and Vegas, where they're from. One of the things that is very, very important to the success of our state is recognizing that it is the state of Nevada, and it is an ecosystem. There is no Vegas without Elko, without Wendover, without Tonopah, without Baker. You don't have Nevada unless you have the whole of it. Keeping that in mind is important to the success of us as a state.
How will you stay in touch with the needs and values of your constituents statewide?
One of the things I want to do is create a small business advocate, or ombudsman. The role of that person is, if you're a small business and you don't know, or you're having issues navigating government, then you can call us and we will help you through that process. We will literally be your voice. That person will also have to make a circuit at least annually so that they can go where businesses are and sit down and have an open office hours, if you will, so that people come to them and [meet] whatever their needs are. So we will be out going to where those businesses are and trying to promote them. That also fits not only with economic development but tourism because many businesses intersect with tourism.
Who has been your most influential role model in life and why?
I will have to divide that.
My most influential role model in Nevada is [former Attorney General] Frankie Sue Del Papa. She's the one who encouraged me to get into politics. There has never been a town I have gone into where she hasn't helped someone. I once had the headstone of her mother in my car, and I took it to Tonopah to place it on the graveyard. It was very, very heavy, and so I went into the restaurant because I needed help. I just went to the restaurant and went to the front, and I said, "Does anybody here know Frankie Sue Del Papa? I have her mother's headstone." And four men stood up, and we bought flowers, and they just told these stories of how she helped them in their lives. I think that is an amazing person. She is definitely a mentor to me and someone precious to me.
My grandmother — she's a grandmother by marriage — she lost her first husband in World War II. She remarried my grandfather, probably because he wouldn't leave the stump in front of the house. She really taught me how to manage your life instead of being managed by it. She worked as a clerk her whole life in a store. She had lost both parents when she was 2 years old, so she had to make her own way. You would never see her cry. She would often wear an apron in the kitchen and might twist the strings of the apron if something really bothered her. She thought I would see the world, and she thought the only way to see the world at that time was to be a stewardess. So she wanted me to be a stewardess. She was someone who, I would go and sleep at her house and I would get up and she would cook me eggs and bacon and sit and say, "Let's just have a chat." She is a very strong person. Her name was Ruth.
Editor's note: Answers have been edited for clarity and length.