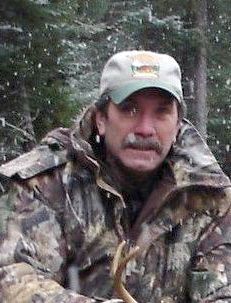 ELKO — John Baldwin joined Elko County in January as the community development natural resources director after a varied career, most recently as the district ranger for the U.S. Forest Service based in Elko.
The avid outdoorsman possesses a bachelor's degree in wildlife management, and master's degree in zoology and physiology from the University of Wyoming. He also served a term in the U.S. Air Force.
He said "a bit of wanderlust" led him to occupations in tiny towns across the West — as a roughneck in oilfields, in construction, and government natural resources jobs. Elko is the biggest town he's ever called home.
Baldwin tallied 25 years of government service, including military time, before retiring this past winter. He emerged after just two months of retirement to take the Elko County position.
"We thought he would be a good fit with the experience he has to assist us with compliance and reaction to different government programs," said Commissioner Cliff Eklund, who explained that having Baldwin on board could help the county improve its procedures and relations with the federal agency. "[We're] trying to establish a relationship with the Forest Service that isn't quite so contentious."
In this question-and-answer session, Baldwin describes his new position and upcoming priorities, and shares a few details about himself.
How did you find yourself in Nevada? What called you here?
I was here in 2001 with the Forest Service. It was actually my first ranger detail in Austin-Tonopah. I grew up in western South Dakota and Wyoming, and so sagebrush country was home to me. It just appealed to me to come back West to get to country that I love and am familiar with. Elko seemed like a good place, and there was a position open.
What made you interested in the county position when it opened?
I had an opportunity since I've been here to work with the commissioners on quite a few different issues and topics. I worked with Randy Brown a lot. He was the assistant county manager and natural resources manager. I'm the new Randy Brown.
My basic background is conservative. I think that kind of fits in with Elko County, and so forth. I'm very sympathetic to local and state governments, and how and why they have to deal with federal government.
Very shortly after I retired, I heard about the position. I was off for two months, and since I've worked almost every day of my life, two months seemed to be enough.
What does this position entail?
Basically, I am over the natural resources and anything that might follow that — also over the roads department, and community development is really the [over]arching thing over there, which includes public works and building inspections, zoning and planning, and building and grounds. There is a lot to learn. Hopefully, my background helps me learn quickly.
What are some of the priorities of your department over the next year?
My priority is to learn what I need to learn as quickly as I can and be as functional and as big a help to the county as I can be. We have multiple priorities here because of the multiple departments. The building inspections and building permits are always top priority. And then, as you might suspect, the roads department and maintaining roads and fixing roads [is a priority]. Last year was a real challenge with all the flooding. When you can't get into your ranch or your home, it's a big priority.
We do have three great employees here that are in charge of the planning and zoning and public works and buildings. They've been here a long time and know their jobs and do it very well. For me, that relieves a lot of pressure and stress. I can trust them.
The other big priority is there is a lot going on in natural resources with sage grouse, with oil and gas leasing and exploration, and the wilderness study areas, which we took on. ... I have tried to appeal to the BLM [Bureau of Land Management] and U.S. Forest Service that on whatever project, we want to be a cooperating agency, be a part of the process. I am familiar with those processes. I think I can hopefully affect a good outcome or at least help.
Who was most influential in your career to shape you into who you are today?
My father. For sure he was. We grew up in the woods, camping and fishing and hiking and hunting and trapping — you name it. It was every weekend of the year [that] we were doing one of those things. He was a game warden for a short while. He loved the outdoors. It was his release.
If you could spend a day with anybody, who would it be?
Thomas Jefferson. Partly because he lived in fascinating times. I think he was instrumental in the initial exploration of the West. If I could have been on that trip [the Lewis and Clark Expedition in 1803], I would have. Although I imagine pulling up the Missouri for thousands of miles had to be extremely difficult.
How do you think your experience in the Forest Service informs this job?
I'm extremely familiar with how the Forest Service and BLM function. I'm very familiar with their processes, what works and what doesn't. And having spent so many years dealing with natural resources, I'm extremely familiar with most everything to do with that sort. Those years make a big part of this job easy for me as far as natural resources go. It's been great both as a fed employee and now working with the commission and people here.
Is this more of an office job that your previous work?
Probably, but I hope I can change that to some degree. I think it's really good to get feet on the ground. Not just for natural resources. A big part of this is facilitating the roads department and to be familiar with what it takes for these guys in the field … for Jarbidge and Jackpot and Montello and Tuscarora because we maintain most if not all our facilities in those places. I've started on that but I need to continue to learn their systems and their issues.
What's something people would be surprised to know about you?
I speak Spanish and like to travel south of the border, as far as South America.