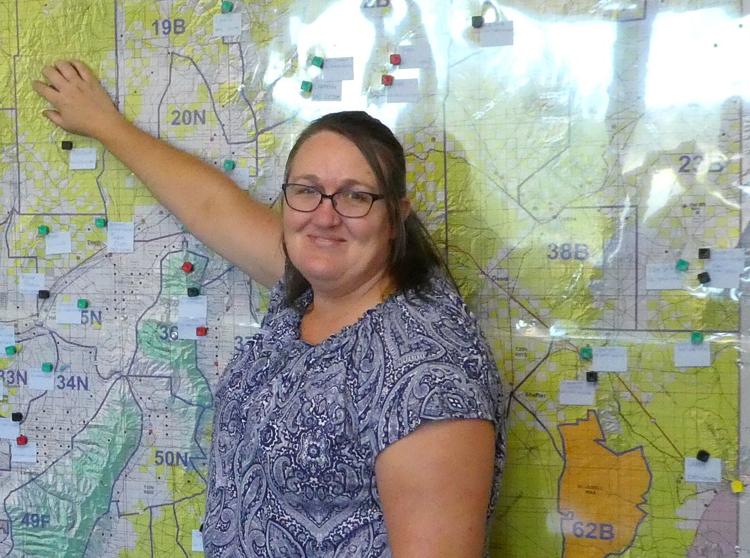 ELKO — The Elko Interagency Dispatch Center is the hub of fire response in the Elko area. Shauna McIntosh-Harris, the center's manager, described what happens when a lightning storm moves through the Elko area and wildfires roar to life.
Telephone reports of fires come into the center and dispatch personnel have to determine if the report is an actual fire, or simply smoke from another fire or a dust devil moving through an old burn. During a major fire start, personnel may receive dozens of phone calls and they try to determine if each phone call is describing the same fire or reporting multiple fires.
Having received reports of a fire, dispatch calls out a fixed-wing aircraft to fly to the fire and check its size, fuel and activity. The pilot determines initial resources needed to fight it and then act as an air traffic controller for other aircraft arriving at the fire.
A slower helicopter is also sent, carrying a helitack crew, often the first firefighters on the fire. The helicopter usually also carries a bucket to start putting water on the fire. At the same time, ground personnel are sent to the scene.
As firefighters converge on this new fire, an Incident Commander begins radioing dispatch to order other resources. Dispatch keeps track of all available resources, fire engines, dozers, water trucks, aircraft and firefighters. Depending on who is closest to this new fire, they can draw from BLM and Nevada Division of Forestry bases in Elko, Wells, Carlin and Midas, along with crews and equipment from the U.S. Forest Service, Bureau of Indian Affairs, Duck Valley Fire Department and Elko County.
Ranchers may offer equipment and help on fires near their property and grazing allotments. A giant wall map keeps track of the location of all area fires, while a resource status board and computer-automated dispatch system track all personnel, equipment and aircraft.
During a wild series of lightning-caused fires, dispatch may call on neighboring resources in Nevada, Idaho and Utah. The problem is these locations are often fighting their own fires, from the same storms. Dispatch can also call on the Great Basin Coordination Center in Salt Lake City.
As fire crews are dispatched to a fire, the areas they were protecting must still be covered. Using a move called "bump and cover," resources from farther off are called in to cover the areas vacated by crews sent to a fire.
Fast response, called initial attack, is critical and when lightning storms are forecast for a particular area, crews, engines, aircraft and other equipment can be pre-positioned to wait for reports of fires.
The Oil Well Fire east of Elko was so close that crews were on the fire 5-10 minutes after it was reported. McIntosh-Harris said it takes longer to get resources to more remote fires like Snowstorm north of Battle Mountain.
During the summer fire season, the Dispatch Center may be manned 24/7 using a crew of seven to 12 employees. The building also has an Expanded Dispatch, to provide additional dispatch help. It is manned by personnel coming from as far away as New Hampshire, Minnesota or Michigan. This Expanded Dispatch was not used during the summers of 2015 and mobilized for a short time in 2016 but has been manned all of this summer.
To keep an accurate status of all resources, dispatch must also keep track of all equipment breakdowns and down time for firefighters, who require an eight-hour rest after a 16-hour shift. A 12-hour shift earns at least six hours of rest.
Dispatch also gathers needed intelligence. They coordinate with the Elko Forecast Office, gathering info on approaching storms and warnings. They disseminate this intelligence in daily briefings to all fire crews.
McIntosh-Harris described what it is like when lightning storms moves through, as crews also work to contain several older fires. She said it gets "crazy busy" in dispatch but it is all very energetic, as her crew juggles resources needed to fight wildfires around Elko.