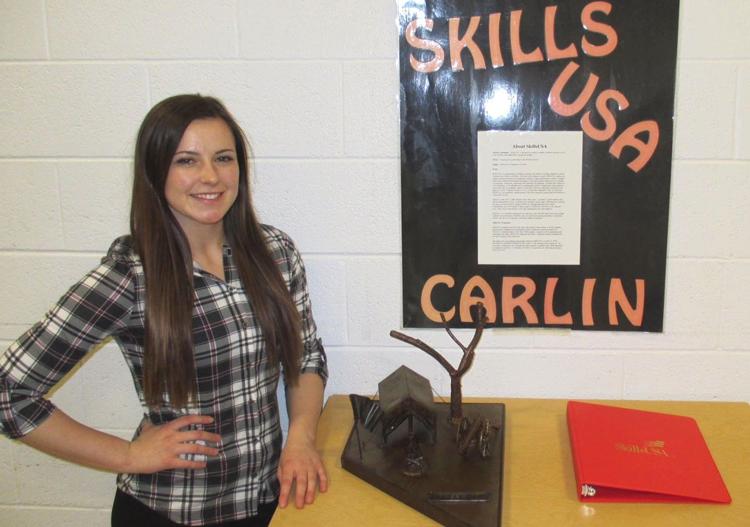 CARLIN – A Carlin High School senior is a semi-finalist to win an all-expenses paid trip to Washington, D.C.
Kyra Neptune has advanced in the U.S. Presidential Scholars in the Career and Technical Education Program. If she is chosen, Neptune will be presented a medallion at a ceremony sponsored by the White House in June.
The Presidential Scholars program plans to recognize 20 CTE students this year, and each state can nominate five candidates for recognition for excellence in CTE through the Chief State School Officer, according to the program's guidelines.
The winner will be announced in May.
Neptune, 18, said she was informed of the contest by her counselor, Ryan Smith, who told her she would "be an awesome candidate due to my academic background and experience in CTE programs such as welding."
"My counselor does a really good job of searching for scholarships that fit my classmates and I. He really pays attention to all of our personalities," Neptune said. "I am honored to be a candidate for the Presidential Scholars Program."
Smith said two students applied for the award, but this was the first time someone from Carlin Combined School was nominated for the Presidential Scholars honor. He added he was unsure exactly how many students from Nevada had applied.
"Overall, she is one of 600 semi-finalists nominated nationally and one of 86 semi-finalists from Nevada" nominated in the general, arts and CTE components, Smith said.
Neptune said she began taking welding classes as a sophomore and joined SkillsUSA, finishing in first place last year at the state competition for welding sculpture and advancing to the national competition.
"Being a part of CTE has changed my life," Neptune said.
After graduation, Neptune plans to enroll at Great Basin College and join the millwright program, and work at either Barrick Gold or Newmont Mining Corp. but isn't sure what career path she wants to explore yet.
"I have been interested in so many fields, I'm not 100 percent sure what I'm going to study after my first year," she said.
Her junior year, Neptune was inducted into the National Honor Society and has participated in the STEM club at Carlin High School "since day one."
"My first year joining I was an officer [and that] year I competed in the Science Olympiad and placed fifth in Protein Modeling Competition where my partner and I built a model of a protein," Neptune said.
But it's not all work and no play for Neptune. Throughout high school, she has been on the Railroader volleyball, basketball and softball teams and taken part in other activities.
"This year, I did winter and fall cheer on top of playing volleyball and basketball," Neptune said.
Justin Munson, who teaches welding at CHS, said Neptune is a "very cheerful and dependable student" and has seen her get her assignments turned in on time amid her busy schedule.
"She can be relied upon to complete her assigned task, from the prom committee to the welding shop," Munson said. "She enjoys learning and makes the most of her opportunities."
For three years, Neptune has volunteered at the Little Red Caboose preschool, and works with the children "showing amazing confidence and excitement," said Sara Anthony, Family and Consumer Science teacher.
"She really has the caring heart of a teacher and is a wonderful addition to the staff," Anthony said.
Although she has a busy schedule, Neptune ranks second in her class with a 3.76 GPA, Smith said.
Smith said he gave Neptune the good news that she was selected as a semi-finalist.
"Telling her after all of the hard work she was a semi-finalist for the Presidential Scholars, the smile she had on her face said it all," Smith said, explaining that Neptune's long list of activities and accomplishments needed to be recognized.
"A student with this type of resume should be celebrated and praised for her continuous determination and work ethic that is second to none," Smith added.
Neptune thanked Smith and her family, friends and teachers for their support.
"I am surrounded by people who inspire me every day. I credit all of these people for inspiring me to go for the Presidential Scholars Program."