WATCH NOW: Dr. Birx meets with local leaders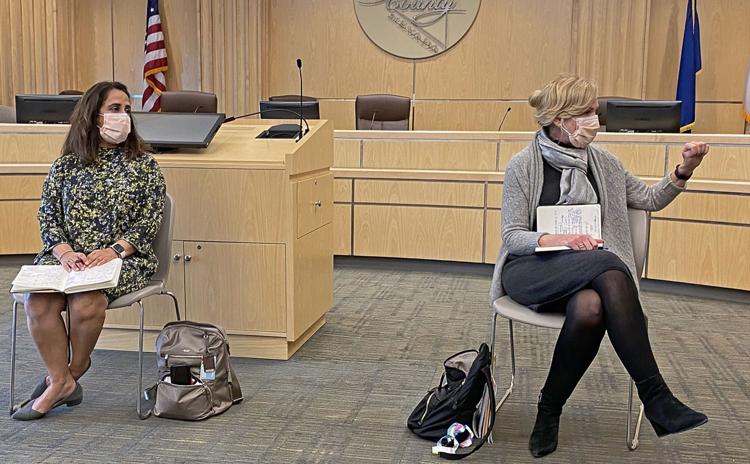 ELKO — Over the past three weeks, White House coronavirus task force coordinator Dr. Deborah Birx has toured the country and evaluated a number of counties', cities' and states' abilities to effectively counter the COVID-19 pandemic through appropriate planning — expecting the next month or so to be particularly crucial.
She has been to more than 40 states and logged more than 20,000 miles since August, meeting with state and local officials as COVID-19 is once again surging nationwide.
On Friday afternoon, Dr. Birx met privately with Elko County commissioners and city officials. Neither the press nor the public were allowed into the commission chambers during the meeting.
Afterward, Elko County Commissioner Jon Karr spoke positively about what he called the "information-that-she-gave-us meeting."
"She came here to give us information based on, quite honestly, of where some of the rurals like North Dakota, Montana — because of weather — are starting to go more indoors; it's cold. Well, they're figuring we're four to five weeks and then we're going to be really cold and we'll do the same thing," he said. "So, it just gives us more information of what we know now about the virus, how it's acting and, hopefully, that we could not have the same problems these other states are having."
Karr said it was nice that Birx admits that we didn't know a lot about the virus but that we now know a lot about it.
He also added that Birx said "she is comfortable with a vaccine" and was unsure of the specific timeframe but stated it should be available in around a month and a half or two months.
Birx also notified Karr and other members at the meeting of a new form of testing that they were unaware of that could quickly impact Elko County.
"It takes 10 minutes, it's like a million in the state of Nevada," he said. "She's saying we should be getting a couple hundred thousand for Elko County alone, within days now."
Nevada Senator Pete Goicoechea said he "stumbled upon these 198,000 rapid-test kits on the Salt Lake City news."
"It was a good meeting, she's a great lady. I asked her about the tests, and she said that we have had them in the state for about 10 days," Goicoechea said. "I talked to David Fogerson (Nevada Division of Emergency Management Administrator), and he told me we had 120,000 of them."
Goicoechea said we should have 980,000 of them in the upcoming days, according to Nevada COVID-19 response director Caleb Cage.
"The test takes five minutes. Caleb Cage told me they are 97% accurate and, typically, if they are wrong it's a false-positive," Goicoechea said. "We need to get these out to the rural areas. They only cost $5, but with the CARES Act funding the state received — I think they should be free."
Goicoechea said Birx told him "she would helicopter them in if she had to."
"She said they don't need them as much in the urban areas. We need to get these, obviously, to the hospitals but also all the way down to the schools," he said. "Even a school nurse can do them. If a kid — or anyone — doesn't feel good they can take the test, find out if they're sick and go home or go back to class. The state has the tests and hasn't gotten them out yet. I don't who to lay the blame on for that."
Goicoechea said he wants at least 50,000 tests distributed to rural areas as quickly as possible.
Elko County Commissioner Delmo Andreozzi also spoke highly of Dr. Birx for both her appearance in Elko and the information she passed along.
"First of all, I want to thank a high-ranking individual such as her to come all the way to Elko," he said. "It was a really useful meeting, kind of talking about a snapshot of how things are progressing with the spread of the coronavirus, and some of those issues get down to a really granular level. It was a very good dialogue of what's been happening with the disease, what's going on now, the development of a vaccine, the rollout of that vaccine. Those are all good things."
Andreozzi explained the community spreads that are taking place across the country and here in Elko are "not necessarily taking place in the retail areas, in the restaurants, industrial areas or where people work" but rather happening due to "social get-togethers where everybody lets their guard down; it's that asymptomatic spread."
"It's really about that dialogue. With these tests, the way they're being distributed, how we make sure Elko County gets our proportionate share and make sure that linkage is happening so we have access to those tests so we can best manage this," he said. "It was very good to have her here. We appreciate the fact they took time to come out and listen to us and then actually have some information — that's great communication."
Andreozzi said Birx notified members of the meeting of the plans for the vaccine rollout with confidence.
"They're talking about 100 million vaccines for frontline people and the highest-vulnerable folks, so that would be the first part through this wintertime. That second batch, they need to produce another 150 million vaccines," he said. "They were way ahead of the curve on the vaccine, they didn't cut any corners or anything like that to develop a vaccine. There's a lot of confidence in the vaccine going forward."
During the 2020 presidential election campaign, the Trump Administration has been accused by opponents of not doing enough to prevent the spread of the virus.
President Trump countered that he has deployed point of care testing equipment, millions of rapid tests, and critical PPE to nursing homes to help protect seniors; and mobilized extra beds and personnel to help prevent hospital overcrowding.
The White House web site states that, according to the best estimates from the Centers for Disease Control and Prevention, 99.997 percent of individuals aged 19 and younger who contract coronavirus make a full recovery, 99.98 percent of those aged 20 to 49 make a full recovery, and 99.5 percent aged 50 to 69 fully recover.
Public Reaction
Although the meeting wasn't open to the public, the Elko Daily asked some residents what they thought of the local response to the coronavirus pandemic.
"Increasing infection numbers in our county clearly indicate an ineffective and insufficient defense against the virus," said Michael McFarlane, retired Great Basin College vice president of academic affairs. "The pandemic is being treated here more as a political matter than as a public health matter. The public health concern needs to be given the priority."
"I think the county commission should be looking with wide open eyes and need to listen to experts and follow the experts' advice," said Jane Zugazaga, a former Elko County teacher. "I am very concerned about the schools. I think [this] should be based on science. I believe in science and taught science for years. "
Assemblyman John Ellison, who is also a member of the Elko County Community Action Committee that requested local schools be reopened to in-person learning, said after the meeting with Birx that he still believed it would be safe.
"I think if they do the right things, yes," he told the Elko Daily.
Ellison said teachers and administrators should not be concerned about liability over spreading the virus because state law exempts them from lawsuits as long as they follow the guidelines and instruct students to wear masks and practice social distancing.
However, Ellison also said that Birx described how the virus is spreading in other parts of the country where schools have opened, as children bring it home and give it to their grandparents.
Elko County Republican Party Chairman Lee Hoffmann, who was also at the meeting and is also a member of the action committee, said Birx told the group that if they reopen schools at the same time the outbreak worsens, people will conflate the two because of the timing.
She did not, however, speak against reopening classrooms, Hoffman said.
Zugazaga said she thought local officials were "trying to live in la-la-land."
"You have the head of Nevada Gold speak to them personally about wearing masks. He came and made an example to them," she said. "Why don't they listen to that? That is economics. If you want the mines to stay open, you need to make sure our people are not getting sick. It's not just us, it's Utah, Idaho, that same mentality, 'You can't tell us what to do.'"
Spring Creek resident Doug Clarke, a former U.S. Forest Service official, said, "I think our local leadership response has been lacking and largely ineffective."
He was disappointed that the meeting between Dr. Birx and local leaders was not open to the public.
Clarke said he would have prepared a packet of letters from concerned citizens and given it to Birx while she was here.