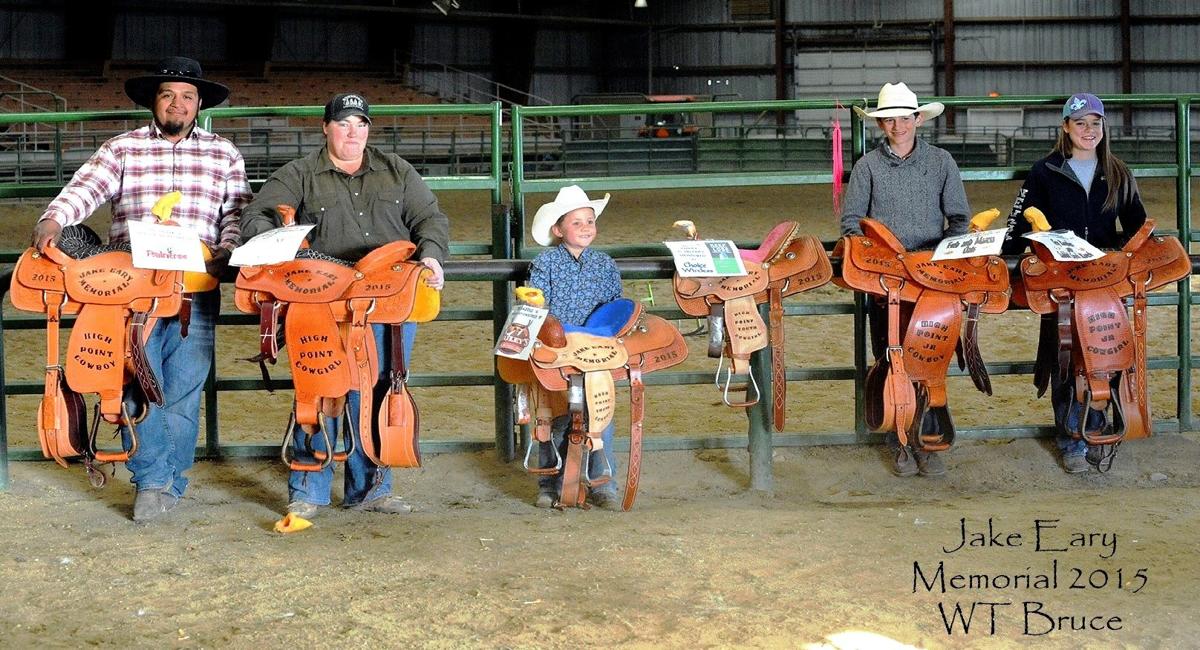 ELKO – The fifth annual Jake Eary Memorial took place March 7-8 at Spring Creek Horse Palace, and the event has grown. Riders from near and far showed their stuff during the two-day event in many competitions.
Six high-point saddles were awarded to a male and female in three age groups – the youth, the junior and adult divisions.
Natalie Brown and Eli Lancaster took home the high-point saddles of the youth division. Averie Hebdon and Cade Bell captured the most points in the junior class. Timmy Lyn DeLong and Will Knight snagged the high-point saddles of the adult division.
Audrey Wright and Chase Stouard were named the reserve high-point winners of the youth division. Whitney Slack and Riata Goemmer tied for the reserve-high point of the junior class, and Austin Iveson was the boys reserve high-point winner. Mindy Goemmer and Nathan Kelly Jr. were the reserve winners of the high point for the adults.
The buckle for outstanding character was awarded to Brody Kelly.
Winners of the events were as follows:
Stick-Horse Barrels: 1. Audrey Wright. 2. Maggie Van Norman. 3. Damon Thomas. 4. Natalie Brown. 5. Caden Openhein 6. Eli Lancaster .
Dummy Roping: 1. Chase Stouard 2. Eli Lancaster 3. Quil Filippini 4. Nate Thompson 5. Blaze McDaniel.
Sheep Riding: 1. Natalie Brown 2. Gavin Otteson 3. Billie Gardner 4. Eli Lancaster 5. Hank Hooper 6. Trent Whiteley.
Steer Riding: 1. Eduardo Solis 2. Myles Carlson 3. Kodis Campbell.
Junior Team Roping: 1. Whitney Slack 2. Austin Iveson 3. Cade Bell 4. Averie Hebdon 5. Quade Filippini.
Junior Barrels: 1. Riata Goemmer 2. Averie Hebdon 3. Shay Zeman 4. Haylie Mitchell 5. Amanda Rath.
Muley Roping: 1. Tony Steele/Casey Felton 2. Ross Sullivan/Brogan Kendall 3. Josue Madrigal/Austin Carrasco 4. Steve Miller/Zach Bunyard 5. Marshall Smith/Will Knight 6. Ira Walker/Nathan Kelly Jr.
Open Barrels: 1. Mindy Goemmer 2. Kassi Venturacci 3. Alyssa Boyd 4. Monel Shelley 5. Brittany Barto 6. Macy Rockwell.
Steer Stopping: 1. Robbin Rowley 2. Victoria Jackson 3. Tess Turk 4. Timmy Lyn DeLong
Bareback Riding: 1. Bryan Jones 2. Clayton Biglow.
Stock Saddle Bronc Riding: 1. (Tie) Nathan Kelly Jr. and Jake Tervort 3. (Tie) Clayton Souza and Paul Sonerholm-Hooper.
Saddle Bronc: 1. Rusty Wright 2. Cole Hatcher 3. Clay Stremler.
Bull Riding: 1. Sterling Ward 2. Bobby Vaughan 3. Tommy Denny 4. Cory Groff.
Mixed Branding: 1. Lazy JN Ranch 2. Thompson/Fowler 3. OE Bar 4. Jakey's Team.
Open Branding: 1. NK Ranch 2. Walker Ranches 3. Jim Ranch 4. JX Ranch.
Be the first to know
Get local news delivered to your inbox!