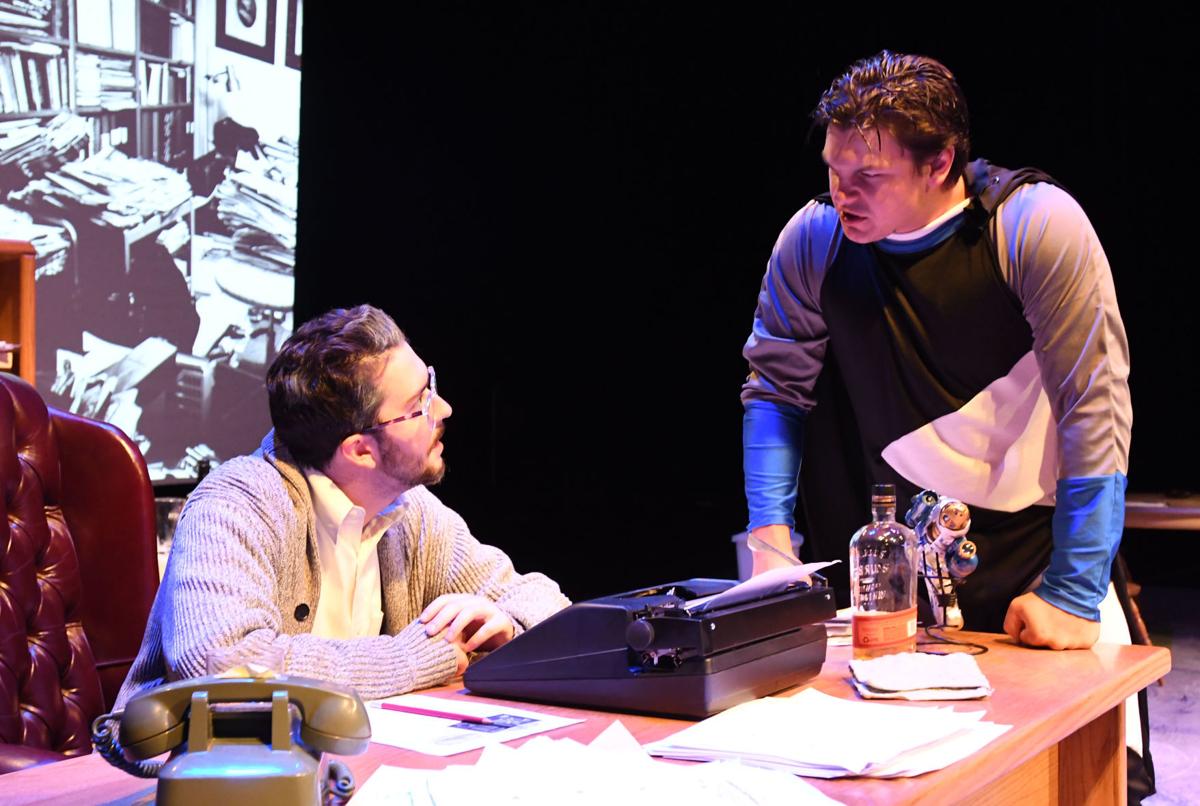 ELKO – Local writer and English professor Josh Webster has teamed up with director Frank Sawyer and a cast of local actors to present "Incredible Stories and Other Back Issues."
The play explores success, failure and friendship.
"It's about a comic book writer in the 1950s who becomes very successful and kind of loses that and ruins his life in the way that successful people sometimes do," said Webster.
"People look at superhero comics and think that the people who create these things are very upstanding individuals," Webster said. "But a lot of the people who created comics were very much artists and they had all of the same problems that come with being artists. [The play] is very much about people's self-destructive tendencies."
Bill Hauser, played by Ian Montgomery, is the main character, the writer, in this story. The play follows him through his childhood, his first writing job, his time as a successful author and into a beleaguered middle age.
Hauser is haunted by his spurned comic book characters that visit him in his home office where he drinks and writes copy about products he despises.
"And you're already into the bourbon, Billy," said Supra, a superhero character in the play. "You should write copy for a distillery. It's the closest you'll ever come to a memoir."
You have free articles remaining.
"I wish I had done acid in the '60s," said Hauser.
"That's one of your more interesting regrets," said Supra.
"Psychedelic abuse would give your presence context," Hauser said.
The play goes on with more interesting snippets of how Hauser relates to the characters he created and the people in his life.
"I really enjoyed 'Mad Men' when it was on," Webster said. "I wondered what that would be like for the comic book creators."
Webster is also very inspired by Wally Wood, an early comic book creator, and Patricia Highsmith, a comic writer who had a lot of very serious personal problems.
This is the first play Webster has written. He wrote it shortly after taking the teaching job at GBC and moving to Elko. A second play, "Good Spirits," written for the yearly presentation "Poe and Pints," was performed first.
Sawyer, a local actor, director and producer, plays Hauser's father in the production. He is also directing the presentation, along with Webster. John Patrick Rice serves as producing artistic director.
"It's always an honor to work with talented artists like our cast and crew," said Sawyer. "It makes it even more special when you can premiere a new work by a local playwright and that playwright is a friend. I can't wait to have the community as our guests."