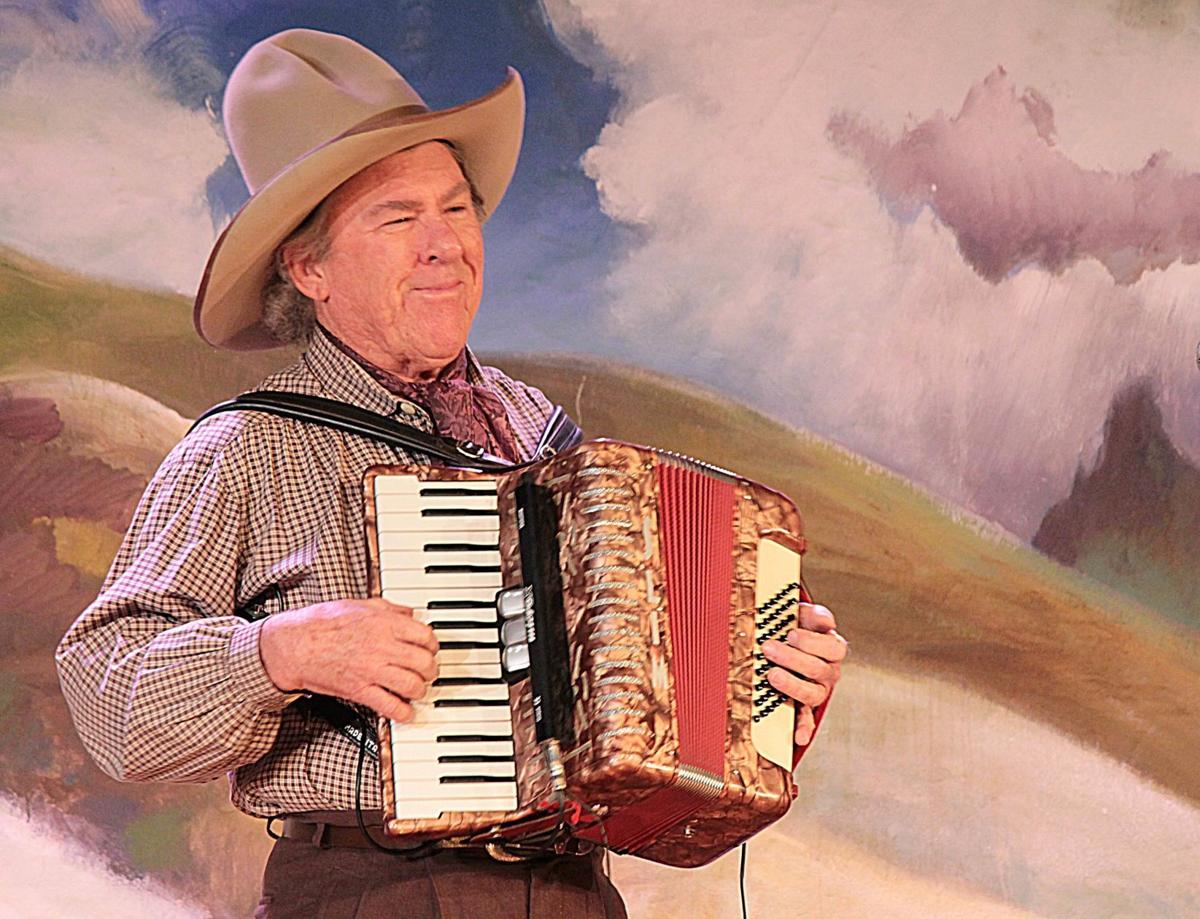 ELKO – Combining vintage cowboy music and good-natured comedy, Sourdough Slim and Riders In The Sky have delivered laughs and smiles to audiences for three decades at the National Cowboy Poetry Gathering.
The yodeling cowboy who plays accordion, guitar and harmonica, and the four-piece act that owes its inspiration to Sons of the Pioneers have never failed to delight audiences of all ages.
After a childhood growing up on a cattle ranch in the Sierra foothills, Rick Crowder gave up package delivery in 1988 to devote himself full-time as Sourdough Slim, a comedic yodeling cowhand who brought "catchy, uplifting, irresistible jolly fun" to audiences, according to Cowboy Magazine editor Darrell Arnold.
Along with Robert Armstrong, Sourdough Slim has been a beloved fixture at Elko's Cowboy Poetry Gathering, singing various western classics, country blues and novelty songs, topped with a joyful yodel while doing a rope trick and playing the accordion.
Taking his act to local schoolchildren, who otherwise may not be able to take in one of his shows, Slim said he understood the power of live performance.
"They'll remember this," Slim told the Elko Daily Free Press in 2009 after encouraging children at Grammar No. 2 to try their best yodel. "It's nice to share what is happening out there."
Blending toe-tapping country melodies with jokes and wordplay, Riders In The Sky is another popular attraction at the Gathering, paying tribute to the mid-20th century cowboy artists such as Gene Autry and Roy Rogers.
The group first took to the stage on in November 1977 in Nashville, with baritone Ranger Doug on guitar and Too Slim on bass guitar. Over the years, tenor Woody Paul with his fiddle and Joey the Cow-Polka King on accordion joined, shaping the current lineup of Riders In the Sky.
Among their career highlights, the Riders have appeared on radio, television and film, winning Grammy awards for albums tied into Toy Story 2 and Monsters, Inc. Last year, they celebrated their 38th year as members of the Grand Ole Opry.
The group's "wholesomeness and just plain fun keeps generations flocking to Riders shows year after year," wrote the Elko Daily in 2009, when the group made its appearance at the 25th Gathering.
A secret to their success is keeping audiences in stitches while honoring the past, Ranger Doug said.
"People like to laugh and feel like they're part of something exciting," he told Elko Daily in 2009. "We're keeping a great tradition alive. People enjoy us having fun, and … well … we're stubborn."
As for 2021, the Riders are optimistic about a return to the stage, according to their website.
"We're looking forward to a healthy and happy 2021 and rolling up our sleeves and doing what we do best: Put on a show!"
Below is a collection of photos of Sourdough Slim and Riders In The Sky over the years.