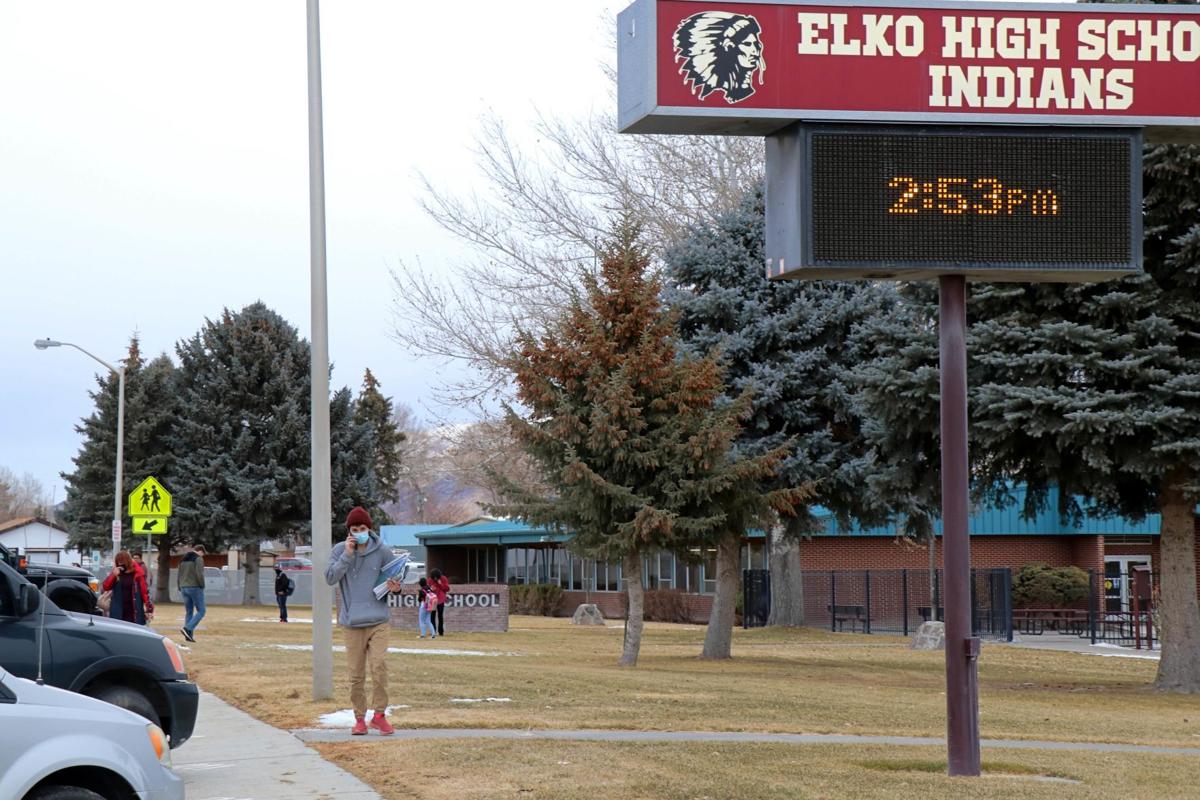 ELKO – High school campuses at Elko, Spring Creek and West Wendover buzzed with activity as classes resumed on a hybrid schedule last week.
Three cohorts of students attended school on Mondays, Wednesdays and Fridays, completing the first week back since March when campuses statewide were closed due to the COVID-19 pandemic.
"How wonderful it is to see kids back on our campus," said Elko High School Principal Tim Wickersham. "It's been a long time."
Attendance rates ranged from 92% on Jan. 4 to 91% on Jan. 8. It dipped to 86% mid-week, Wickersham said.
Elko County School District Superintendent Dr. Michele Robinson said all three high schools saw more than 90% attendance last week, "with upwards to 3300 students on campus at a time."
"The first week back for students was great," she said. "Students shared they enjoyed interacting with their friends and engaging in in-person learning."
Since October, EHS accommodated between 40-80 students on campus, some of whom were unable to keep up their grades through distance learning, Wickersham said.
"We reached out to students with failing grades" and offered them a quiet classroom by themselves to complete their school work," he said.
Seeing students walking between classes last week was a "rhythm" of the school day that Wickersham said he and others greatly missed.
"The bell rings, and the campus is abuzz," he said.
A little more than 20% of the student body chose to remain in virtual learning and not return in a cohort for "a variety of reasons," Wickersham said.
Some are concerned about the virus and wanted to stay away from crowds, while others were thriving in distance learning and preferred to remain online. Working students also opted to stay with the virtual school to keep their jobs, Wickersham explained.
A few students chose to stay home to avoid wearing masks all day on campus, which is a requirement, Wickersham said. He noted that for returning students, face coverings were not a problem.
"We haven't been fighting with kids, and they are uncharacteristically compliant," he said.
According to the school district's COVID-19 dashboard updated on Jan. 7, there were no active virus cases among staff and students reported at Elko High School. Three cases were reported at Spring Creek and one at West Wendover.
The district reported 18 new cases and 13 active cases, with 21 school sites out of 23 impacted by the virus and 205 exclusions district-wide.
Elko and Spring Creek high schools and West Wendover's middle and high schools were the last ones in the Elko County School District to allow students on campus in a hybrid learning model starting Jan. 4.
Most schools within the school district resumed in-person learning on Nov. 9, with some utilizing AM/PM or ABAB schedules.
Ten days later, Adobe and Spring Creek middle schools opened their doors to two cohorts on a hybrid schedule.
Owyhee Combined Schools decided to remain in distance learning for the rest of the year.