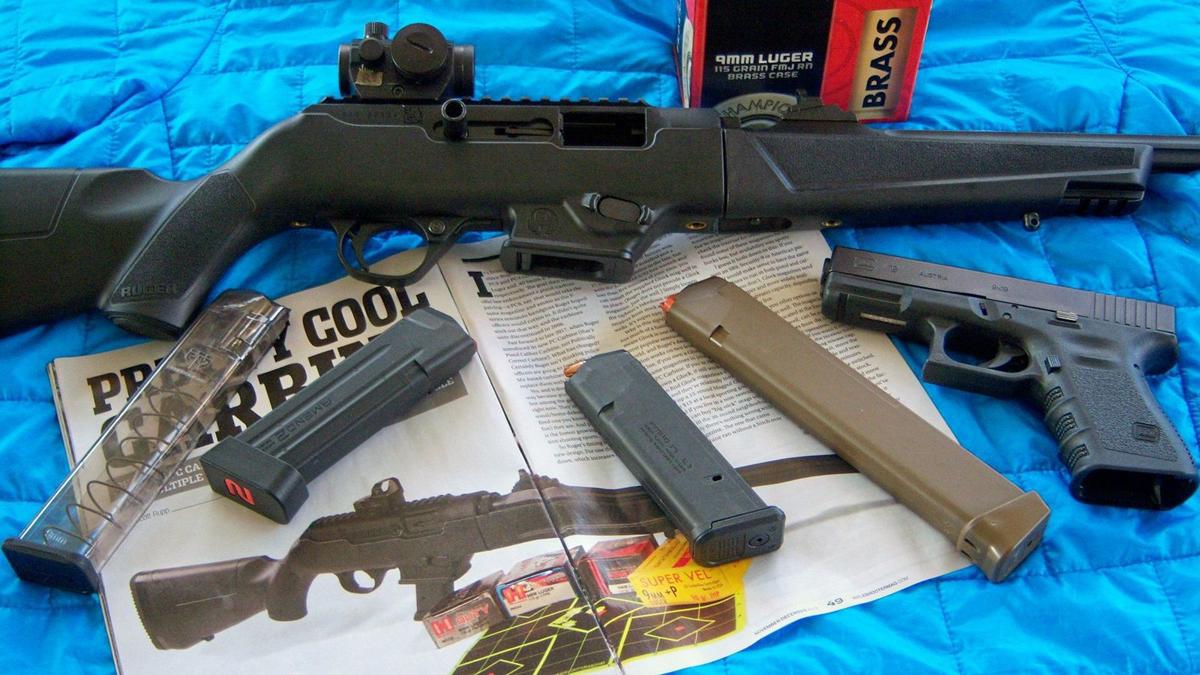 Perhaps the best way to envision Ruger's new PCC (that is, its Pistol Caliber Carbine) is to imagine their universally admired 10-22 carbine pumped up on steroids. Every aspect of that lithe little .22 LR autoloader has been beefed up and man-sized to create a stout, dead-reliable 9mm Luger (9x19 mm) carbine that is darn near ideal for plinking fun, PCC action competition, and home defensive duties.
Some of you grizzled old gunnies may recall Ruger's original entries into the pistol caliber carbine market years ago. Known back then as the Ruger Police Carbines (PC), the Newport, New Hampshire manufacturer produced a 9mm and a .40 S&W iteration called respectively, the PC9 and the PC4.
Originally intended to cater to the law enforcement market, these compact, hefty little carbines (which utilized Ruger P-series pistol magazines) were conceived as ideal shoulder-fired companions to the officers' 9mm or .40 S&W duty pistols. Sadly the accurate, reliable little mini rifles proved to be conceptually ahead of their time and after a rather limited production run (1996-2006), both models were unceremoniously discontinued.
But now, as they say, "The day of the Pistol Caliber Carbine has arrived," and in truth, they're practically flying off the dealers' shelves faster than they can be restocked in my area. Real world prices for Ruger's latest PCC vary between a low of about $450 and a high of $500 online and at most local brick and mortar stores. I picked up mine last month at a local dealer for $499, plus change. Be sure to watch for special bargains during this month's Black Friday events, there's sure to be some deep discounting going on!
So, you may be wondering right about now, "What exactly will I be getting for my fifty hard-earned sawbucks?" Honestly, this gun is so feature-rich; it's going to be difficult to discuss all of its standout features within the breadth of this short column. What I've decided to do is to dissect this modular carbine into its three major components (lock, stock, and barrel) and spotlight the 'coolest' features within each.
To contain and direct the pressures and energies of the potent 9mm Luger cartridge, Ruger engineers machined the receiver out of a billet of industry-standard 7075-T6 aluminum. Up top, they integrated a lengthy integral optics rail with plenty of room for mounting a huge range of today's popular scope, red dot, and reflex sights. The PCC utilizes a direct blowback bolt system — with a couple interesting tweaks!
The heavy 10.2-ounce steel bolt body has a recess machined into its rear to accept a 9.4 oz. tungsten weight. Known as their Dead-Blow action, the tungsten insert shortens and slows (due to its inertia) the bolt's rearward motion and on its forward travel delivers a secondary blow to help close and seat the action. The experts will tell you that this motion softens the recoil impulse, but in my experience the hefty little rifle still exhibits a distinct snappy (but not obnoxious) recoil impulse. Anyone in the family can learn to become proficient with this weapon easily.
Interestingly, the bolt head is removable, suggesting that additional pistol caliber chamberings (.40 S&W, .357 Sig, 10mm, and .45 ACP) may be offered in the future.
The modular trigger group (a modification of the wonderful BX-10-22 system) delivers a light, crisp, highly controllable trigger pull. An easily accessed cross bolt safety on the trigger guard secures the mechanism.
Molded from Ruger's proprietary black glass-filled nylon, this polymer handle is ergonomically very family-friendly. It's short overall length, reasonable heft (6.8 pounds), reversible bolt cocking knob and magazine release, rough textured stippled checkering panels on the forearm and pistol grip offer ergonomics that most family members (large and small)will find very manageable. These are vital features for a home defensive gun where any and all responsible family members may be called upon to defend the home and family. A set of three half-inch spacers are provided to adjust the gun's length of pull to an acceptable average. A firm, serrated non-slip black rubber pad crowns the butt stock.
The real standout feature for this carbine is its interchangeable magazine insert. By swapping out the plastic inserts, (easily accomplished) the gun can utilize Ruger SR9, Ruger Security 9, Ruger American Pistol, and (now hear this!) Glock magazines. The gun ships with the Ruger SR9/Security9 insert (SR9 mag in box) in place and the Glock insert in the box. Since I have a ton of Glock mags (with capacities from 15-33 rounds), I keep the Glock insert onboard. The gun feeds and fires like gang busters with many brands and weights of ammo; it's dead reliable.
The Ruger PCC (like its 10-22 counterpart) is a Takedown model. Simply pull forward on the stainless steel disconnect knob housed beneath the forearm, twist the matte-blued barrel assembly clockwise, and pull forward to separate the two subassemblies. Easy peasy! Reassemble in reverse order, of course. The process requires no special tools and can literally be accomplished in seconds.
The 16 1/2" cold hammer-forged barrel bears a nicely sculptured integral base mount for the steel adjustable ghost ring rear sight. The bore is machined with a 1/10 twist; just about perfect for stabilizing today's popular 115/124/147gr. 9mm loadings. Five deep weight-reducing flutes adorn the barrel and minimally accelerate cooling during rapid fire sessions.
A blued steel wing-protected front blade is mounted via dual hex head screws near the muzzle, which is conveniently threaded (1/2x28) and capped with a removable steel thread protector collar. Since this carbine is ideally suited for home and self-defense, PCC competition matches, as well as recreational shooting roles, it makes lots of sense to thread the muzzle to accept a sound and flash suppressor. Additionally, there's a three-slot accessory rail molded into the bottom of the fore end tip (again for its competitive/defensive roles) to accept today's ubiquitous lights and lasers. Steel sling swivel posts fore and aft provide anchor points for a carry sling. Nice touch.
Well, there you have it: a multitude of reasons why I believe that the Ruger PCC is one of the coolest and most useful family-oriented firearms to come down the pike in some time. Check them out now because Black Friday is just around the corner!
Be the first to know
Get local news delivered to your inbox!