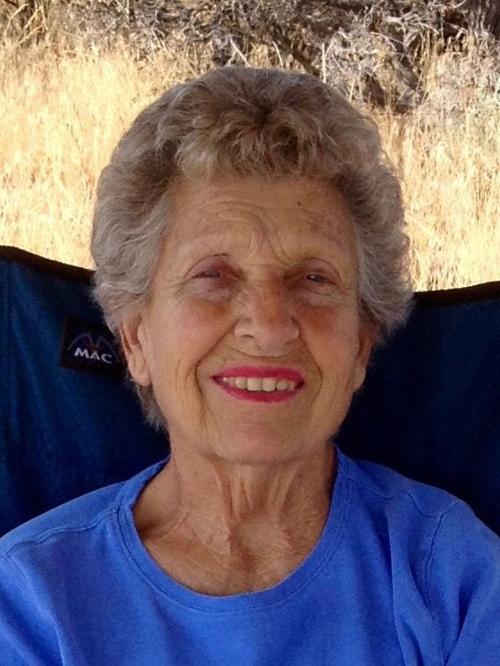 December 6, 1938 – February 19, 2020
Anna Bianucci Brown was born to Bruno Bianucci and Marie Lommori December 6, 1938 in the family home in Carlin, Nevada. Anna was raised and attended Carlin Schools graduating in 1957. Her parents owned the Blue Eagle Mercantile where she spent many hours helping her dad. Later they owned the Western Club Bar.
Mom loved sports and attended every game she could at Carlin High School watching her brother, Lawrence, three sons and grandchildren. She was their biggest fan. Basketball was her favorite and she would coach her sons every night after a game. You had better beat your rival Wells or she would let you know it. She was a SF 49er's and Notre Dame fan. She ice skated every winter during her younger days with her friends at the Railroad Ice House pond. She married Clark "Buzz" Brown on October 10, 1959 and raised three boys Lonny, Johnny, and David. She was strict in her faith and loved the Sacred Heart Church attending mass most every Sunday. Anna also played the organ until she couldn't in her later years. The only exception for not going to church was during hunting season. She would go with her husband "Buzz", her boys, their wives, and grandchildren. She also loved fishing, spending summer days at the Ruby Marshes catching bass. She was a great cook of course, being 100 percent Italian made sure no one had an empty plate. Friends loved coming over for one of her famous plates of venison with lasagna, basque beans, her great spaghetti sauce and "sugo" over homemade raviolis was a delight as well.
Anna dedicated many hours to Carlin's PTA and Booster Club going door to door selling ads for the calendars, jackets, and hats. She was a member of the American Legion Women's Auxiliary. Mom had a contagious smile and no matter where you would go whether it be the supermarket, post office, bank, or a restaurant, everyone would ask us, "How is your mom?" Her lifelong friend and husband Buzz, would hunt every September to November starting with dove season and ending with deer and Chuckar. She made polenta with the doves in a sugo sauce that was to put a smile on everyone's face. Making a gourmet meal with venison and chuckar was always a hit with her sons or friends. Her boys were excused from school for hunting as this was a family tradition and the secretaries would just smile. Every fall you could find Buzz and Anna picking pine nuts, elderberry, and her not so favorite chokecherry to make jelly for Buzz. She always had that smile working away canning, reminding Buzz that this was all a labor of love for him. She would send us to the grocery store to buy Copenhagen for our dad with a signed note. We would pedal back home with the new roll and it was always checked to be sure the date on the bottom had the freshest stamp. We knew when we were in trouble as English went to Italian in .5 seconds and her voice would become a little louder. We would eventually make her smile and she couldn't stay mad at us for too long.
Sunday afternoons were spent with family after mass enjoying our Nonna's house. Mom cooked three meals a day all from scratch. An occasional hamburger from the Arctic Circle or from the Overland Café if she was tired from a day of outdoor activities. She enjoyed playing an Italian card game Briscola with her family or especially with her son Johnny. Her grandchildren Courtney and Javonni were her pride and joy and they could never do anything wrong. She was always there to protect them. Mom was tough and taught us blood is thicker than water and always be there for each other, "It's the Italian way". She always remembered the good ol' days and taught us to not get use to all the modern comforts of life. Washed clothes can dry outside she would say, never cook in a microwave, unless its popcorn, and write a check or pay cash to pay your bills. Don't ever trust the plastic card. We were blessed to have had great parents and now they will be watching over us as we are looking up at them.
Anna was preceded in death by her husband Clark "Buzz" Brown; her parents Bruno and Marie Bianucci; stepfather, Charles Guerena; and brother, Lawerence Bianucci. She is survived by her sons, Lonny (Beth) Pleasant Valley; Johnny, Carlin, and David (Nancy) Lamoille; grandchildren, Courtney, Javonni, Kellie, Dede, and Jeff; as well as many great-grandchildren, nieces and nephews.
Services will be held at Sacred Heart Church in Carlin, Nevada, 315 Peters Street. The Rosary on Thursday, February 27, 2020 at 6:00 PM and Services on Friday, February 28, 2020 at 11:00 AM. In lieu of flowers please make donations to Carlin Sacred Heart Church in Carlin Nevada, P.O. Box 235 Carlin, Nevada 89822.
Obituaries Newsletter
Sign up to get the most recent local obituaries delievered to your inbox.