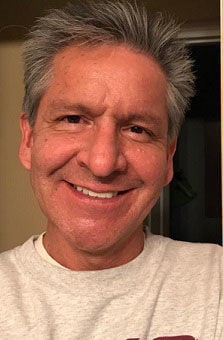 March 5, 1964 – June 15, 2020
Benito Gonzalez, 56, passed away peacefully on June 15, 2020, in Salt Lake City, Utah. He was born on March 5, 1964 in Leon Guanajuato, Mexico to Manuel and Petra Gonzalez. He moved to the United States in 1976, where he attended Elko High School, graduating in 1982. During his teenage years, he learned English as a second language, worked various jobs and played football. He spent many nights dragging Idaho Street in his Ford Bronco with his friends. In his youth, Benito dove into the work force and was proud of his career at Newmont Mining Corporation, where he worked for more than 30 years.
Benito was a devoted father and grandfather first and foremost. He treasured his daughter, Rio, and adored her two young boys, Ryker, four, and Asher, two. He was happiest when surrounded by his family. Aside from his loved ones, Benito lived for the outdoors and for a good time. He loved water sports and was an avid water skier when he was young. If he wasn't at home watching his New York Giants, (GO BIG BLUE!) or cowboy westerns on the big screen, you'd find him out at the lake, where he enjoyed camping, driving his boat and soaking up the sun with family and friends. He also loved the winter, which included time spent snowmobiling and getting ready for Christmas. Even in the warmer months, he would constantly use the phrase, "COME ON SNOW!"
Whether it was his contagious smile or a joke that filled the room with laughter, Benito was someone that could make anyone's day brighter. He was full of life and his energetic personality was something to be admired. Those who loved him dearly will never forget his warm heart and kind nature. Though his life was too short, it was spent bringing joy to others. He will be forever missed.
Benito is survived by his daughter, Rio; grandsons Ryker and Asher; brothers Salvador (Barbara), Ray (Johnna), and Lupe; sisters, Anita (Bryan), Isabel (Jose), Maria, Martha and Mercedes; along with several nieces, nephews, and friends. He was preceded in death by his parents; siblings, Manolo and Chayo and niece, Stephanie.
Per Benito's wishes, the family will forgo holding a funeral. There will be a celebration of life to be announced at a later date for family and friends.
Obituaries Newsletter
Sign up to get the most recent local obituaries delivered to your inbox.