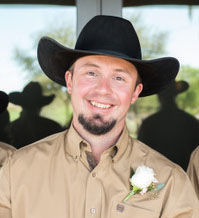 August 19, 1985 - May 26, 2017
Cody Stouard, 31, of Stanfield died on May 26, 2017.
Cody was born on August 19, 1985, in Santa Maria, California, and was the son of Jesse Stouard and Linda "Sissy" Jensen. A hardworking man who loved his family very much, Cody was a welder for Salt River Project and dedicated his spare time to team roping, hunting and fishing. He was known for his personality and was always happy.
Cody enjoyed spending time with his family, especially his nieces and nephew, and often bragged about them. He took great pride in helping to transform his house into a place he and his wife could truly call home.
Survivors include his wife and the love of his life, Amber, with whom he spent 2 1 years; his mother; and a brother, Casey Stouard. He was preceded in death by his father.
A memorial service and potluck beginning at 11 a.m. on Saturday, June 24, at the Gallagher Ranch, 870 Country Lane in Lamoille.
J. Warren Funeral Services, Cole & Maud, The Gardens Chapel in charge of arrangements.