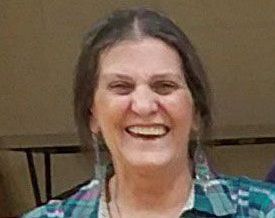 September 8, 1956—July 15, 2017
Dora Jean Halcrow passed away peacefully with her family on Saturday July 15th after a few months battle with cancer. Dora was such a fighter, even to the end. I would like to extend a special thank you from the bottom of our hearts for all who made her last few weeks a little better for without the help of Billie Jean with Horizon Hospice, Michelle with Division of Aging, all who helped from Genesis Hospice, Kate with New Horizon, as well as everyone at the Pill box who made it possible for her to be with family until the end.
Dora was born on September 8, 1956 to Hazel Leona Sorensen and Joseph Halcrow in Montello, Nevada where she spent the first five years of her life. She then moved to Wendover, where she spent most of her life. Her sister Rose, best friend Bobbi, and Dora liked to harass people in their teenage years from stories that were told. She loved and collected fairies and dolls, her long hair and earrings, she loved Harley's and everyone who rode them, old cars, trips to Angel Lake, Easter camping trips, and most of all she loved her family. Her grandchildren were her world, Dora would spoil them, do whatever she could for them to take care of them until the end. In her eyes they could do no wrong, there is nothing greater than a grandmother's love. Dora may not have had much, but she had a heart of gold and will be missed dearly by those who knew her. She is survived by her daughters, Brandi (James), and Angel; grandchildren, Joseph, Alex, Candace, Hazel, Isaiah, and Jalyn; sisters Betty, Becky, and Rose, sister in-law Sandy; many nieces, nephews, cousins, and in-laws. Dora was preceded in death by her mother, Hazel Leona Sorensen, step-dad Frank Sorensen; dad, Joseph Halcrow, brother 'Butch' Harold Haney, niece Ginny Diaz, and best friend Bobbi Madsen.
A memorial service will be held at Burns Funeral Home Saturday July, 22 2017 at 10:00 am with a private viewing for family members immediately following.