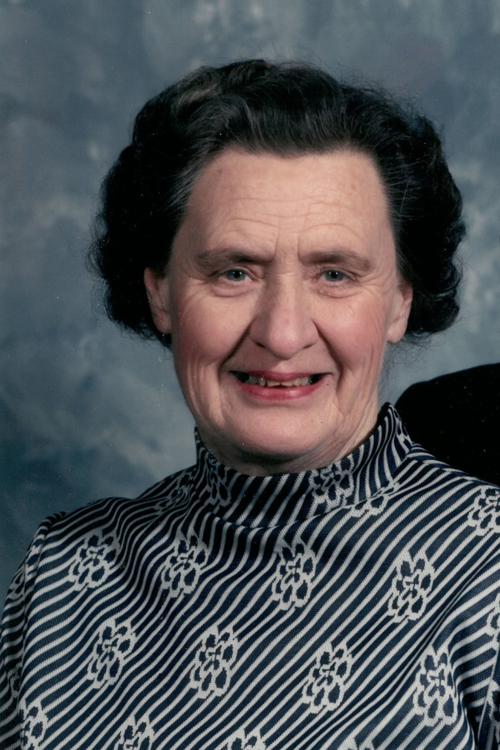 December 29, 1923—July 1, 2019
Edith Done Elmore passed away peacefully in her home at the age of 95 on July 1, 2019. She born on December 29, 1923 to Aurelia and William Done in Smithfield, Utah. Edith was the third of four children in the family, and her mother passed away shortly after the birth of her younger sister when Edith was two. Edith lived with her beloved grandmother until she could no longer care for the four small children. At the age of seven, Edith went to live with her Aunt Edith and Uncle Leo Deckelman in Tonapah, Nevada. At that time, they became her "Mom and Pop." They had no children of their own, and she became a true blessing to them.
Edith was an excellent student and when she graduated from Tonapah High School she was the salutatorian of her class. She loved sports and played tennis, softball, basketball, and volleyball. She loved sports her entire life and was a great supporter of her sons and grandchildren in all their sports activities. She especially loved the Utah Jazz and watching Wimbledon tennis and watched them right up through their last seasons on TV.
Edith and her family moved to Elko in the early 1940's and Edith went to work for the Nevada Grazing Board as an administrative assistant. Edith met George in Elko, Nevada and they married in Reno, Nevada on June 6, 1946. Edith and George became parents to two sons. Their son Glen was born in 1948 and Alan was born in 1951. They made Elko their life-long home.
Edith was an active member of the Church of Jesus Christ of Latter-Day Saints. She held many church callings over the span of her life and performed them cheerfully and with true devotion. Edith also was an active member of the American Legion Auxiliary for well over a half century and she was a proud member of the Daughters of the Utah Pioneers. Edith was an avid bowler and bowled well into her 70's.
Edith was proceeded in death by her beloved husband George in 1993. She is survived by her sons, Glen (Karen) and Alan (Diane). Edith was the grandmother to six grandchildren: Laurie (Andy), Brent (Angela), Jan (Jeremy), Laurel (Steve), Kevin (Katie), and Jeffrey (Danyelle). She also has 12 great-grandchildren.
She was known as "Grandma E" to her grandchildren and to many of her grandchildren's friends who also loved being at her house. She was the quintessential grandmother, and one secret about Edith that most people never knew was that she transformed her back bedroom into a world of candy and snacks for her grandkids and their friends. Willy Wonka would have been jealous if he saw all the candy delights that were always available in that back bedroom! She never said "no" to any kids who asked for anything from the candy room, and with a twinkle in her eye she would say, "I kind of have a sweet tooth myself!"
Edith will be missed by her family and friends that are left behind, but we can only imagine the joyous reunion she is having with her family and friends who proceeded her in death. Truly the angels in heaven are welcoming their sweet newcomer with open arms.
There will be a viewing at the Burns Funeral Home from 1:30-2:30 PM on Friday July 5, 2019. It will be followed by a graveside service at the Building of Memories in the Elko City Cemetery at 2:30 PM.
Obituaries Newsletter
Sign up to get the most recent local obituaries delivered to your inbox.