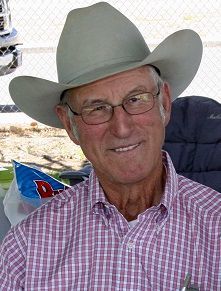 June 7, 1932 – May 20, 2020
Henry Angelo Filippini (Hank) passed away May 20, 2020 at his ranch while surrounded by his family. He was born on June 7, 1932 to Henry and Rose Filippini in Battle Mountain, Nevada where he lived his entire life.
Hank attended school in Battle Mountain where he was active in all sports and developed lifelong friends. He graduated with the class of 1950.
After graduation he went to work on his father's ranches and remained there as owner and operator until his death. He was a member of the Nevada Cattlemen's Association, a recipient of the Nevada Cattlemen's "100,000 Miles Ridden In A Saddle" Award, he served 3 terms on the Lander County School Board, and was the chairman of the N-6 Grazing Board for 38 years.
In 1951 he married the love of his life, Marian Cole. Hank and Marian would have celebrated 69 years of marriage on June 2, 2020. They lived an active life with family, and in their later years they traveled and spent time in Arizona in the winter months.
His greatest love was his family, and he dearly loved spending time with them. He enjoyed cattle ranching, helping his children and grandchildren practice for rodeos, and loved traveling all over the country to watch them perform. He also enjoyed team roping, fishing, and going to sporting events.
Hank's entire life was lived to the fullest. He was preceded in death by his mother and father, his brother, John, and his infant son. Hank is survived by his wife, Marian, sister-in-law, Billie Filippini, son and daughters; Marty (Pat) Echevarria, Dan (Eddyann) Filippini, Kathi (Pete) Marvel, Jill (Bert) Paris, Angie (Shawn) Mariluch. Grandchildren; Adriane (Jake) Tibbitts, Jake (Kylee) Echevarria, Max (Jordan Waugh) Filippini, Mary Filippini, Hank Filippini, Rosie (Austin) Manning, Natalie (Troy) Murray, Abbie (Ted) Walker, Martin (Alexis) Paris, Michael (Kate Aiken) Paris, Jenna (Mark) Nonella, and Amanda (Thad) DeForest. Hank was especially proud of his Great Grandchildren; Annie Rose and Boone Tibbitts, Brooke and Cole Filippini, Isabella, Ava, Addison, and Molly Manning, Ella, Rose, and Rees Murray, Hayes and Harvey Walker, Nathan and Ace Nonella, and Lexington DeForest. He was looking forward to the birth of Baby Filippini, and Baby-girl Paris this fall.
Due to circumstances beyond our control, and an abundance of caution for the health of our friends, a celebration of Hank's life will be held at a safer time.
Obituaries Newsletter
Sign up to get the most recent local obituaries delivered to your inbox.