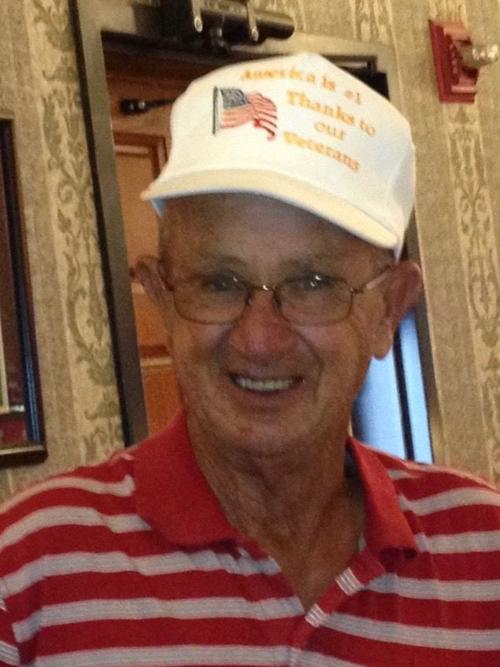 *2wCAPFb*John (Pops) Hammond Wild
November 17, 1933 – July 6, 2019
John Wild passed away Saturday, July 6, 2019. John was surrounded by lots of family at the time of his passing and we hope it made an easy transition from this life on to his next "wild" adventure with the love of his life, Jerri. John definitely wasn't one for all the crying that took place on this day, but he knew that he will be greatly missed by lots of family and friends, and is now surrounded by those family and friends who preceded him.
John was born on November 17, 1933 in Pinehurst, Idaho to Earl and Gertrude Wild. John grew up in Pinehurst and graduated high school from Kingston High School, Idaho. John joined the Marines at the age of 19 and served four years with time stationed in Japan and in South Korean during the Korean War. While John was stationed at Camp Pendleton, California he met a beautiful young woman from Texas named Jeryldene Daniels. Jerri and John must have known that it was a lifetime love, so on May 4, 1956 the two were married in Yuma, Arizona. After his Honorable Discharge from the Marines John and Jerri resided in Texas for a bit before moving to Moab, Utah where John began his mining career working the Uranium mines. They then moved from Moab, to Butte, Montana, to the Silver Valley in North Idaho, to Silver City, New Mexico, and back again to the Silver Valley where he spent the majority of his 40+ mining career working at several of the area mines. During this time of moving from place to place Jerri and John raised four wonderful children. During some time off from mining, with the kids all having graduated and on to their own lives, John and Jerri moved to Texas where John worked for his brother-in-law. However, John still had the itch to be a miner, so he landed a job working at the Barrick Bullfrog mine in beautiful Beatty, Nevada. John retired from mining in 1999, at which time the couple retired to Elko, Nevada. John and Jerri enjoyed their final relocation for retirement. John enjoyed working on the Spring Creek golf course, where he found his new favorite pastime – looking for golf balls.
You have free articles remaining.
In 2011, John lost the love of his life, Jerri, after she fought with illnesses. John and Jerri were extremely proud of their children and were always influential in their later years. John moved back home in 2015 to spend the remainder of his life golfing, fishing, enjoying life and family, as well as looking for golf balls in the Valley that he loved.
John was the last surviving brother of the five brothers; Al, Earl, Squirt, and his baby brother George all having preceded him in death. Also preceding him were his parents, Earl and Gertrude Wild, the love of his life Jerri, and son-in-law, Mike Marek, Sr. John is survived by his daughter, Jonnie (Mike) Renteria of Wallace, Idaho; daughter, Jodie (Mike Sr.) Marek of Osburn, Idaho; son, Jim Wild of Moses Lake, Washington; and daughter, Jynx (Darren) Hansen of Spring Creek. John had eight grandchildren; Larry (Heidi); Shasta (Brandon); Owen (Michelle); Amanda (Brandon); Heath (Tate); Brittany (Ronnie); Camie (Zack); Yvette (Ryan); and ten great-grandchildren; Cisco, Hailee Jo, Mason, Braxton, Meadow, Cooper, Dusty, Iris May, Isabel and Stormy.
Services will be held on July 13, 2019 at Grace Evangelical Free Church (214 N. 2nd Street) in Osburn, Idaho at 11:00 am. All who knew John are welcome to attend.
A celebration of life will also be held on July 20th in Elko, Nevada at the Gold Country Inn & Casino at 2:00 pm for all that cannot attend the services in Idaho.
In lieu of flowers, please remit a donation to a one of John and Jerri's favorite charities: Relay for Life or your local Hospice.