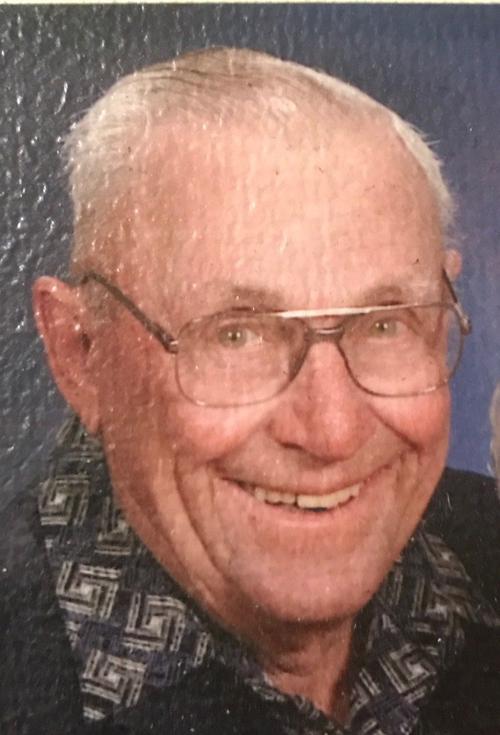 *2wCAPFb*Joseph Eugene DIGRAZIA
Joseph Eugene DiGrazia of Wells, Nevada passed away on July 19, 2017 at a Meridian, Idaho care facility.
Joseph (Sonny) was born on October 20th, 1925 in a railroad section house in Battle Mountain, Nevada. While Sonny's father worked for the Southern Pacific Railroad the family also lived in Beowawe, Palisades, Carlin and finally settling in Wells, Nevada upon Sonny's dads retirement from the Railroad in the late 1930's. Sonny attended Wells Primary School and Wells High School. Sonny graduated in 1943 from high school and immediately enlisted as World War II was raging. He was 17. He enlisted in United States Navy and reported to San Diego, California. His training for the war lasted all of three weeks. Within the month he was then sent to Sydney, Australia to engage in the war against the Japanese Empire. Upon his arrival in Australia he was then assigned to the aircraft carrier CV16 USS Lexington. He had several jobs while serving on the Lexington, but his main job was as a radio technician on the flight decks. In his first six months of service he saw action in Tarawa and participated in the invasions of Wake Island, Gilbert Island and the Marshall Islands. In December of 1943 the USS Lexington was torpedoed at the Battle of Kwajalein. Sonny didn't remember how he got in the water, but he floated in the water for 7 hours before being picked up. He then was sent to R & R to Pearl Harbor, Hawaii while the Lexington was being repaired. Once the Lexington was back in commission, he then participated in the invasion of Saipan and Guam. While in Guam in the middle of the Pacific he ran into his friend from Wells, Eyer Boies. It was a warm welcome in the midst of this grueling war to see a familiar face from Elko County. The USS Lexington was then sent to the Philippine Sea where it was then hit by kamikaze. Sonny then was transferred to the USS Sitkoh Bay. While on the Sitkoh Bay he participated in the invasions of Iwo Jima and Okinawa. He was in Tokyo Bay on VJ Day. He finished service in San Diego before returning to Wells.
His return to Wells in late 1946 was a celebration for his family, friends and the community. He would regularly attend post war celebration dances and parties. It was at one of these dances he first laid eyes on Geraldine Streshley. Within minutes of asking her to dance he told her he was going to marry her. She sort of laughed the comment off. He pursued her vigorously on the weekends by taking trains or buses to see her at her various teaching jobs location and they would have dates, sometimes just at a bus or train station. While during the weekdays he worked for his dad's bars and the emerging beer distribution business. In 1946 he proposed to Gerry and on June 9th, 1947 they were married in Reno, Nevada. Soon after a son was born in 1948, Robert (Bob) and Donna (Gailey) were born in 1950. The young family resided in Wells as Sonny continued to work for his father's business.
In 1954, Sonny decided to grow the business by opening up DiGrazia Wholesale serving Elko County the finest beers such as Olympia and Pabst Blue Ribbon. He later became the direct distributor for Coors, Miller, and Sierra Nevada Brewing Co. in the area and considered the Coors family close friends. Gerry and Sonny worked side-by-side to grow the business for over 45 years. In 1999 they decided to sell the business and usher in the retired years. They enjoyed spending their time in San Diego, California and Sun Lakes, Arizona. Sonny enjoyed the warmth of the California and Arizona sun and found his time relaxing. He loved it most when his grandkids would come to visit him and Gerry while they spent their winter months there. He had a deep pride and love for his grandkids encouraging them and supporting them in their many successes. He was extremely proud that every grandkid graduated from college. This was a driving force for him due to the fact that his father had a second grade education and Sonny had a high school education.
Sonny is preceded in death by his wife Geraldine (Streshley), his parents Joseph and Madeline (Pettis) DiGrazia and his sister Elizabeth (Diddy) Basinger.
Sonny is survived by his older sister Margaret Huggins of Salt Lake City, UT, and his two children Dr. Bob (Susan) DiGrazia of Boise, ID and Donna (Boyd) Gailey of Carson City, NV, as well as his 5 grand-children, Brian (Brianna) Gailey, Amanda (Ty) McMillen, Julia DiGrazia, Maddie (Mark) Pacold and Joe P. DiGrazia. He also found joy in the newest generation of his family with 4 great-grandchildren; Adam, Mya, Brandon and Nora. He is survived by many other loving family members and dear friends. The family is at peace knowing Grandma and Grandpa are reunited in heaven dancing once again.
As Gerry and Sonny's health declined the family moved them to Boise, Idaho. The family would like to thank the staff at Spring Creek-Edgewood in Meridian, their care was exceptional. Sonny and Gerry were greatly dedicated to their community. Their benevolent support of Wells, the high school, Elko County and the State of Nevada is admirable. It is a legacy their family will continue to support and love.
In lieu of flowers the family asks that donations be made in Sonny and Gerry's name to the Next Dollar Foundation or the McGargle Alumni Fund at PO BOX 365 Wells, NV 89835. The foundations will use the donations to support members of the Wells Community to allow students to expand their high school education. A celebration of life will be held on Saturday, August 12th, at 6:00pm at the Chimney Rock Golf Course in Wells, Nevada.
Idaho arrangements are by Summers Funeral Homes, Boise, ID 208-343-6493. Memories and condolences may be shared with the family at www.summersfuneral.com.