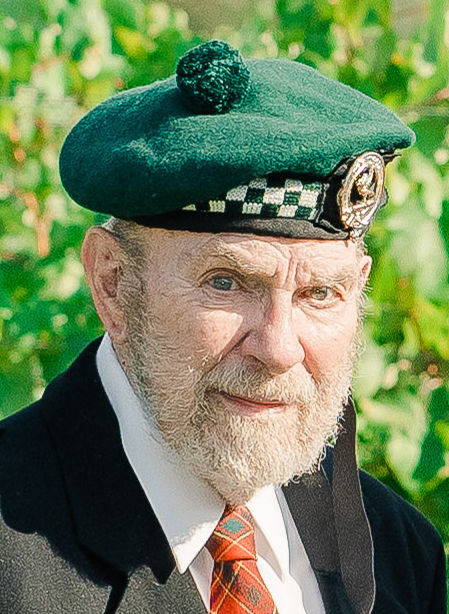 February 13, 1931-March 25, 2019
Elko resident, Laurence Kistler "Larry" Monroe, 88, died peacefully March 25, 2019, at Highland Manor in Elko, Nevada among friends and relatives. Cause of death was determined to be 88 years of living life to the fullest. Larry entered the world on February 13, 1931, as the first born to Warren L. "Snowy" and Mary (Johnstone) Monroe in Berkeley, California.
Larry spent his early years in Winnemucca, Nevada before relocating to Elko, Nevada where his parents owned and operated the Elko Independent weekly newspaper. He attended Elko County High School graduating in 1949. Larry played center on the 1948 basketball team that won the school's first state championship.
Larry was fond of ranch life and as a youngster enjoyed spending time at his grandparents' ranches located near Winnemucca. Throughout his teen years he worked on the Drown Ranch in South Fork, outside of Elko. Once he helped drive a herd of work horses from South Fork to a ranch near Starr Valley, Nevada, a distance of nearly 40 miles, without having to cross any fences along the way. During college he worked in the summers riding circle for the Moffett Company, which ran a wagon at that time in Elko County.
Larry attended the University of Idaho studying forestry until transferring to Utah State University where he entered the Reserved Officers Training Corps (ROTC) program. He graduated in 1953 with a Bachelor of Science in journalism and then entered the U. S. Air Force, where he served during the Korean War as a Lieutenant. After his stint in the Air Force, he enrolled in Colorado State University (CSU) eventually graduating in 1959 with a Bachelor of Science in civil engineering.
On December 28, 1952, Larry married Virginia Evans, also from Elko. They lived in Utah, Elko, and then Rapid City, South Dakota, before moving to Ft. Collins, Colorado, where Larry attended CSU. Along the way they had four children. After graduating from CSU, the family moved to Boise, Idaho, where Larry began his engineering career at Tootham-Cronic & Associates. Then the family relocated to Payette, Idaho, where he opened a branch office for that firm. Larry became the City Engineer Superintendent of Payette in 1962. He later opened his own engineering and surveying practice doing civil and municipal projects for Payette and several other cities in the region. The family relocated to Spokane, Washington, in 1970, where Larry was the Chief Civil Engineer for Esvelt & Saxton Engineers. In 1974, Larry began working for Bovay Engineers, managing their civil engineering department. Larry and Virginia divorced in 1980 and Larry moved to Kodiak, Alaska, where he was the City Engineer until his retirement in 1990. Also, while in Alaska he fished commercially long-lining for halibut.
Larry returned to Nevada in the 1990s and lived in a ranching area near Mountain City. He was in charge of the fire at the local brandings and ushered in the burning of propane rather than sagebrush to heat the irons. During this time, Larry spent 15 years as a member of the Board of Directors of the Raft River Rural Electric Co-op, based in Malta, Idaho, before retiring in 2018. Larry moved to Elko in 2018 and resided there until his death.
As an avid sportsman, Larry enjoyed hunting, fishing, hiking, and camping. He was also passionate about firearms, shooting, and reloading his own ammunition. He spent most weekends outdoors, sometimes taking the family to picnic spots where he would fix lunch over a fire. For several years he took annual moose hunting trips to central British Columbia, Canada. After moving to Spokane, Larry took up ice hockey and was a defenseman on a recreational league team. When he took his children to the mountain to snow ski he would spend the day hiking on snowshoes or cross-country skiing. After retirement, Larry took up downhill skiing and inspired many fun family ski trips over the years.
Larry was a great driver and logged many miles on roads both paved and not. He drove back and forth from Nevada to Alaska, a distance of nearly 3000 miles each way, at least a dozen times. These trips, along with his annual 3000-mile roundtrip moose hunts, countless journeys to visit family, every day and work driving, by Larry's estimates, totaled well over a million miles.
Larry was creative and delighted in literature, music, and the arts. He was an avid reader. He spoke and studied the Basque language. He knew his birds and wildflowers and their scientific names. In his college years he performed on stage, singing and playing his guitar. He was a poet and published a book of his poems titled "Roads". Each year he wrote a birthday poem. When Larry started using email he began the "Trail Creek Journal", a periodic email he sent to his faithful readers that contained news, anecdotes, observations, humor, and more. Larry loved jokes and he had a vast repertoire from which he could get anyone to laugh.
He had a unique style that was truly his own and embraced his Scottish heritage. To that end, he wore his formal Scottish Highland kilt to weddings and other ceremonies. In his later years, he wore both suspenders and a belt, just to be sure. He always had a good hat and would curse the wind when it blew it off his head.
Larry was preceded in death by his parents. He is survived by his brother James (Joanne) Monroe, daughters Dawn (Steve McConnell) Monroe, Cynthia (James) Cappello, Nancy M. Sherry, son Warren (Karen Hower) Monroe, and grandchildren Karl (Ashley) Sherry, Dean (Sarah) Sherry, Sean (Rachel Malen) Cappello, and Sarah (Greg Tariff) Cappello, great-grand daughters Georgia, Ruby, and Brooklyn, and long-time companion Sallie Knowles.
At Larry's request there will be no service. In lieu of flowers, the family asks that memorial donations be made to Northeastern Nevada Museum in name of Larry Monroe. Northeastern Nevada Museum 1515 Idaho Street Elko, NV 89801 / 775-738-3418
The following poem was written by Larry on his last birthday.
You have free articles remaining.
Paper skin – shaking – shuffling steps
What's on the other side?
Old friends are blowing by
To say goodbye my friends