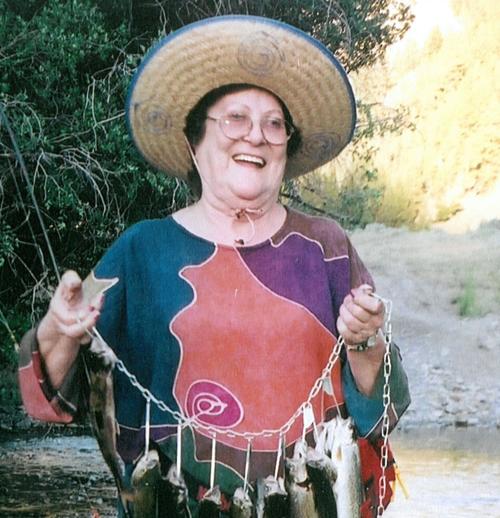 June 7, 1933-June 13, 2017
Lorraine Gay Amos, matriarch of the Martin Family, went peacefully to Our Lord on June 13, 2017 in Reno, NV. Lorraine was born June 7, 1933 in Richwood, W. VA and was raised in Donnagon's Holler where she also raised her two children Michael B. Martin and Carol A. Martin. Lorraine also raised her youngest brother, Ronnie Martin for many years.
Lorraine took in the children of many family members and even helped raise Susie Q, her uncle's daughter. Any and all children were welcome at any time. As a grandmother, Lorraine raised her grandson, Richard Lee Martin from the age of 5 and kept in contact with him almost every day since.
Lorraine married twice in her life. First, to Jim Amick for 8 years in West Virginia and then to Charles Lee Amos, they were married many years, both of whom predeceased her. She was lucky to have one more love come into her life, Michael Maguire. Sadly, Michael passed away before Lorraine as well. She was 80 and he was 56 when he passed away.
Lorraine loved sewing and riding in the hills, and her favorite past time was fishing. For one momentous day she held the Nevada State Title for largest Brookie caught at the Lamoille Creek, near Elko. Most of all, Lorraine loved her family first and always and her many many friends. She was a fabulous mother, friend and confidant and will be greatly missed by all.
Lorraine was preceded in death by her two brothers, Jarrell (Rose) and Albert Donald Martin, her two husbands, Jim and Charles, as well as her last love, Michael. She is survived by her son Michael (Bernadine) of Butte Mt; daughter Carol Martin-Thurman of Elko; grandson Richard Lee Martin (Becky) of Reno; granddaughters Jennifer and Tami; 8 great grandchildren; 1 great great grandchild on the way; brothers, Jimmy (Peggy) and Ronnie (Angie) Martin both from Butte MT; as well as many nieces and nephews.
Services will be held June 19, 2017, 2:00pm at Burns Funeral Home 895 Fairgrounds Road. Graveside services will follow immediately after.
Lorraine and Charlie are fishing together with their beagle Romeo. Rest in Peace Mom.