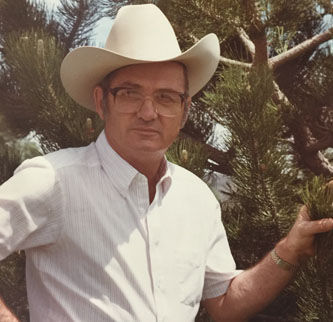 *2wCAPFb*Luvern (Lew) Willard Eklund
January 13, 1932-July 17, 2017
Lew Eklund died on July 17, 2017 at the age of 85 surrounded by family. He was born to Arthur and Gertrude (Engan) Eklund on January 13, 1932 on their farm near Palermo, North Dakota. His grandparents and great grandparents had immigrated from Kongsvinger and Selbu, Norway and eventually purchased farms near Palermo and Blaisdell, North Dakota where other family members had settled. Arthur and Gertrude also purchased a farm near Palermo in 1924 and lived there through 1970 when they moved to Palermo. Utilities were limited with inside electricity, outdoor plumbing and an outdoor water hand pump but the hard work, music, family and love were always present. There were 8 children; Mildred (died at birth), Edna, Agnes, Lew, Leroy, Myron, Earl and Clifford. All the family members had to work and Lew was no exception with driving a team of horses at age 6 to driving a tractor by 8. The country school, Dymond School, was a 2 room building which the kids either rode a horse to or were driven by a horse buggy. Since high school and work were in conflict at that time of family struggle, Lew left Stanley High School after 2 ½ years to work and help the family. He had various jobs during this period; working in a bowling alley, was an apple picker in Yakima, Washington, dug post holes and cut cord wood in Oregon and any odd jobs he and his future brother-in-law, Lee Willis, could find. His travels quickly brought him back to North Dakota when he was urgently needed on the family farm.
After the family crisis was averted, in 1950 Lew went to work for a seismograph crew and this marked the beginning of what was to become a prolific life and career change that would alter his life forever. Starting from the ground up, Lew worked his way to driller for a seismograph drilling company with Doc Young. With Evans & Cole Drilling Company, Lew was part of the team that initially worked on the Garrison Dam in North Dakota.
As Lew says, no doubt the best thing he has ever done was to marry JoAnn Huus. They got married on October 25, 1953 after a fast and furious 2 month romance which lasted over 63 years. Together they loved but struggled greatly financially early in their marriage nonetheless were able through hard work and with the help of friends to start Eklund Drilling on June 1, 1960. They had 4 children, Candice Lou, Lance Joel, Sheri Lynn and Valerie Jo. During the early years of the company, the family moved 44 times before permanently calling Carlin, Nevada "home".
After a fortuitous and life changing set of circumstances, Eklund Drilling began working for Newmont Gold Company in 1963 with Mort White. That unique strategic business union lasted over 45 years and because of the pioneering efforts from both companies, microscopic gold recovery techniques were developed which revolutionized the industry and led to the discovery and eventual recovery of gold along the Carlin Trend and other areas globally with this ground-breaking technology. Several of Newmont Gold Company's employees as well as Lew Eklund in 2008 were inducted into the National Mining Association Hall of Fame due to their tremendous contributions to the mining industry. Lew worked night and day to keep Eklund Drilling running smoothly and efficiently until eventually Eklund Drilling became one of the most sought after and successful family owned drilling companies in the nation. A track rig prototype was developed in a partnership with Drill Systems to construct a drill rig which was more environmentally friendly to public lands, hillsides and viewsheds by reducing the amount of disturbance with minimal site and access road preparation. This drill model was a state of the art advancement for the mining and drilling industries and as a contribution to the industries that had been so good to him and his family, Lew, Lance and Eklund Drilling declined to patent the model and instead released their interest to the development for the betterment of the industries. This track mounted drill rig has allowed drilling companies to operate in previously unavailable sensitive environmental areas and greatly improved relationships with federal land managers. Many other uses and versions of this rig have been developed and the mining industries have benefitted greatly from their existence. Lew also contributed to the design of two other drill rigs, the Gardner Denver 1500W and the rubber tired version of the track drill. In all, Eklund Drilling in its 48 years contributed to the design of ten different drill rigs.
Lew Eklund owned and managed Eklund Drilling, with the help of his wife JoAnn, from 1960-1988. Their son, Lance, bought the company in 1988, after managing since 1986, and continued to build the reputation and legacy of Eklund Drilling with his wife Joanne, until Boart Longyear purchased the company in 2008. Eklund Drilling Company was committed to their clients, their employees and safety of all and well-known for their generosity to their employees, the communities they lived in and the quality of service given to each and every client.
Lew was a man of many skills, and he ventured into the Appaloosa horse industry whole-heartedly and 100% committed from the start in the late 1960's. As with the drilling company, the early days of horse breeding and showing were constant searches and struggles and the quest to find just the right stallion and mares to breed for that perfect horse was always present in Lew's mind. He found as near perfection as he had ever seen in a young stallion in Colorado, Dial Bright Two. Lew and JoAnn bought the unproven, unknown stallion and developed a strategy with trainer George Minic to campaign the newly named "The Executive" to a National Championship and to become the foundation of their breeding program. When you have the eye, the desire, the commitment and that 100% work ethic, good things happen. The Executive surpassed all hopes and expectations and won the 2 year old Stallion Class in 1975 at the National Appaloosa Horse Show in Roseville, CA. He stood at the Silver State Appaloosa Ranch in Carlin to a closed book and only bred Lew Eklund selected mares. With the great talent of many nationally recognized trainers, those get have achieved over 60 National, World or High-Point Year End Championships and as a result The Executive, several top quality ranch owned mares and Lew and JoAnn Eklund were inducted into the 2003 National Appaloosa Horse Club Hall of Fame and also achieved many prominent National production awards. Lew also served as an Appaloosa Horse Club National Director, Utah Appaloosa Horse Club Director and was the Sagebrush Circuit Appaloosa Horse Club President for most of its 20 year span. Lew was also recognized and honored to receive the Nevada Horseman's Association Hall of Fame induction award.
Giving back to the communities Lew has lived in has been a constant focus of his for many decades. His love for his family and friends drove his interest in video production and he soon became a familiar fixture on the sidelines for his grandchildren's sports events. He filmed their games from the Jr. Football leagues, to Sr. league to high school as well as filming basketball and softball games as well. Every member of the team received a video and many still watch and cherish those moments today. This love of video production grew to encompass the Carlin Senior Videos played at graduations; wild horse (mustang) gathering videos for BLM, helicopter herding and various aspects of the wild horse populations on public lands; ranch life; weddings; funerals; Grass March Cowboy Express interviews, videos and books to record the historic march to Washington, D.C. led by the late modern day patriot A. Grant Gerber; to working with the Northeastern Nevada Museum to interview and provide CDs on historic local citizen legends in this region. Lew also produced two family history books and traveled across the United States and Norway to meet relatives and learn about his Norwegian heritage.
Lew has been honored as a recipient with JoAnn as the 2002 Carlin Citizens of the Year Award winners and they served on their hard working committee for many years. Carlin has always held a special place in Lew's heart and his contributions have been numerous, often anonymous and without thought. He has received a Life-Time Achievement Award from the City of Carlin; Elko County Commission, Nevada Governor and U.S. Congress special recognition for his life time of service to the Carlin Community. Lew and JoAnn's commitment to the City of Carlin and its citizens has been heartfelt and an example of community service at its highest level while never expecting anything in return. Lew could identify with people from all walks of life, was a mentor to many and a friend to all.
Lew is survived by his loving wife of 63 years, JoAnn; brother Clifford (Barb) Eklund; sister Edna Ostdahl; and three children; daughter Candice Kley (deceased); son Lance (Joanne) Eklund; daughter Sheri (Randy Brown) Eklund-Brown; daughter Val (Tom Ray) Simpson; grandchildren Canesa Rowley, Justin (Sage) Kley, Lindsey (Joe) Leonis, Kyle (Arantxa Kovis) Eklund, Brock (Ami) Simpson, Rex (Alyssa Bowers) Simpson, Tara (Juan) Gonzalez, Dallas (Grace) Johnson, Sammi Johnson and Nathan (Erica) Brown and 17 great grandchildren.
Please join us for services on Saturday, July 22, 2017 at 1 p.m. at the Calvary Baptist Church at 577 Walnut Street, Elko, NV. Viewing will be Friday, July 21, 2017 from 5-7 p.m. at Burns Funeral Home at 895 Fairgrounds Road, Elko, NV. Celebration of Life to follow immediately after Saturday's services at the Red Lion Hotel and Casino ballrooms, 2065 Idaho Street, Elko, NV.
In lieu of flowers, donations may be made to the Carlin Open Door Senior Center, 320 Chestnut Street, P.O. Box 123, Carlin, NV, 89822, the Carlin Fire Department, 121 Hamilton Street, Carlin, NV, 89822 or the charity of your choice.