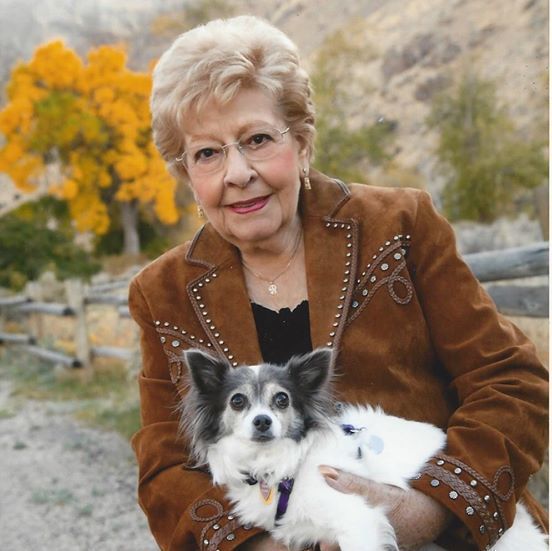 December 17, 1929 – January 12, 2020
Born Patricia Jean Thomas on December 17, 1929, Pat made her journey to heaven on January 12, 2020 at the age of 90.
Pat was born in San Jose, California, to Thomas C. Thomas and LaVeigh Savage Thomas. Her family moved to Los Angeles, San Francisco and Salt Lake City before coming to Elko. When they arrived in Elko, they lived at the Devil's Gate Ranch which was then owned by Pat's Uncle. They then moved to Elko where they built Tom's Inn, a hamburger stand and bar on West Idaho Street. Pat attended Elko High School, where in her Senior year, 1946, she met her soul mate Delbert Paul.
Pat and Delbert were married in December 1947. Pat always worked hard alongside her husband and together they raised three children; Robert, Dennis and Cindy.
Pat and Del owned and operated Elko Transfer and Storage in the early sixties. When they sold the business, Pat worked at several local retail shops including, J.C. Penney's, Uptown Clothing, Lillian's and Crystal Theatre, before beginning her career as a sales associate for Blohm Jeweler's where she worked for 30 years.
Pat spent several years bowling on the Elko Women's and Mixed Leagues, winning several awards and trophies. Her favorite pastime was spending time with family, but she also enjoyed reading, meeting new people and traveling. Her dream was to someday travel to Greece where her father was born, but unfortunately, she was unable to fulfill that desire.
In heaven Pat joins her husband Delbert, her son Robert, her younger sister LaVeigh Atwood and her parents.
Pat is survived by son Dennis (Carol) Paul, daughter Cindy (Wes) White, brother-in-law Lial Atwood, 18 grandchildren 15 great-grandchildren, 5 great-great grandchildren, many nieces and nephews and her faithful companion Tinker.
We celebrate that Pat is once again in the arms of Delbert, and they are both being guided and comforted by Jesus. However, she will be missed by the many family and friends she has left behind.
Funeral services will be held Friday, January 17, at the Sagecrest LDS Church beginning at 10:00 am with a family viewing and church services at 11:00. Burial will be at the Elko Cemetery followed by a reception back at the LDS Church.
Rest in Peace Mom!! We love you!!
Obituaries Newsletter
Sign up to get the most recent local obituaries delivered to your inbox.