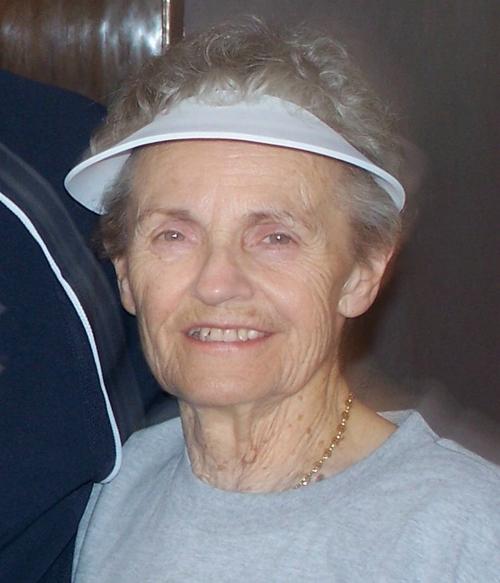 February 24, 1927 – February 9, 2020
Rosemarie "Tiny" Back was born in Montvale, NJ on February 24, 1927, the first of four children for Katherine Laughman Avenengo and Lucien ("Lu") Avenengo. Tiny was raised in Montvale of which she had fond memories of the grape harvests from her Grandfather's vineyard. As a child she carried baskets of grapes to the end of the rows where they were loaded into mule-drawn wagons and transported to the vats for crushing. She recalled the crushing of the grapes with her bare feet, as was done in the "old country." She went to schools in Montvale and Park Ridge, NJ, graduating from Park Ridge High School in 1945.
After graduating high school, she worked in a law office in Manhattan, NY. She married Norman G. Back in 1946, just prior to his Merchant Marine service during the Korean Conflict. Upon his return, they purchased property in Montvale, NJ and built the home in which she lived until 2015.
Tiny and Norman had three children: Carol, Gary, and Norman. While raising her family, Tiny was primarily a full-time housewife, but also looked forward to harvesting vegetables for DePiero's Produce Farm. She and her cousin, Jean Avenengo, spent many days canning and freezing the various vegetables that they got from the "second harvest." Once the children were grown, Tiny worked as a lunch aide at Memorial School and Fieldstone School for approximately 30 years. During this time she had developed some problems with her vision, so she wore sunglasses and a visor or hat whenever she was on the playground monitoring the students. She became known by the students as the "hat lady."
Tiny moved to Elko, NV in 2015 to be near her son, Gary and his family. She lived independently until suffering an injury which required nursing care. She passed quietly on the night of February 9, at age 92, just 15 days before what would have been her 93rd Birthday.
Tiny was preceded in death by her parents (Catherine and Lu), husband of 58 years (Norm), daughter (Carol Quinn), and two brothers (Norman "Tommy" and Raymond "Jim" Avenengo).
She is survived by her sister, Kathy Triebeneck (Melbourne, Florida); sons, Gary (Chris) (Elko, NV) and Norm Back (NJ); grandchildren, Michael Eisenhower (Shelly) (Council Bluffs, Iowa), Justin Quinn (Ft. Collins, CO), Tracey Muzzey (Nebraska), Jennifer Back (Elko, NV), Nolan Back and Jason Back (NJ), and Alexandra Portis (Houston, TX), three great-grandchildren, and numerous nieces, nephews and cousins.
As per Tiny's wishes, no public service is planned and she is to be cremated (Sunset Crematory, Elko, NV) and her cremains scattered at three locations of her choice. Local arrangements by Burns Funeral Home, Inc.
Obituaries Newsletter
Sign up to get the most recent local obituaries delievered to your inbox.