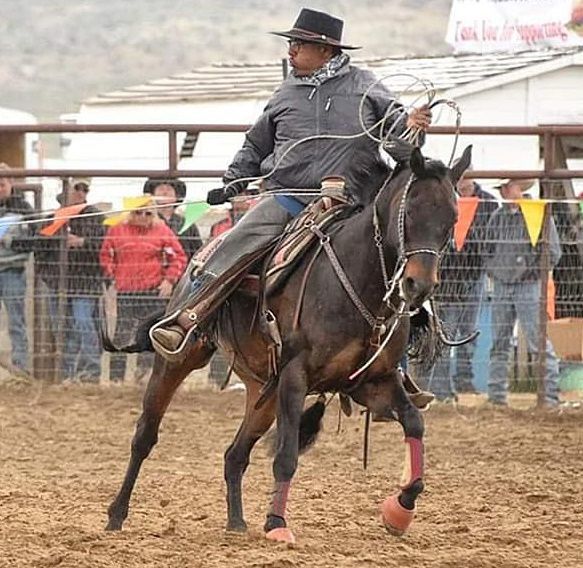 September 16, 1972 – May 16, 2020
Steve Maurice "Teddy" Harney, 47, of Owyhee, Nevada passed away on May 16, 2020 from a heart attack while doing what he enjoyed most — riding a horse that he was in the process of training.
Steve, also known to his friends and family as "Teddy," attended school at Owyhee Combined Schools and was a graduate of Owyhee High School with the class of 1991. During high school, Steve played football and was a member of the Owyhee Rodeo Club where he developed his skills as a roper. After graduating, Steve worked as a ranch hand at many of the local ranches including Riddle Ranches, the YP Ranch, the TS Ranch, and he also worked in Squaw Valley.
Steve was a skilled roper and enjoyed the art, competition, and camaraderie of competitive team roping. He traveled the rodeo circuit to "head" or "heel," with others in team roping competitions. Win or lose, he was always happy to throw the rope.
While on the rodeo circuit, he met the late Kimberly Able of McDermitt, Nevada. Together, while living in Owyhee, they raised four children, Teela, Keeli, Katie and Clay.
Locally, in Duck Valley, Steve was known to be a "good hand" offering his help to ranchers during branding season. When it was time to round up or push out the herds, he was on a horse helping to work the cows. He was skilled with a rope in his hand and throwing a loop. Steve was oftentimes seen in the community working with horses and riding across the valley as well. He understood the nuances and characteristics of horses and training them to work in a ranch setting. He worked to refine their skills by training them to respond to the work at hand. During his time not working with horses or working as a ranch hand, he used his self-trained artistic skills to sketch out buckaroo culture depicting cowboys bustin' broncs, riding horses, or roping calves. He was also skilled in rawhide braiding and made bridle reins, quirts, keychains and bracelets. Steve was a skilled farrier as well and shod horses for local friends and ranchers.
Steve was born at the Mountain Home Air Force Base in Mountain Home, Idaho and was the youngest son of Ella and the late Ross Harney of Owyhee, Nevada. He was preceded in death by his father, Ross, his maternal grandparents, Henry and Luana (Marsh) Jim, his paternal grandparents Bert and Lucille (Osborne-Prior) Harney, and his brothers, baby Edward, and Dwight "Tag" Harney.
He is survived by his mother, Ella Harney of Owyhee, Nevada; his brother, Vaughn Harney of Spring Creek, Nevada; his children Teela, Keeli, Katie and Clay Harney of Owyhee, Nevada; his nephew, Eric Harney, of Spring Creek, Nevada and many relatives in the Owyhee and surrounding communities as well as Fort Hall, Idaho.
Funeral Services will be held outdoors at the Dwight "Tag" Harney Park located in Owyhee across from the Fire station, on Saturday, May 23, 2020 at 1:00 PM (MST). Attendees are encouraged to wear Personal Protective Equipment. Internment will take place at the New Cemetery following the funeral services.
Photo — Courtesy of Mary Williams Hyde
Obituaries Newsletter
Sign up to get the most recent local obituaries delivered to your inbox.