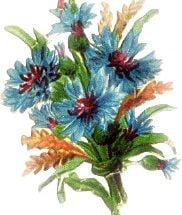 Venna Schumann Ballard, born August 13, 1943 to Hyrum F. and Marlena P. Schumann in Tremonton, Utah passed away in the presence of her family on May 1, 2017 following a cancer diagnoses. She was 73.
Venna was born to a family of German immigrants. Hyrum's parents immigrated to Utah shortly before his birth. Her father met her mother while serving a mission for The Church of Jesus Christ of Latter Day Saints in Germany. He returned for her after his mission just prior to World War II and brought Marlena to Blue Creek, Utah where Venna and three of her siblings were born. Venna's parents then moved to a ranch in Clover Valley, Nevada in 1947 where they would welcome four more children. This is where Venna would spend the rest of her life. She and her siblings loved Clover Valley.
Venna married Don Ballard, a neighboring rancher, on December 6, 1963. The two would make their home on the Ballard Ranch where she lived until a hospital stay shortly before her death. Together they were the parents to six children, Scott, Thad, Ann, Tim, Tom and Sam and multiple foster children including Roy Stoffels, who is still part of the family. Don passed away on July 24, 1982, leaving Venna, under very difficult circumstances, to care for the ranch and her children who were all under the age of 16. She also cared for other members of the Ballard family. Venna was blessed with a strong will and determination to raise her children the way that she and Don had planned. With the help of her oldest son Scott and his wife Jennifer, and through many blessings, she was able to stay on the ranch in Clover Valley.
Venna always had a tender spot in her heart for this beautiful high desert mountain valley. Often times, even after short trips away, she would tear up at the first sight of the East Humboldt Mountains in the distance as she would near home. Most of all, what endeared the valley to her were the memories of family and the love of good neighbors and friends who continue to be a blessing to her and her family. Venna had a deep love for Nevada and for America and was fiercely protective of constitutional principles. She appreciated common sense.
Venna had a wonderful sense of humor, some strong opinions, and a great appreciation for the simple beauties of the Earth. She found beauty everywhere, in flowers, wildlife, birds, and especially livestock. She found it necessary to make each meal an occasion. She would always set the table with the finest spread and the most wonderful food for which she was famous. She labored especially hard to ensure that holidays were a memorable and special event. She was careful to send out handmade cards and small thoughtful gifts at each holiday. Those who received these surprises waited with great anticipation. She was very perceptive in giving gifts that were of special importance to the recipient. She sent notes of encouragement, thanks, or acknowledgement of a particular event or milestone in their lives.
Her life was spent in service beginning with her siblings and later to her children and to the residents of an assisted living center, Beehive House, in Wells, Nevada. Venna was proud of her work there and had some cherished memories. She was very faithful in her service as a member of The Church of Jesus Christ of Latter Day Saints. She worked in many capacities but her most recent and probably favorite, was as Activity Day's Leader. This group works to help eight through eleven-year-old girls learn life skills; build friendships and confidence in themselves. Venna had a special place in her heart for these young girls and loved them very much. She deeply cared for children and her Primary class held similar importance. One of Venna's special gifts was emulating the love of Jesus Christ. Her family, friends, and even doctors and nurses felt this love.
Venna lost many loved ones including her parents, two youngest brothers, Reed (Kathy) and Rolf as well as her husband, Don, and many members of his family which caused much sadness and hardship. Surviving her are two older siblings, Celia (Jerry Marchant) of Oakley Idaho, Dallas (Beth) of Treasureton, Idaho; younger siblings Helen Schumann, Kathryn Schumann, Karen (Wally Wright) all of Salt Lake City, Utah; her children and grandchildren all lived within a short distance of her and will miss her dearly; Scott and Jennifer and Thad and Heidi of Clover Valley, Ann and Jared Mitton of Oakley, Idaho, Tim and Sandy, Tom and Patti, and Sam and Brooke of Elko. Venna had 19 grandchildren and two great grandchildren whom she cherished and found more happiness in than all else. Without doubt, she will be greatly missed by all who knew her which was evidenced so very well in the care, attention, well wishes and condolences that were extended to her throughout her life and recent illness.
Funeral Services will be held on May 6, 2017 at 11:00 a.m. at The Church of Jesus Christ of Latter Day Saints in Wells, Nevada, 1159 Lake Blvd., where a public visitation will begin at 10:00 a.m. The family will also receive visitors at this location on May 5, 2017 from 6:00 to 8:00pm. Graveside services will be held at the Clover Valley Cemetery located 14.5 miles south of Wells, following funeral services. A luncheon for the family will be provided following the graveside service.
Arrangements have been entrusted to Starks Funeral Parlor, 3651 South 900 East in Salt Lake City, Utah. Online condolences may be offered at www.starksfuneral.com.
The family has expressed wishes that those who are financially able and desirous will donate in Venna's name to Huntsman Cancer Hospital and Research Institute at 2050 Circle of Hope Drive in SLC, Utah 84112.
We thank you for your love and friendship