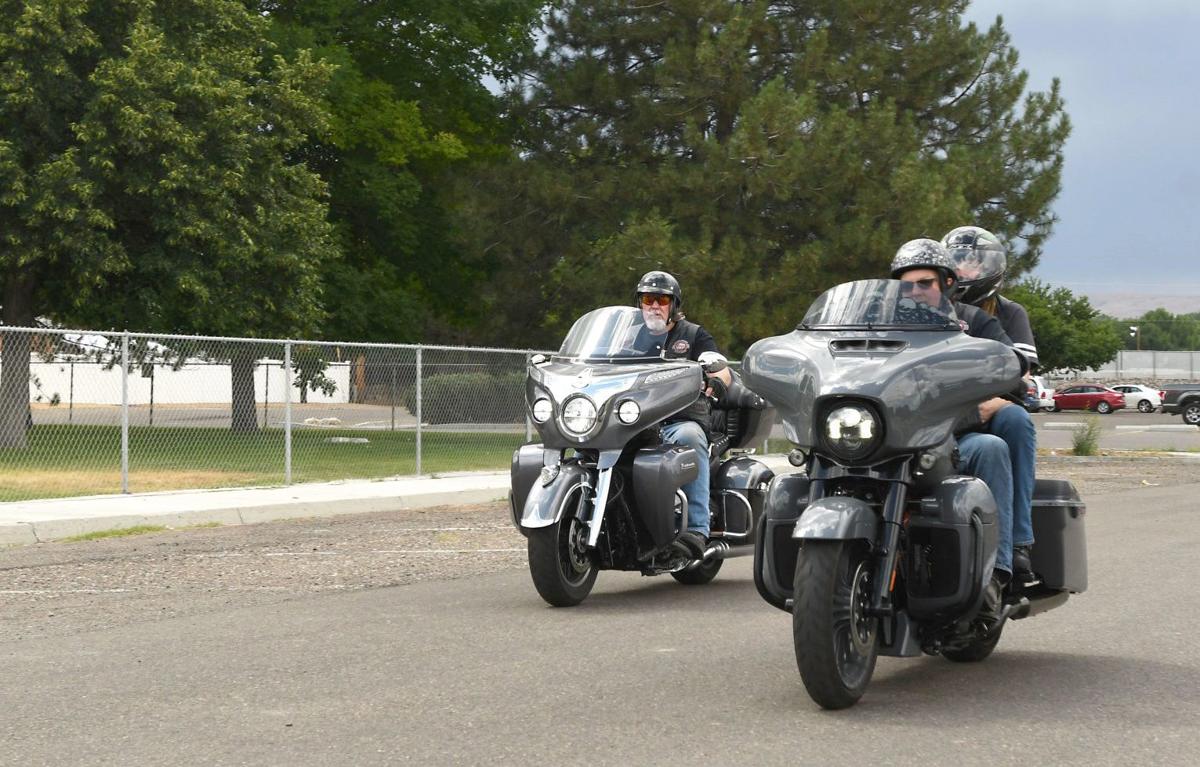 ELKO — When children are abused they express decreased self-esteem, feelings of guilt, loss of motivation and other negative behaviors. An empowered victim is more willing to testify against a perpetrator and stand up for himself. Bikers Against Child Abuse is there to help "wounded friends" during their time of need.
"Our main mission is to help abused children not feel afraid," said BACA member "Super D."
Bikers who belong to the group use "road names" to separate their community service work from their personal lives.
"It [the organization] started in 1995 in Provo, Utah," Super D said. "Now we are all over the world."
Each chapter throughout the world does a hundred-mile ride on the third Saturday in May to raise awareness about child abuse.
Super D said the cases they work with have to be substantiated through the Department of Child and Family Services, police reports and therapists. The group works with the child's legal guardians.
"The child has absolute say whether they want to become a member of our family," Super D said. "Part of the empowerment process is letting them make their own decisions again."
An initial welcome meeting involves members of the local chapter riding to the abused child's home, with their engines roaring and black, leather vests flapping in the breeze. The child is then welcomed into their family, given their own black vest and encouraged to choose a road name.
The group explained that an abused child is assigned two primary members in BACA. These advocates help the child overcome the stigma of abuse, visit them, and escort them to court, if need be.
BACA's mission statement points out that child protection is paramount: "We stand at the ready to shield these children from further abuse. We do not condone the use of violence or physical force in any manner, however, if circumstances arise such that we are the only obstacle preventing a child from further abuse, we stand ready to be that obstacle."
"Across the country this has happened many times," Super D said. "We stand outside the houses 24/7. If they are feeling afraid we're out there. We do four-hour shifts until the child feels safe again."
"We don't care about the perps, whatever they've done that is their gig, but they are not gonna get around that child," BACA member "Hammy" said.
BACA does not serve as a vigilante group. They let the court systems handle perpetrators.
Members undergo rigorous background checks and more than 25 hours of training.
"Every child we've been able to bring into our family has made huge improvements," Super D said.
All BACA members are bikers or have a seat on a bike. It's part of their image.
"We're scarier than the people who hurt them," Super D said, smiling.
"One of the hardest parts of this job is going to court and hearing what is said," Hammy said. "You don't really want to hear it, but you're there and you're gonna hear it."
"They [the children]are the heroes," said Bug. "We are just here to help them see that."
"You hear the rumble in the distance. You feel the ground trembling beneath your feet, and then you see them: B.A.C.A."
 "You hear the rumble in the distance. You feel the ground trembling beneath your feet, and then you see them: B.A.C.A."
Be the first to know
Get local news delivered to your inbox!