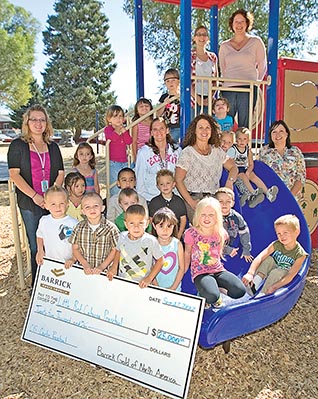 CARLIN — The Little Red Caboose Preschool has received a $25,000 donation from the Barrick Gold of North America.
The money will pay for a large portion of the school's operating and equipment costs.
This is the fourth year Barrick has contributed to the preschool.
"This is probably one of the most rewarding donations that we make, because there's an immediate and quantifiable result of (our support) the benefits the program is providing," Barrick's Community Relations Specialist Katie Neddenriep said.
Each year, the school gives Barrick an assessment of the students at the beginning of the school year and at the end.
"The kids show you what they've done that year," Neddenriep said. "We track the preschool's progress. It's really cool."
The Little Red Caboose values donations like Barrick's because the Elko County School District does not have the funds to operate a preschool in Carlin, said Melissa Aguirre, executive director of Communities in Schools of Northeastern Nevada.
"The school has a sliding fee system, which generates some income, but not enough to fund it all," Aguirre said.
Last school year, the preschool was open two days a week for two and a half hours a day. With Barrick's latest donation, the preschool can now operate three days a week for three hours a day during the school year.  
The preschool's close proximity to the Carlin Combined School provides older students a chance to learn more about early childhood development.
A tech-prep program associated with the preschool is offered to high school youth to introduce interested students to early childhood careers like teaching, Aguirre said.