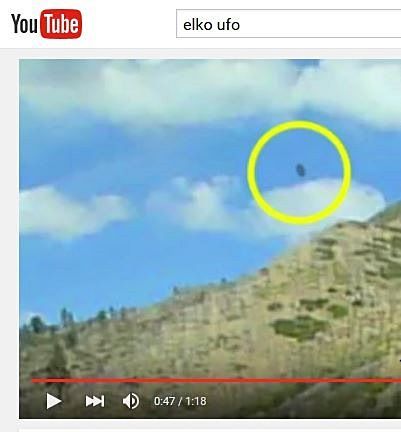 Remember all of those stories and strange images of UFOs in the media? Did they fly away?
No, they haven't gone back to Mars or the Pleiades. UFOs are still hovering over our backyards -- even right here in Elko.
It all started nearly 70 years ago. Flying saucers "took off" in June of 1947 when an Idaho pilot spotted a formation of wobbly objects flying at high speed near Mt. Rainier. Sightings reached epidemic proportions in the 1950s and '60s, and continued sporadically in the decades that followed.
Were they visitors from another planet, or relics of secret defense projects? The History Channel seems to know the answer, if you believe the cadre of "experts" they interview. Major media, however, seemed to have lost interest in the phenomenon. Last February the Obama administration's outgoing senior adviser, John Podesta, tweeted: "Finally, my biggest failure of 2014: Once again not securing the #disclosure of the UFO files." Most people took it as a joke, but Podesta made a serious presentation to the National Press Club calling for the release of the government's secret records, and he wrote a similar foreword to a UFO book published in 2010.
If UFOs are still flying around out there, surely the number of documented sightings should be increasing because nearly everyone nowadays has a cellphone equipped with still and video cameras. And sure enough, if you browse the Internet you will find plenty of strange things posted on UFO websites and You Tube. They are still "out there," even though the topic of flying saucers has virtually faded from the public's imagination.
Several sightings have taken place right here in the Elko area. The National UFO Reporting Center (NUFORC) website lists dozens of sightings from rural Nevada every year. Some of them are easily explained. For example, a YouTube video shows glowing, round objects floating into the sky above Elko's Marriott hotel in 2011. We actually got calls at the Free Press about this incident, but it turned out to be nothing more than floating paper lanterns launched from the Indian Colony.
A 2009 report from Spring Creek describes a bright light in the sky with two smaller "stars" by it. Editors at NUFORC wrote it off as a simple description of a planet. In this case it was not Venus -- the most common culprit because it is the brightest planet in the sky -- but Jupiter, which can be equally bright. And yes, it is possible to see Jupiter's small moons with the naked eye on a clear night in the rarefied atmosphere of our high desert.
Another report, dated Nov. 7, 2015, tells of a massive, glowing cloud seen in Spring Creek. NUFORC editors noted that was from a missile launch off the California coast -- which prompted hundreds of reports across the West that day.
Lots of things out there are "unidentified," but to truly qualify for a UFO investigation an object should be of unusual size or shape, and maneuver in ways that conventional aircraft are not known to move. Such is the case with another YouTube video taken by someone shooting from their car window in broad daylight, supposedly on a highway in Elko County. It clearly shows a dark, disc-shaped object wobbling over a hillside with the same eerie "falling leaf" motion described in so many early UFO reports. The only problem is that the location isn't really Elko County. A wide river with whitecaps is visible between two well-developed roadways, with tall pine trees along the side. Where was it really taken? Hard to tell; the identity of the videographer isn't revealed.
Many people are still afraid of being considered a kook if they report a UFO, but history proves that witnesses often have credible backgrounds. I remember coming across a story in the Free Press files from the 1970s in which a Newmont official reported seeing an orange light glowing in front of the mountains. Another man who identified himself as an instrument technician for Newmont posted a report with NUFORC in November 2012. It happened in Spring Creek, and lasted for nearly an hour:
"This wasn't just a normal sighting we had time to get a telescope and point it south over lamoille canyon (south). All four of us saw a white coin shaped object. Outlining the craft was a bright green light. From the naked eye it flashed colors. The telescope revealed runes on whatever it was. Shortly after we drove. I looked east towards Wells and saw a Huge vapor trail 3 times the width of the moon and miles wide. We pulled over to inspect it. It was long and would pinch off at points and expand. We continued down the road and saw a blue streak shoot north across our windshield quickly. It was huge with blue tracers unlike a comet meteor or shooting star. (e-address deleted)"
Not many reports are as bizarre and puzzling as this one. Making them even more intriguing is the fact that sightings often involve people who are completely trustworthy, up to and including the President of the United States -- such as Jimmy Carter and Ronald Reagan.
Which brings us to where Hillary Clinton fits into the puzzle. Last week the Washington Post ran an article about the nation's only UFO lobbyist, Stephen Bassett, who expects disclosure of a government UFO cover-up to surface before the New Hampshire primary in February. That's because Podesta, a longtime adviser to the Clinton administration, left Obama to head up Hillary's campaign.
"By Bassett's telling, the Clintons have been deep into the UFO issue since 1993 when billionaire Laurance Rockefeller -- Standard Oil founder John D. Rockefeller's grandson -- began lobbying them to release all information about extraterrestrials they had," stated the Washington Post article. Hillary reportedly met with Rockefeller on his ranch in 1995 to discuss the issue.
Neither Podesta nor Hillary Clinton would comment on Bassett's prediction, or his opinion that Podesta's tweet was "bait" for the media. It's just another chapter in a long saga about a phenomenon that lies tantalizingly outside the grip of human understanding. It's easy to laugh off reports of flying saucers and alien abductions as just a bunch of silliness. I am inclined to do the same, although I will gladly listen to anyone who has encountered otherworldly incidents in rural Nevada.
And as I scour the headlines for the latest current events -- including the 2016 presidential race -- I can't help but wonder: If the "truth" ever comes out about UFOs, will it make the world any weirder than it seems now?
Please comment below if you have ever witnessed a UFO or other strange phenomenon in northeastern Nevada.