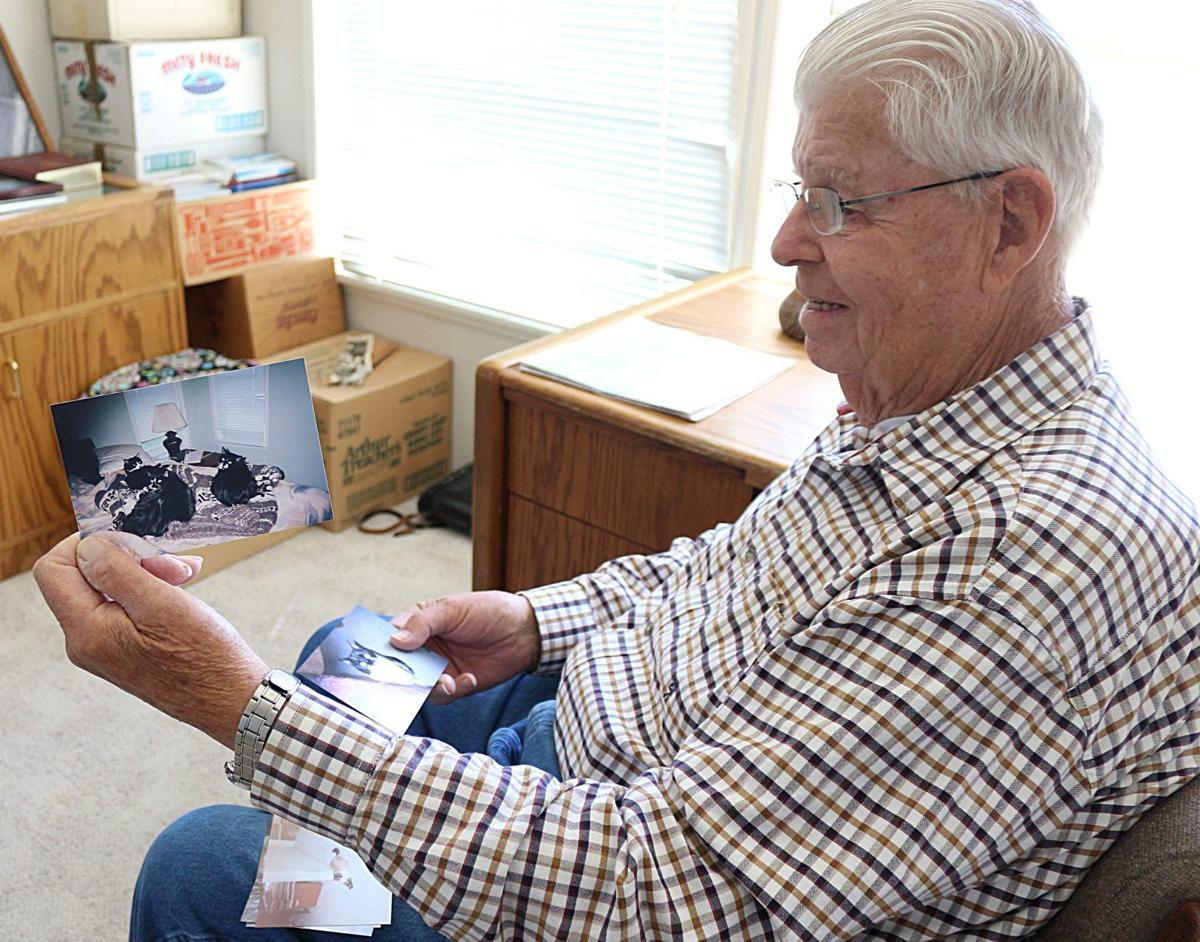 SPRING CREEK – Depending upon whom you ask, feral cats can be either pest control or a nuisance.
But for Larry Jackson, 82, the wild felines he tames at home near Spring Creek are his companions.
Jackson humanely traps the feral cats and takes them to local veterinarians to be spayed or neutered and inoculated before bringing them back home to live in his house or roam his property.
It's not an overnight process, Jackson explained, but it's worth it.
"It takes months, and sometimes a year," he said, "but the love and enjoyment they give you, you can't buy it. It's unbelievable."
On a summer morning, Jackson spoke about the cats he has rescued over the years. The six who live indoors were asleep after a long night of playing throughout his house, while several more stay outside, he explained.
"They have their own personalities, just like people," Jackson said. "At night, it's a three-ring circus. I turn the TV off and watch these wild cats play. I don't need Direct TV anymore."
Growing up, Jackson was raised in a family that loved all kinds of animals. After high school, he attended University of California, Davis, and earned a degree in veterinary science. Then a job after college led to a career in investments.
However, his love for animals never diminished, Jackson said. He rescued animals off and on as the need arose.
"You never lose sight of a beautiful animal," Jackson said. "It's always with you, whether you're on a plane, train, or car, it's always with you. That's the beauty of it."
When Jackson retired, he moved to Elko in 2005, bringing four of his own cats to his new home. The cats ranged in age between 12- and 16-years-old, and he said he was surprised to see others roaming around his rural property.
"I noticed there were a few cats. I said, 'Gee whiz, I didn't bring that cat. Maybe it followed me from Boise,'" he said.
It was then Jackson came up with the idea to take the cats into his home as his pets, even though he was cautioned that it may not work out because of their wild nature.
"I had never done it before, [but] it worked out beautifully," Jackson said. "I was always told, 'You can't trap feral cats and make them tame.' Well, I trapped them, and they turned out to love me."
So, what's the secret to taming a wild cat?
"What I do is [offer] love, patience and understanding," Jackson said. "I play with them like a little doll, and pretty soon, they come around. They sit on your lap, they eat in front of you, and they sleep in your bed. They're priceless."
After bringing them home from the vet, Jackson keeps the radio and television off for a few hours and lets them get used to the other cats, which takes a few weeks.
The last cat Jackson brought into his home was trapped last fall. He guesses the kitten was about six or seven-months old then, and it has been slowly settling in ever since.
"He's coming around. He usually sits up here, and I can put my hand up and he will sniff it, but I can't get too close to him yet," Jackson said. "Before, he was peeking around the corner, and I'd wave to him. He's come a long way."
Jackson estimates he has trapped about 50 cats, give or take a few, and lost some due to harsh winters and coyotes. One of his pets – a rescued cat from Highway 93 – died last fall to natural causes.
"I don't trap a lot," Jackson said, adding that he waits for only good weather to set out the traps. "This is a bad time. If you trap one with this heat, it's animal cruelty."
Jackson has also become a fixture in the Walmart pet supply department, buying bags of cat food and kitty litter in large quantities.
"As an individual, I was told by Trevor, the pet food manager, that I buy more cat food except for the humane society," Jackson said.
Throughout his experience trapping the cats, Jackson credited veterinarians Dr. John Dinsmore, Dr. Rob Finley and Dr. Kathryn Moriarty for their help, and Animal Control officer Connie Manley for her assistance as he learned about trapping the cats.
"I can't say enough good things about her," he said. "She's been so helpful with visits, direction and help making the trapping possible."
After a lifetime of making friend of nearly every animal he has seen, Jackson offered some advice to those who are looking to adopt a pet.
"I think one needs to give it a lot of thought before they buy or adopt and animal, whether it's a cat, dog, water buffalo, snake, or bird," Jackson said. "Make sure to have the responsibility and time to take care of them and love them as they desire to be."
Jackson said he knows that most people will not completely understand his mission to bring wild cats into his home, but he's not worried about it.
"People see all of this, and I they think I'm nuts," he said. "But you've got to have fun in life."
Be the first to know
Get local news delivered to your inbox!