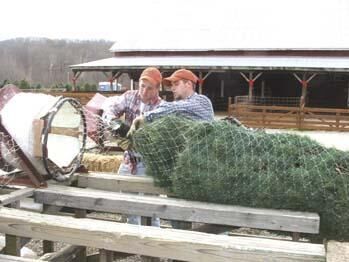 'Tis the season for picking out the perfect Christmas tree and creating lasting memories while you're at it.
Two local tree farms offer not only acres of pines and firs but also gift shops and family entertainment throughout the month of December.
Jim Marschel of Pumpkins and Pines said many customers return to his fields south of Warrenton each season, carting out a fresh tree and absorbing the country atmosphere.
"Tradition sums it up," he said. "Just getting the family out. That's the main thing."
Children's activities and a barn full of decorations enhance the trip for many, said Karen Marschel, who owns Pumpkins and Pines with her husband.
"We really do try to offer something for everyone," she said.
Open since 1989, the family business features 60 acres of choose-and-cut trees in four varieties.
The Marschels provide saws and patrons can select from Scotch pine, white pines, blue spruce or Norway spruce trees. Fragrant pre-cut Fraser firs are available at a higher per-foot cost than the other types.
"My husband says they're like the Cadillac of Christmas trees," Karen Marschel said.
After each customer chooses a tree, Pumpkins and Pines employees shake it free of loose needles, bale it in protective netting and measure it for pricing. Then they set shoppers loose to sample kettle corn, take photos with Santa Claus, ride a mini-train or play on unique tire swings shaped like horses.
Inside a log barn gift shop, guests find wreaths of all sizes, handmade centerpieces, fruit butters and more. Birdhouses fashioned from gourds and tree-watering devices mark some of the more unique products.
Karen Marschel is quick to point out her personal favorites for sale among the merchandise - all things snowmen and ornaments representing different jobs like the golfer or firefighter.
Similar holiday decor is on display at Country Pines Christmas Tree Farm in Wright City. Tree toppers, 5-foot lighted candy canes and hand-poured candles fill a 1,600-square-foot barn there.
Complimentary coffee, spiced cinnamon apple cider and hot chocolate warms visitors at this holiday destination off Highway M.
Like Pumpkins and Pines, the family farm is designed to accommodate parents and children yearning for a hands-on morning or afternoon outing, part owner Kerry Wehrman said.
"It's just something from the past that you can do together," she said.
Open to the public since 1984, Country Pines sells nine kinds of pre-cut trees, plus scotch pine and white pine for those interested in cutting their own.
Country Pines provides the saw, shake, wrap and bailing twine as well as assistance for shoppers in selecting, cutting and carrying their trees.
Wehrman said real Christmas trees possess certain benefits over artificial ones.
"Each one is uniquely different and they smell wonderful," she said. "It's just a neat family tradition."
Mrs. Claus stops by Country Pines from 11 a.m. to 3 p.m. on weekends.
Tree farmers at both locations advise visitors to wear comfortable shoes, keep pets on leashes and bring an ample supply of holiday cheer.
Country Pines Christmas Tree Farm
Open 9 a.m. to dark Friday-Sunday
Open 10 a.m. to 5 p.m. Friday-Sunday