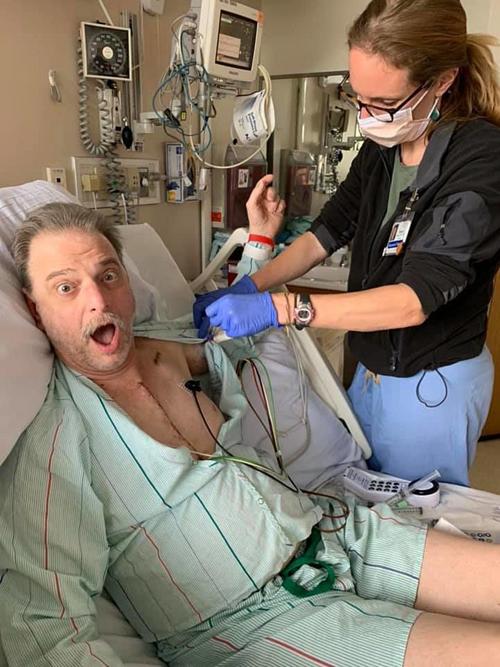 COOS BAY — Not many can say they died twice and lived to write a book about it, but John Hunt can.
Hunt held a book signing for "My Rock and Roll Heart Transplant Journey" on Friday, the first event for his newly published work.
The former owner of Coos Bay's The Wave 105.9 FM wrote the novel showing not just his heart transplant journey but how it ran alongside his career in radio.
"The name of the book comes from the fact that I've been in radio since I was 15 years old," Hunt said.
He went on to purchase The Wave in 2017, an exciting new chapter in his life that got derailed when he died twice at Bay Area Hospital. He was revived and then flown to Oregon Health & Science University in Portland, which is where he found himself six days later when he woke to a doctor saying, "Welcome back … we didn't think you would make it. Your kids are coming to say goodbye."
Hunt suffered from cardiomyopathy for 30 years, a disease that ate the muscle surrounding his heart, and went undiagnosed for most of that time. It wasn't until his walk with death in 2017 that he began his journey toward a new lease on life.
"The crazy thing is I had a heart attack at 35," he said. "It was a blockage and they cleared it out. I was back to work in three days and didn't have another problem for 17 years."
It all started after he bought The Wave and was working 18-hour days every day. He remembered some telling him that he once worked 87 consecutive days with no day off.
"But that's what you do when you own your own business," he said. "When you own your own business, you know you need to get the work done because no one else will do it for you."
While that station was setting up the South Coast Music Awards show and concert, he had his first heart attack in 17 years.
"We knew we had a problem, but not how severe it was," he said. He went on to get stints in his heart at BAH. He was fine for a while until he got the flu, which landed him back at BAH 12 times. "I kept bloating up, gaining water weight and the flu got in my chest. On the 13th visit, I almost didn't go in."
But his engineer at the station convinced him that his symptoms were bad enough for him to be seen. When he arrived at BAH, his blood pressure read at 60/40.
"They thought their machines were broken," he said. "They checked me in and the next thing I knew, it was six days later and I was at OHSU."
One of the most asked questions about his experience is if he saw the light or the "fires of hell" during the two times he died.
"I don't remember seeing anything but long dreams of good things happening like playing football or seeing my daughter graduate from college," he said.
After that, it took two years before he was placed on the heart transplant list, but once he was it only took two days before he got the call that there was a match.
"I was shocked," he said. "I was in my car going to a Portland Trailblazers game and thought it was a joke. I have friends who would play that joke on me but it was real. So I dropped my friend off, got rid of my ticket and went to Seattle."
He underwent his transplant at the University of Washington Hospital. His doctors went on to call him their "rock and roll heart transplant poster child" because he was improving so quickly after surgery.
Three weeks post-surgery, he walked a quarter mile to watch The Record Company play. Then four months after surgery, he threw the first pitch at a Salem-Keizer Minor League Baseball game. At four and a half months, he was back in Coos Bay, on stage at Goonies where he performed six songs.
"Then I did 10 minutes of stand-up comedy in Portland and that was the ultimate test because the adrenaline was pumping," he said.
And at five months post op, he ran and jogged in a non-competitive 5K, something he had never done in his life.
"I truly appreciate every day," Hunt said. "It's like being in a 'Rocky' movie. Rocky always gets knocked on his tail, but gets up and is a happy guy. He takes one more step, one more punch. That's kind of what I do every day … Everyone says you have a purpose and sometimes telling the story is the purpose."
Be the first to know
Get local news delivered to your inbox!